Aaron Connolly said that he has no regrets about moving seats on the plane to Slovakia, which inadvertently cost him a chance of playing in last month's Euro 2020 play-off.
The Brighton striker missed the vital game in Bratislava as a result of being deemed a close contact of a positive Covid-19 test, but Connolly said that he has moved on and is not dwelling on the decision that he made.
Ireland's hopes of reaching Euro 2020 ended in Slovakia by way of a penalty shoot-out and the manager, Stephen Kenny, revealed after the game that Connolly was scheduled to start before the close-contact rule was imposed.
"No and it's frustrating when people say that," said Connolly, when asked did he regret changing seats.
"I left my seat but I didn't know I was going to sit beside someone who had a positive test. I could have stayed in my seat and someone beside me could have had it and I would have got away with it as I'd moved down the back.
"To see stuff like that is frustrating, even on social media. I don't look back and think, 'I wish I had sat there'. It happened and I've moved on."
But Connolly did admit that it was frustrating to have to watch on from the outside, knowing that games of that stature do not come along too often in the international game.
"It was tough obviously, like I've said, at 20 years of age I might never get that chance for my country to play in such a big game to get to a tournament.
"It was obviously frustrating and to find out after that it was a false positive as well was a bit gutting but that is last month and it's all about these three games."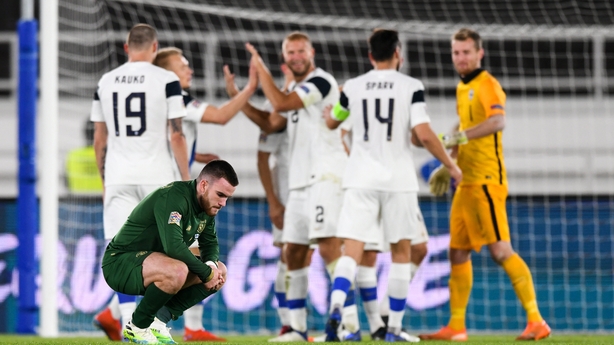 Connolly will, once again, be more than happy to move positions - in a footballing sense - in the Irish team if it means getting selected in the starting XI.
Kenny's side start this week's triple-header with a friendly clash with England at Wembley Stadium on Thursday, before Ireland take on Wales and Bulgaria in the UEFA Nations League.
And Connolly, is hoping to make an impact in these games as he admits that he has been frustrated by some of his performances in the green jersey.
At just 20 years of age, the Galway native is very much in the embryonic phase of his international career and it is just over one year on from making his Ireland debut away in Georgia in October 2019, followed closely by his first start against Switzerland a few days later.
Five appearances in total for the emerging striker, however, Connolly has yet to hit the back of the net for the international side, and the frustration was evident following last month's 1-0 defeat to Finland in Helsinki where he was critical of his own decision making.
Connolly has shown that he can prove to be a real threat in the Ireland attacking unit and has mainly traded on the left side of the forward line, however, David McGoldrick's retirement has opened up an avenue for the striker to be handed a more central role.
And the young forward admitted that he would welcome a chance to play in the centre-forward role in the green jersey over the course of these three games.
"Of course I would, it's my natural position for my club, so if that's where he sees me playing, well then obviously I'm happy to play there," said Connolly, speaking to the media ahead of Thursday's match in London.
"David is more of a drop-in kind of player and gets on it, but that's not really my game. I prefer to get in behind and try to stretch defences.
"It would have been nice to play with Didzy, but now that he's retired, it might give me a chance to play through the middle.
"But if he still wants to play me out wide, well then of course I'm not going to have any problems with that either.
"Obviously, [it has been] frustrating at times. I feel like I've done all right. Obviously, a striker wants to score goals and hopefully if I get that chance to play through the middle, I'll have more chances to produce goals and create chances.
"It's been frustrating so far, obviously, not scoring and getting wins, but I think over time that will definitely come."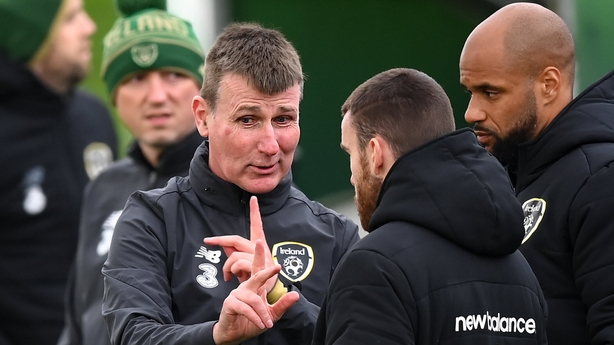 Connolly has lost his place recently in Brighton's Premier League starting XI and the striker said that he had spoken to manager Graham Potter about what he needs to do to get back in the side.
And he is confident that he will improve and work his way back into the side by taking on board what he was told and be ready to take his chance once it presents itself in the future.
"Of course it is frustrating to not be playing - I think for any player, it is. But I'm just trying to work hard and just keep the head down and then hopefully when my chance does come to play again that I'm definitely ready.
"There's always ways I can improve, but I think I've only scored five, six professional goals, so obviously in that department, and then just my general game awareness and stuff like that.
"But that's something I'm working on at club level every day, so I've no doubts that that will come soon and will start scoring goals."
Goalscoring is not just an issue for frontman Connolly, but rather for the entire Ireland team who have only scored one goal in the last five matches since Kenny took over the side.
But Connolly believes that there is only so much that can be done on the training ground and believes that once the team start scoring, they will continue in the same vein.
"I think there's only so much you can do working on scoring goals in training. The gaffer can do as much finishing and stuff as we like - and the standard in training finishing-wise is really good, so I've no doubt we will score goals.
"It's just about getting one or two goals and then pushing on from there because once we get one or two, I don't think we'll go through a spell like this again.
"We know we're a good team and we know we can score goals, so no that's definitely not creeping into anyone's head.
"I think we'll show it this week, that it's not playing on anyone's minds."
Follow England v Republic of Ireland this Thursday via our live blog on RTÉ.ie/sport and the RTÉ News app or watch live on RTÉ2 and the RTÉ Player.