Stephen Kenny says that he does not fear any international team, and that that was one of the deciding factors to take on the tough task to play England at Wembley next week.
The new Ireland manager has been in charge for just a handful of games since his opening encounter in Bulgaria in September, and Kenny has yet to see his side record a victory in any of the five games that have been played since he took over from Mick McCarthy. 
Kenny indicated that he is not overly concerned about securing that first win, but is more focused on the performance of his side, who are still adjusting to a new style of football under the former Dundalk manager and building towards next year's World Cup qualifying campaign. 
The new manager's first window was merely a 'getting-to-know-you' week together with his new squad, with two games including a taxing journey to Sofia and back, while the October window was dominated by the defeat to Slovakia in the play-off and the Covid-19 crisis that ruled key players out of all three games. 
Stephen Kenny said that his Ireland side do not fear England ahead of next week's game at Wembley Stadium. #RTEsoccer pic.twitter.com/wlZvv5yXMG

— RTÉ Soccer (@RTEsoccer) November 5, 2020
Three more games await this month as Ireland travel to take on England next Thursday before making the short hop to Wales for a Nations League clash. Bulgaria at home is the final match of the three, and the manager will be hoping that football is the main focus, with no more off-field distractions. 
"Uppermost in my thoughts is putting in good performances and trying to get good results," said Kenny. 
"We just have to focus on playing well against England, against Wales after that quick Thursday/Sunday turnaround, and then the game against Bulgaria in Dublin on Wednesday. 
"Three games again, great games to play in for the players and I know they are really looking forward to them." 
Kenny explained the thinking behind the tough test away at Wembley, albeit in a friendly international, stating that it would have been easier, but less challenging, to take on a side that they were expected to beat, just for the benefit of securing a morale-boosting maiden win. 
"For example, Bulgaria play Gibraltar in their first friendly – we could have looked to get a really lowly ranked team at home, tried to get some goals under our belt and get a victory and just park that, and it parks that question [of the first win]," said Kenny.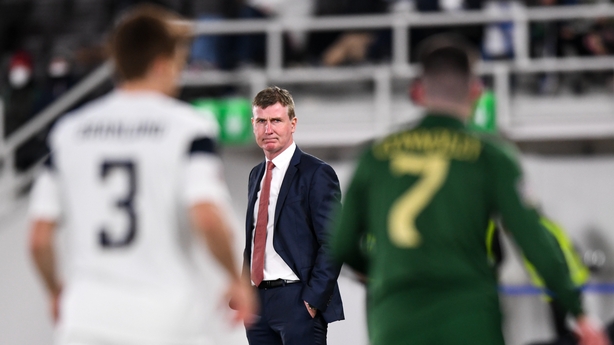 "But we didn't. We've taken on England. Does that make sense to do that? Are people going to go on about win/game ratios in friendlies and things like that? Is that important? 
"Really I'm looking for the team to develop. We've taken on the England game because we don't fear anyone. We're thinking about how can we improve. It's important. 
"These are good games, England at Wembley, Wales in Cardiff, Bulgaria here. They're good games to play in, the lads are excited about playing in them. 
"It gives us an opportunity to improve before the World Cup qualifiers in March." 
With just one goal in the five played, the timing of David McGoldrick's international retirement re-emphasised the need for goalscorers in this Ireland squad – a perennial question since the retirement of record scorer Robbie Keane. 
Again, though, Kenny is not too concerned and believes that his side created adequate chances on goal, which could have led to victories in the recent games, and he is confident that there are increased options in that department with the emergence of players like Aaron Connolly, Troy Parrott and Adam Idah. 
"I think you have to look at each of the games in isolation. I think the performance against Slovakia was a really good performance. Away from home, and we dominated the game.
"The other games, you cannot just erase the fact that eight players were not available because of Covid tracing. That's not making excuses, you have to accept criticism if you don't score goals and I am willing to do that.
"I have, with my analysts, gone through chances created and scored in the previous three games. We've only conceded four chances over the three games.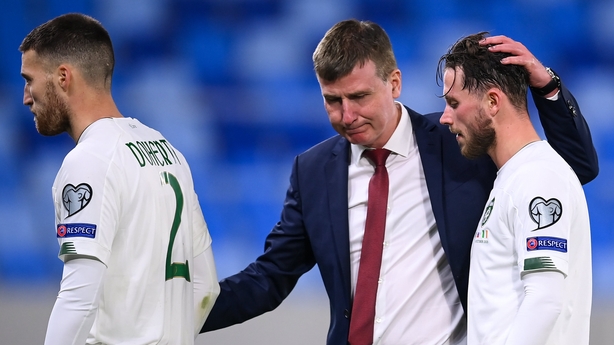 "There were two chances in the game against Slovakia - Darren made a save from a counter attack from our own corner and Shane Duffy cleared one off the line - we didn't concede any chances against Wales at all and Finland hardly anything, a couple.
"And we probably created 15 chances in the three games.
"We're creating chances and playing well without taking them and that's what we have to live with, but I have great faith in the young strikers coming through, a lot of potential - Aaron Connolly, Adam Idah and Troy Parrott, who will probably be in the Under-21s squad tomorrow and is a real talent. 
"Callum Robinson, who I've really been impressed with since I started working with him, he's a really good player, and the other strikers." 
The manager also said that he is not investing too much time pondering the possibilities of making it into Pot 2 for the upcoming World Cup qualification draw. 
Recent results have Ireland among the second seeds in Europe as things stand but November's results could change that. 
"It is not something that I am fixated on, I think we need to focus on our own performances in the three games," said Kenny.
"Play to the best of our ability, have good passages of play and continually look to improve, and everything else will look after itself.
"I can't be fixated on that, we can only control what we can so we have to play to the best of our ability."