Peamount United manager James O'Callaghan was full of pride last night after a brave and battling Champions League performance against Scottish powerhouses Glasgow City.
The current Women's National League champions showed a real maturity in their game. Despite losing out in a sudden death penalty shootout their performance proved that they are more than capable of mixing it with the top professional sides in Europe on their day.
Over the last number of years, Glasgow City have firmly established themselves as one of the top sides in Europe and prior to the 2020 league season being cancelled as a result of the pandemic they had been crowned league champions in Scotland for the 13th time in a row, no less.
"I'm so proud of the girls. The performance was so professional against a really top side and unfortunately it just wasn't to be really." reflected O'Callaghan after the game.
"At the same time we're really disappointed not to progress to the next round especially with the performance we put in but I'd like to think we gave a good account of ourselves and people enjoyed it.
"Glasgow are a top side who like to control the game and move the ball around with speed. In transition to attack they are always so dangerous and one of the things I was delighted with was that we pressed them really aggressivly and with a real sharpness.
"That took them by surprise. Our work-rate was phenomenal and we didn't allow them to play as much as they would have liked which is a credit to the performance and spirit our girls brought.
"Our finishing could have been better, against a side like this you have to take your chances when they come along. With the quality they have you won't ever get too many chances so you have to be clinical."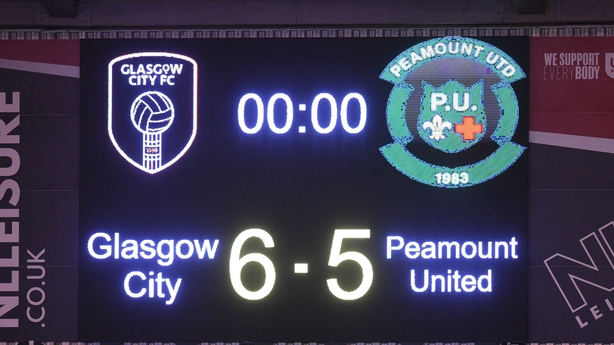 Despite the natural disappointment in how the game concluded, there were plenty of positives too. One of those was the assured performance from senior debutant Becky Watkins. The young striker has been catching the eye for quite some time now with her performances
Last night's decision from O'Callaghan to award her a senior debut in a Champions League fixture was no less than she deserved and she repaid the faith with a mature and professional performance throughout.
"Becky has been really impressing in training lately," he pointed out.
"She has great pace especially for balls in behind. We felt that the Glasgow centre halves were probably on the sluggish side and so we were trying to exploit that. She had a great game considering it was her senior debut and in a Champions League game against such a high quality team."
Overall it was a Peamount performance full of spirit, passion and top talent on display. It was a fantastic advertisement for the Women's National League proving the top Irish sides can more than mix it with the professional outfits.
"The girls are okay, they know they put in a top performance and can be proud of themselves but at the same time naturally they are disappointed to go out on penalties having put so much into the game.
"We'd like to think it was a good advertisement for the WNL, it really doesn't get the promotion or the funding it deserves. Hopefully our performance can help with the drive to make this league semi professional because that's where we'd like to see it end up but hopefully people enjoyed it.
"I think we did the league proud."