Arsenal boss Mikel Areta praised Dundalk's commitment to their "philosophy" after watching his side ease past the Airtricity Premier Division outfit at the Emirates.
The Gunners ran out 3-0 winners in their Europa League meeting on Thursday night but the Lilywhites frustrated them for most of the first half before two quickfire goals from Eddie Nketiah and Joe Willock shattered the resistance. Nicolas Pepe added a classy third less than a minute into the second half.
The visitors did stick resolutely to their principles of building from the back however, even if it occasionally proved perilous against a young, talented and hungry Gunners line-up.
Arteta had said in the build-up that he'd been reading up on Filippo Giovagnoli's journey to Dundalk and he was quick to praise his opposite number after the game.
"I didn't know how they were going to play, whether they were going to go with a 4-3-3 or a 4-1-4-1, but I knew that they could come back, after what we've seen the last few weeks, and play with five at the back," said the Spaniard.
"We were prepared for that. They're a really committed team, the way they go about every ball. They try hard.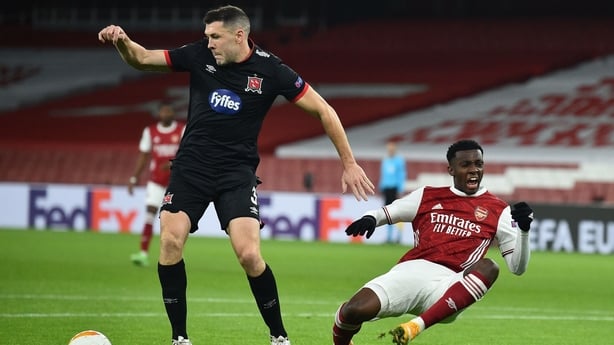 "Credit to them for what they've done over the last few months. I'm happy to beat them.
"It's their style. It's the philosophy. The style that they try to play shows the personality that the coaching staff has. I think that's a really positive thing to show, that it doesn't matter where they are, they can adapt the way they play but their style of play doesn't change."
Arteta made 11 changes to the side who were beaten by Leicester City in the Premier league last weekend and his fringe men largely impressed.
Next up is a trip to Old Trafford to face Manchester United on Sunday.
"I'm really pleased with the way we went about the game," he said.
"Our attitude from the beginning was spot on, we attacked and created a lot of situations inside the box.
"We gave a chance to a lot of players who haven't played many minutes this season and it is something really positive because they showed they are well prepared, they are at it, and they are ready when we need them.
"They are always in the frame to play. It is not if we lose or win, it is what they bring to the team, how they train, what they are showing.
"Results at the end are consequences of many things, but individually how they do things is what determines whether they have the opportunity to play or not."