Filippo Giovignali admitted Sunday's Airtiricity League Premier Division clash with St Pat's was never far from his mind during Dundalk's 3-0 defeat to Arsenal at the Emirates.
The Lilywhites applied themselves well against Mikel Arteta's slick side, but paid the price for individual errors in a two-minute period before the break in which the hosts scored twice.
Nicolas Pepe's excellent strike 30 seconds into the second half sealed it, though Dundalk had to dig their heels in to prevent a complete rout as the hosts chased more goals.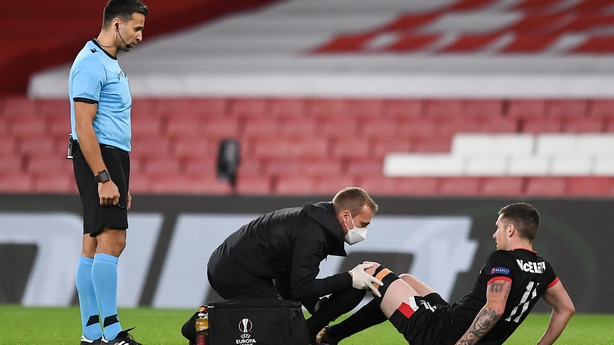 Giovignali, who lost Patrick McEleney to a suspected groin injury, rung the changes in the second period as he sought to best use his resources in the middle of a hectic run of fixtures. McEleney will be evaluated over the next couple of days to determine the extent of the problem.
If Dundalk win in Inchicore, they will guarantee third spot and with it Europa League football next season.
For the Italian, that has always been the priority.
"I was thinking about Sunday from the first minute, to be honest," he said afterwards.
"You prepare for a game, you're professional, you do your best to face the opponent, which I think we showed. But still, we were coming from a game three days ago [against Waterford]. Around the second half I started to mix substitutions.
"This is what we've been doing for three or four weeks. We just play, rest, one day preparation. Play, rest, one day preparation. It's always like that. It's a little but frustrating for me because I'm a coach that wants to prepare well for all the games, but if you play in Europe it's the same [for everyone].
"Teams have to sacrifice, they have to have something more. But I think we're competing, we're doing well.
"Tonight we did what we had to do. We were competitive, we didn't give up until the end. I'm happy with the performance, with what the players did."
Although Sean Murray was withdrawn at half-time, Giovignali confirmed that was purely to rest his legs and not down to the midfielder picking up a knock.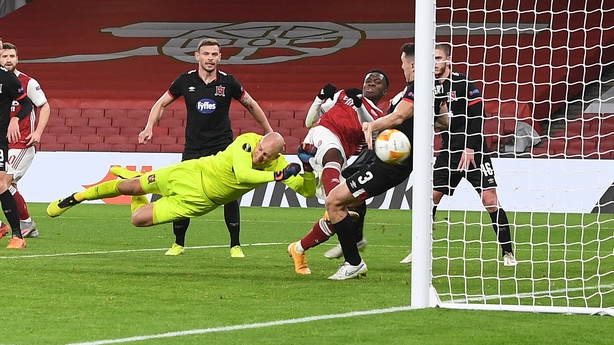 Combative and spirited throughout, Dundalk nonetheless became the first team in 11 years of the Europa League not to commit a single foul in the match.
Giovignali said that his team should take that as a complement, a sign that they maintained good discipline, though he also admitted they may need to show a little more cynicism going forward.
"Our team is so polite, they are so gentle, they are so good. They just work hard and of course they fight hard.
"When you play in Europe, probably sometimes you need to use even some fouls, experience to stop the game, don't let an opponent have the ball for a long time."
Overall he was pleased with the display. Dundalk have lost their opening two group clashes but there's been positive from both outings. Their next European outing is next Thursday away to Rapid Vienna, who lost 1-0 at Molde tonight.
"I think we did well for the first 42 minutes," added Giovignali.
"There is a little bit of disappointment. We suffered, of course. We had to suffer. But I think think we were decently organised defensively, we didn't concede one shot until the goal that came from, unfortunately, a corner kick that rebounded between our goalie and our defender.
"Of course then the quality of this fantastic team made the difference, without doubt. We knew it, but I want to congratulate my team and all the players for the way they collaborated, for the performance defensively."