Victoria Concordia Crescit. Victory Through Harmony.
The Arsenal club motto, emblazoned under a mural of some of the club's legends, will be among the first things Dundalk see when they arrive at the Emirates Stadium for their Europa League clash tonight.
The irony won't be lost on the visiting players who've battled through a bizarre, challenging and remarkable year to get to this vaunted arena.
In 2016 the journey to the Europa League group stages under Stephen Kenny felt like the natural climax to a period of spectacular improvement.
This year Dundalk have often fallen way below the standards they set last season when winning a domestic double under Vinny Perth, and yet here they are, ready to rub shoulders with one of the most glamorous and distinguished clubs in the European game.
Perth is gone, rookie boss Filippo Giovignali is in, and the 'pinch yourself' moments keep on coming.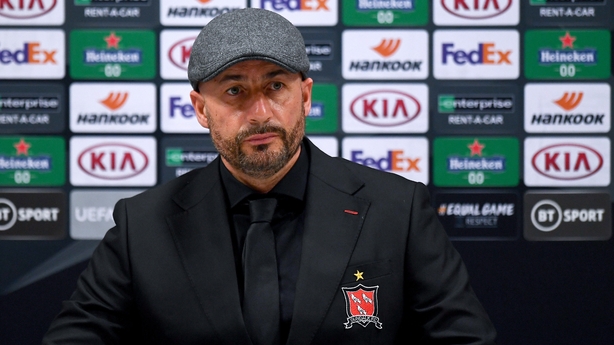 It's 65 days since he was plucked from obscurity to take over the Lilywhites, but Giovignali has the air of a man determined to savour every second of the big time.
"This is like a heavyweight boxer against a super lightweight," the Italian said ahead of yesterday evening's training session in the stadium.
"We have to try to make them uncomfortable a little bit. Everything about this game is obvious. The difference in quality is obvious so let's make the passion something bigger on our side.
"I like to call this adventure a learning experience for sure. But then, why you learn becomes normality and you need to perform. It's a learning experience but it becomes your territory when you have to perform."
This really is fairytale stuff for Giovignali, not to mention the players, who've endured an emotionally draining campaign.
Last week's 2-1 loss to Molde at Tallaght Stadium was an introduction to the harsh reality of football at this level. Dundalk were excellent in the first half before the Norwegians ramped up the intensity and ultimately cracked the home resistance.
Although they are now preparing to face one of the favourites to win the competition, Giovagnoli admitted there's probably less pressure on his players tonight.
Despite the fact Arteta has just two fit recognised central defenders available and is certain to make wholesale changes with one eye on the weekend's Premier League clash at Manchester United, anything less than a home win would be a monumental shock.
David Luiz (thigh), Rob Holding (hamstring), Pablo Mari (ankle), Gabriel Martinelli (knee) and Calum Chambers (knee) are all out, while Sokratis Papastathopoulos and William Saliba were left out of Arteta's Europa League squad altogether. However Arsenal will be able to call on the likes of Shkodran Mustafi, Willian and Bukayo Saka.
For Dundalk, Dane Massey is still struggling with a hip injury but Nathan Oduwa could make the bench if he can shake off a hamstring concern.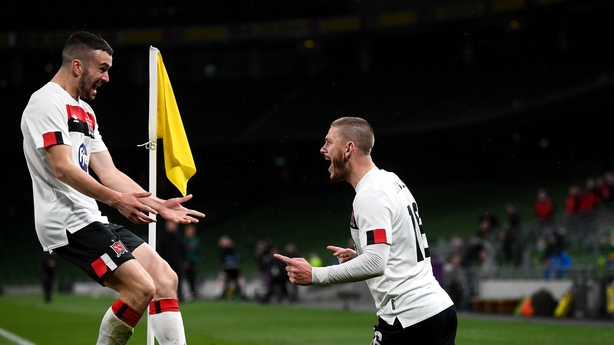 Midfielder Sean Murray meanwhile is dreaming of maintaining his goalscoring run in Europe - he buried a brilliant header against Molde last week and was also on target against KI and Sheriff Tiraspol. The 27-year-old is keeping things in perspective however.
"I think the best thing we can do this year is give a good account of ourselves in Europe," the 27-year-old said.
"We have a massive game again on Sunday [against St Pat's] - we have to get third place to get European football [for next season] as well."
Murray had a taste of playing in the Premier League's glitzy arenas when he was at Watford, where he briefly lined up alongside Hector Bellerin, who had a loan spell at Vicarage Road early in his career.
"He was a great player, a great guy, so I am happy to see how well his career has gone on," Murray said of the Spaniard.
"He did the simple things very well. I think he was maybe 17, 18 when he came to us. We were playing in the Championship at the time and he adapted to the game so well. Credit to him."
Michael Duffy picked 'Thierry' as his Confirmation name such was his love of the brilliant French striker and Giovignali idolised Liam Brady [albeit when he was wearing the shirt of Juventus] as a boy, but there will be little time to gaze at the stars around them tonight.
"They will need to face the opponent, be brave and put in our style," the manager warned.
"We come here to play and not just to defend and stay behind the ball. Maybe they score against us and we arrive at the end of the game suffering.
"It's a historic moment for the club, the town and the entire nation. The whole world is going to look at this small team from Ireland playing against a giant.
"I would love to see them play relaxed, composed, don't be nervous and try to perform at their best. To show their quality and our idea of soccer. I want them for sure to have fun. This is the best part."
Follow Arsenal v Dundalk via our live blog on RTÉ.ie/sport and the RTÉ News app.