The First Division regular season reaches its climax on Tuesday night with 70% of its teams still in with a chance of going up.
A madcap end awaits a league that, until February, had yet to formalise the number of sides that would actually be in it.
Early in the year, two different fixture lists were released by the FAI; one including a financially struggling Limerick FC, and one without.
In January, Limerick had launched High Court proceedings against the FAI when the association allegedly failed to invite them to submit an application to play in the First Division, but the case was later struck out after the judge was told that the two parties had reached a settlement.
Ultimately, Limerick didn't apply for a license - though Shamrock Rovers II did, a move that triggered another fallout.
The First Division Alliance [FDA], which was made up of the nine other clubs in the league [Athlone Town, Bray Wanderers, Cabinteely, Cobh Ramblers, Drogheda United, Galway United, Longford Town, UCD and Wexford FC], were unhappy with the presence of a Hoops 'B' team and threatened a boycott.
In mid-February, they dropped the threat and agreed to proceed with the league.
And then, Covid-19 happened.
The lengthy delay to all domestic action forced a drastic rethink on the structure of the Premier and First Division seasons.
Nine of the second-tier clubs, plus - ironically - Shamrock Rovers, voted against a proposal to have a one-up-one-down scenario for the truncated campaign because they wanted to keep the usual promotion/relegation format. They got their way, and so, here we are.
Now, the champions gain automatic promotion while the sides placed from second down to fifth go into a play-off series that climaxes with a promotion/relegation showdown against the Premier Division's second-from-bottom side.
It's made for a dramatic 18-game dash with plenty of twists and a lot of highly entertaining football.
The First Division has plenty to offer for those who seek it out.
---
TUESDAY NIGHT'S FIXTURES, all 7.45pm kick-offs
Cobh Rambers v Shamrock Rovers II
Wexford FC v Longford Town
Galway United v UCD
Cabinteely v Drogheda United
Athlone Town v Bray Wanderers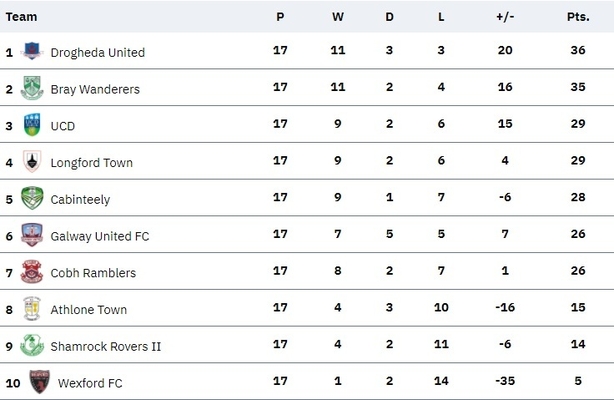 ---
It's become something of a breeding ground for rising managers to cut their teeth, as well as providing a platform for promising players to step into senior football away from the harsher demands of the Premier Division.
Last Friday Republic of Ireland Under-17 international Sinclair Armstrong made the move to Championship side QPR having enhanced his reputation with Shamrock Rovers II this year. The Hoops are second from bottom but they've regularly garnered praise for their attractive brand of football.
Athlone Town are a place above them. If they win their final match they'll have matched the points total they managed last season over 27 games.
Adrian Carberry knew he had a major job on his hands in the midlands when he took over last winter but there's been positive signs for Athlone, not least their run to the quarter-finals of the FAI Cup for the first time in 14 years. They host Shels this Saturday.
This season has thrown up some other great sub-plots.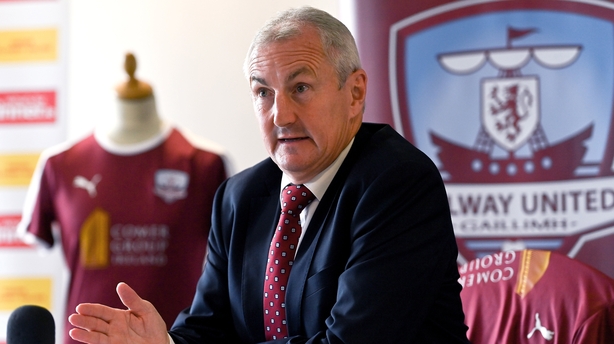 Ex Cork City boss John Caulfield took the reins at Galway United in August having been out of the game since leaving Turner's Cross in May 2019. Galway were second from bottom and still waiting on their first league win of the season at the time.
If they beat UCD on Tuesday, and Drogheda defeat Cabinteely, Caulfield will be taking them into the play-offs.
Seventh-placed Cobh Ramblers need a couple of results to go their way but they're not out of it either, having dug out a crucial 1-0 win at Longford last Saturday week.
Longford will need to get something from their trip to Wexford to make absolutely certain of a top-five finish, while UCD - who've been typically easy on the eye - should be okay even if they're beaten by Galway given their robust goal difference.
Tim Clancy's Drogs will win the title if they can prevail at Stradbrook, which would be particularly sweet given they've suffered pain in the play-offs the last two years. Clancy is an ambitious and promising coach who deserves a shot at the top flight. He may be about to get his chance.
They face a tricky last hurdle against Cabo, helmed by the old sage Pat Devlin, and if Drogheda do slip up, Bray Wanderers are waiting to pounce. The Seagulls are just a point behind the leaders and travel to Athlone.
It makes for an intriguing end to an odd year, with plenty of drama still to come.
Waiting for the side that negotiates the First Division play-off games will most likely be Finn Harps, Ollie Horgan's dogs of war who've twice gone up via this route [in 2015 and 2017] while maintaining their top-flight status last year with a gruelling two-legged slog past the Drogs.
There's no easy way out of the second tier - let the games begin.