Barcelona coach Ronald Koeman was fiercely critical of the referee and video assistant after his side were beaten 3-1 at home to Real Madrid in Saturday's 'Clasico' in La Liga.
Sergio Ramos was awarded a penalty midway through the second half following a pitchside VAR review when his shirt was tugged by Barca defender Clement Lenglet.
The Madrid captain scored from the spot to restore his side's lead before Luka Modric added the third, inflicting a second consecutive league defeat on the Catalans after last week's 1-0 loss at Getafe.
"I don't understand VAR, I think it is only used to make decisions against Barca," Koeman claimed.
"You always get shirt tugs like that in the area and I think Ramos makes a foul on Lenglet first. There's a tug of the shirt, but not enough to make him fall behind as he did... For me it's not a penalty."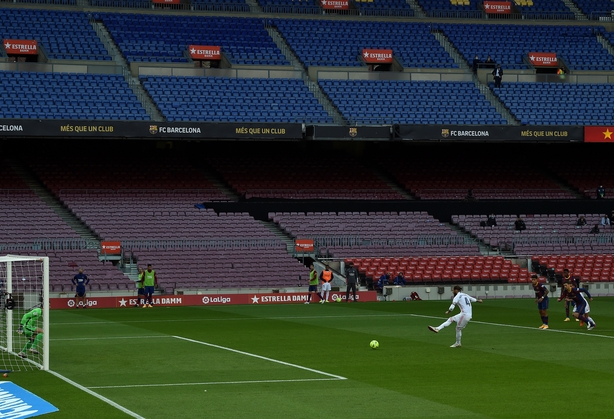 Barca had two penalty appeals turned down in the match, when Lionel Messi went down from a challenge by Raphael Varane in the first half and when the ball bounced off the arm of Varane in the second. Neither incident was reviewed by the referee on the pitchside monitor.
"We have had five matches and (VAR) has only been used to go against Barca. It's never gone our way," Koeman added.
"The decision had a big influence on the final result, because we were playing well up to the penalty. We played well, we created chances and it's difficult to understand how we lost, we didn't deserve to lose how we did."
Ramos, however, had no doubt the right decision had been made.
"I think it was a very clear penalty, he tugged my shirt when I was jumping for the ball and it's as clear as daylight. It's unfair to criticise a referee for a decision as clear as that," he said. 
"We knew how to brush aside the criticism. We had to be united after an awful week for us, there was no time for us to sulk," Ramos added.
"Overall we played very well, we showed lots of commitment today and proved that criticism doesn't damage us and that we'll always keep on going. This win will do a lot for our mental strength."
Ramos, the longest serving player at Madrid made a 45th appearance in the 'Clasico', is well used to a poor run of results from his side being blown out of proportion.
"I've spent 16 years here and a crisis can start after two bad games. Over the course of a season you always go through bad runs and let's hope this one only lasts one week," he said.
"The negative energy festers around the dressing room after defeats like the ones we had but it's up to the most experienced players to get rid of it. This team has won so much but we want to keep winning and we are going about that the right way."
Real coach Zinedine Zidane struggled to explain how his side could play so well against Barca so soon after their haggard displays against Cadiz and Shakhtar.
"Sometimes there's no explanation but we're just focusing on what we did today and we want to keep playing like that," he said.
"I don't know if the criticism was fair or unfair, all I can say is I'm proud of my players. We've beaten a team that always causes you problems. We should enjoy this after everything that has been said about us."