Cup finals are great, but only if you win them.
The disappointment was palpable as referee Ivana Martincic drew Ireland's European Championship qualifier against Ukraine to a shrill close.
There was a sobering sense of closure to not only the game, but also to Ireland's hopes of qualifying for 2022's finals in England.
But there is still hope, and it might just be a glimmer, but it is still there, should Greece be able to get something from their outing against Ukraine in November, while Ireland complete their campaign against runaway leaders Germany.
On another night, those margins go for you.
Rianna Jarrett went close to an equaliser just before the break https://t.co/DCZgAvv4go #UKRIRL #COYGIG pic.twitter.com/qcGNCmG7cW

— RTÉ Soccer (@RTEsoccer) October 23, 2020
Katie McCabe's free-kick off the crossbar. The penalty that smashes back off the crossbar. Rianna Jarrett's sliding toe-poke that needed a tiny bit more. The back-pass between Aine O'Gorman and Courtney Brosnan that needed a little bit less. Jarrett's point-blank shot that drew a point-blank save. O'Sullivan's effort that drifted inches the wrong side of the post.
Ireland were good in spells. When they moved the ball quickly, they were able to disrupt Ukraine's plan to get narrow and compact. Incisive balls down the sides of their defenders caused problems.
Any time the attacking quartet got the ball to feet and ran at them, the openings and opportunities were there but Ireland were up against a resilient, stubborn opponent who had their eyes firmly on the same prize as the girls in green.
When Ireland reflect, there will be opportunities to see more than the small margins. Honest retrospect will show some under-par performances; not bad performances, but under par. There was perhaps, too much rigidity in the approach at times. Sometimes you have to play what you see.
Ukraine dominated Ireland in the air, both from crosses in general play and from set-pieces. They had their match-ups really well considered as Darya Apanaschenko latched on to Diane Caldwell while Darya Kravets marshalled Louise Quinn. Even the variation of a low drilled ball to Rianna Jarrett just didn't quite come off.
The build-up to this game was huge. Bigger than any game in the Ireland women's team's history but it's hard to say that even had an impact because Pauw's women started the game well and dominated for long spells.
Ukraine were penned into their own half almost relentlessly for the first quarter of the match as Ireland tried to pick-pocket a way through their tight-knit defense.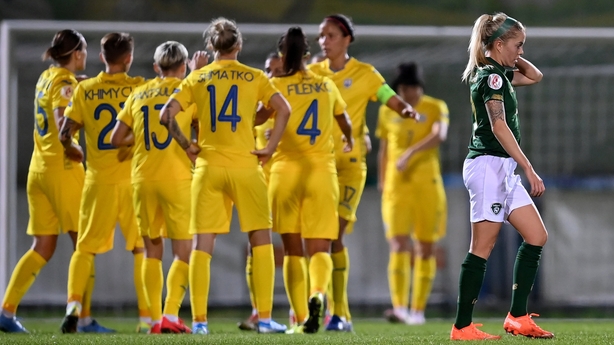 As the visibility and profile of the team and the players increases, so too does the pressure of performance but the majority of these players are playing week-in, week-out in games that matter massively. They live the pressure and will be growing in their capacity to use it to their advantage. To heighten performance as oppose to inhibiting it.
At times there was impatience in the Irish play, allowing the game to become transitional which suited the opponents. The longer the game wore on and as the minutes ebbed towards the 90th minute, the more streetwise Ukraine became.
They had a handle on what Ireland were trying to do and grew in their capacity to negate it. At times, in the second half, Ireland were getting into good areas but the cutting edge was lacking and as the saying goes, if things don't change, they stay the same.
Having not seen how players have performed in training during the camp in Duisburg, it's hard to know why Amber Barrett wasn't introduced earlier than the 85th minute. She'd been in goal-scoring form for her club (FC Koln) prior to the international break and in a game where Ireland needed to score, I wondered why she wasn't brought into the fray earlier.
Heather Payne was Ireland's standout performer accounting for the substitutions of not one, but two left-backs. She was dynamic going forward, went one-v-one, was clever in her distribution and worked hard and effectively out of possession. A player-of-the-match performance for sure from the Florida State University player.
And while making her debut will also be a moment to treasure for Wexford Youths winger, Ellen Molloy, again, it was a change that might have generated more had it come a little earlier.
We need your consent to load this rte-player contentWe use rte-player to manage extra content that can set cookies on your device and collect data about your activity. Please review their details and accept them to load the content.Manage Preferences

Of course, you need a bit of luck over the course of a campaign and there's always that general acceptance that things tend to even themselves out.
Ireland got no rub of the green in Kyiv last night and must go back to their clubs empty-handed after a week that promised so much. But this is the game and you must play till the end.
Pauw and her Ireland charges will go again on 1 December, when Germany come to town. It will take a miracle to beat them. But miracles can happen. Just ask Shane Long...