For the third time in a decade an Irish side will compete in the group stages of a major European tournament, as Dundalk face Norwegian champions, Molde, this evening at Tallaght Stadium.
While it is not yet considered the norm, Dundalk's qualification for this year's phase of the Europa League was a lot less surprising compared to when Shamrock Rovers made the initial breakthrough in 2011 by beating Partisan Belgrade.
Dundalk's first foray occurred during a time when Stephen Kenny's side were dominating domestically, year-on-year, and the arrival at the group stages was always an inevitability.
By comparison, Dundalk's journey this year was considerably more straightforward, helped perhaps by the Champions Path in the draw, while also avoiding the major seeds along the way.
The Lilywhites departed the Champions League with a whimper, falling at the first hurdle to Slovenian side Celje, losing the one-legged affair 3-0 in early August, and with it the Stephen Kenny era came to a close as his successor and former assistant, Vinny Perth, left the club.
Filippo Giovagnoli arrived to take charge of the side for the rest of their anticipated European odyssey - automatically entered into the Europa League - and the new man in charge and his side got off to a wobbly, yet successful start as they sneaked past Andorra's Inter Club d'Escaldes by the narrowest of margins.
A week later, there were glimpses of the Dundalk of old as they defied the odds to take out a decent Sheriff Tiraspol side in Moldova, by way of a penalty shoot-out, which left them one match away from the coveted group stages.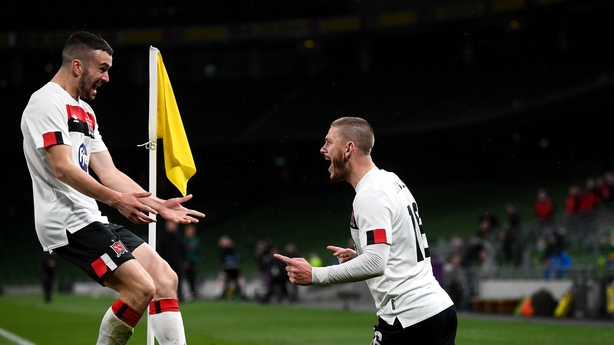 Remarkably, Dundalk got handed a plum draw - on paper at least - as they were matched with Faroe Islands side, KI; a game that would take place at the Aviva Stadium.
A scrappy affair, as it turned out, and even when Dundalk looked to have secured the upper hand in that tie, by taking a 2-0 lead, they managed to let the visiting part-timers back into the game and were nearly taken into extra time, clinging on at 2-1, before Daniel Kelly's breakaway goal secured a 3-1 victory.
So on to the Europa League group stages, and in the meantime, the Oriel Park side have started to fare a touch better on the home front as they have won two games in a row and moved into third place in the table.
Yet in general, Dundalk's league campaign thus far, can only be categorised as a disaster, having began the defence of their title well, winning four from five, with their only defeat in a five-goal thriler at Tallaght Stadium where they came out the wrong side of a 3-2 result against Shamrock Rovers.
The Lilywhites emerged from the first Covid lockdown a mere shadow of their former selves dropping right out of the title race, and bringing poor form into that Champions League game, which eventually cost Perth his position.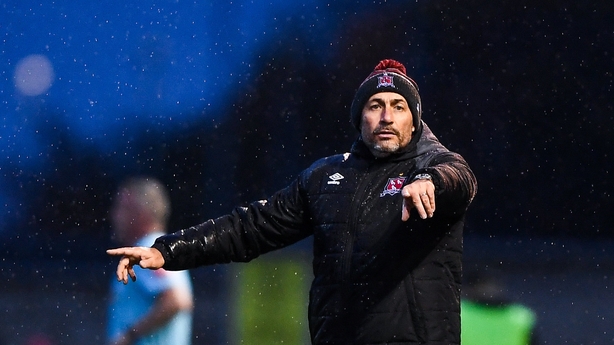 The jury is probably still out on the new man in charge and his methods, however, they have now got a chance to shine, back on the European stage.
Their title defence finished a long time ago, however, with European football all but secured for next season, this side can, for the first time since Perth's departure, play without pressure as they face off three very good European sides over the next few weeks.
And a "home" tie against the Norwegians is probably the best place to start for Giovagnoli's side, before meeting Arsenal and Rapid Vienna, who should prove tougher propositions.
Molde are still a step up for Dundalk, and they were unlucky with their own European campaign this year, missing out on Champions League group stages following a 3-3 aggregate draw with Ferencvaros, and going out on the away goals rule.
The Norwegians boast five internationals in their ranks and have won back-to-back titles in their domestic league, however, this year they have not been as comprehensive and will not take the title for a third year in a row.
Like Dundalk, their league form suffered during their European run, however, they have started to look like they are back to their best in recent weeks and will come to Dublin full of confidence having beaten the league leaders last weekend.
And while the visiting side are favourites to take all three points, their head coach Erling Moe recognises the quality that potentially exists in this Dundalk side and is taking nothing for granted coming into this opening group game.
"We have been looking at them now for quite some time after the draw, so we think we have a good view on what Dundalk are," said Moe.
"They have done well in Europe now and are a team that seems to have adapted a bit under the new coach, playing out from the back and they are quite strong going forward, so we expect a tough game tomorrow."
Dundalk will need to draw on that spirit of 2016 as they thread softly into this first encounter, and it will be up to the senior players to get this side firing to produce a competitive performance.
Chris Shields has been their talisman for the past seven-odd years and it will take a big performace from a player of his stature to give Dundalk hope.
The big bustling midfielder returns from suspension for this one, while Daniel Kelly and Nathan Oduwa are doubts with muscle issues. Dane Massey is ruled out with a hip injury.
Shields did appear to be summoning that aforementioned spirit at the pre-match press conference when he spoke about the players who remain at the club from that historic season.
And it is hard to argue with his logic going into the campaign, stating that if they aim for nothing, they will get nothing.
"There's a good group of lads who were here in 2016, which I suppose will only benefit us now because we were all fresh to it there in 2016, and now we have lads who have been there and played in it, which can only help," said Shields.
"You've got to take each game as it comes, especially as these clubs will probably be more experienced in Europe than we are, but you can't go in expecting to get nothing or you'll get nothing.
"You have to go in hoping to win points, and that's what we'll be hoping as a group of players."