Dundalk head coach Filippo Giovagnoli says that his initial kamikaze mission at Dundalk has turned into the dream scenario as he leads his side into their Europa League group stages clash with Molde at Tallaght Stadium on Thursday.
The Italian coach only arrived at Oriel Park in late August as a replacement for Vinny Perth, who departed the club following Dundalk's Champion League exit.
And while Giovagnoli said at the time that it was a kamikaze mission coming into the team at that juncture, he feels that there is a real sense of normality around the County Louth club since taking over.
Dundalk's league form had dipped significantly since the return to play following the coronavirus break, but since Giovagnoli began his tenure, they have qualified for the group stages of the Europa League group stages, while they are also back on track to qualify for Europe next season as they have moved into third place in the league.
"Sometimes when you start a mission it is a kamikaze, but then the dream and the mission become the normality," said Giovagnoli, speaking at the pre-match press conference.
"Now this is our normality, and you have to perform on the stage."
Dundalk enter this stage of the competition in a tough group, drawn alongside tomorrow's Norwegian opponents, Molde, Arsenal and Austrian side, Rapid Vienna, and will play six games over the next six weeks, while also completing their league and cup schedule in the League of Ireland.
And the Dundalk coach believes that his side can make an impact, as they did back in 2016 when they won one game and drew one, earning four points in their group.
"It's a big privilege. We are really excited to be here," said Giovagnoli.
"We hope to do well and make the fans and the town happy for all the support they have given us.
"Our objective is to get points everywhere. Perform, do well, be competitive and show everyone that Dundalk deserve to be there and they can perform at a high level."
And despite Dundalk's poor form throughout the summer, the head coach now believes that his side are playing with more confidence since securing their place in the group stages.
"We had a problem in the play-off against KI but it was a big thing, the play-off.
"Now I think we are going to perform. We are more relaxed, we have nothing to lose, just to do well and show we can compete at this level."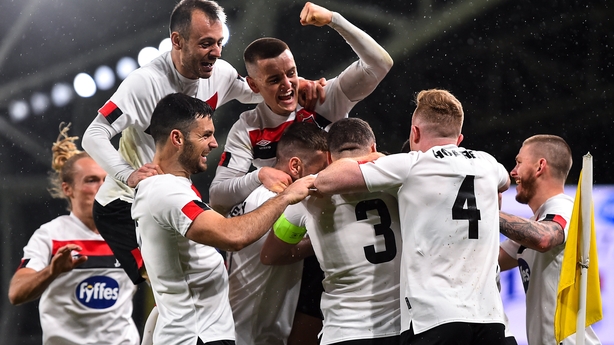 Looking ahead to the game, Giovagnoli is under no illusion about the size of the task at hand, as they take on the much-fancied Norwegian champions, who boast five international players in their squad and just missed out on a place in the Champions League group stages on away goals.
Molde have also impressed throughout their European escapades this season and have been in fine goal-scoring form, however, they will be missing striker Leke James for this clash.
The Norwegian side lost three league games on the bounce during their European adventure but have found their form again over the past two weeks with impressive wins over Brann and champions elect, Bodoe/Glimt, scoring six goals in the process.
"They have a really strong squad with international players. They are a really good team, we watched them, and I don't think one player [missing] is going to make a difference in their line-up at all.
"We watched their game [against Bodoe/Glimt] and I think they did well. We know their strengths and their weaknesses. But we study more than one game. Last game is not enough. We saw something that didn't work for them and we are preparing our strategy."
The match takes place at Tallaght Stadium as Dundalk's home ground does not meet UEFA standards for a game of this stature, and while the club had hoped to play the match at the Aviva Stadium, Giovagnoli said that he is happy to play anywhere as long as the players are happy.
"I know for the club it was important to play there, but for me, it makes no difference. I know my players are happy to play here and if they are happy and feel comfortable to play here, then I am happy too."