Ruesha Littlejohn doesn't take long to rain on her partner Katie McCabe's parade as she sits down to face the media from the Republic of Ireland's Duisburg training base.
"You mean the cross?!" she laughs when asked about McCabe's goal for Arsenal that went viral over the weekend.
"She was quite happy with it. She claims it was a shot, but she said she was whipping it in across the keeper in case anyone got a head on it. And she's still claiming it was a shot!
"Katie is flying. She's always been such a good player. She's getting minutes now at Arsenal and is obviously a very important player for them. She's made that left-back position her own but we all know that when she comes to Ireland, we want her higher up the pitch creating chances and hopefully scoring goals.
"It's great to have her in such good form coming into this game."
Wow. ??@Katie_McCabe11 scores already! What a finish ??#BarclaysFAWSL #NLD pic.twitter.com/Tg79dwOxwj

— Barclays FA Women's Super League (@BarclaysFAWSL) October 18, 2020
The vibes are good in the Irish camp right now.
Vera Pauw's side require a point against Ukraine on Friday to guarantee themselves a Euro 2022 play-off spot, while a win would keep alive hopes of finishing as one of the nine groups' three best runners-up. That feat would earn them automatic qualification for the finals in England.
Never before has an Ireland women's team made it to a major tournament, but this tight-knit bunch are desperate to make history. Germany, the second highest ranked outfit in the world, turned Ireland over 3-0 last time out but there were many positives to take from that experience.
"They are one of the best teams in the world," adds Glasgow-born Littlejohn.
"It's always good to test yourself against the best. It'll be good for us going into this Ukraine game, having played Germany. We're looking forward to it.
"We've got a wee bit to go but we've come such a far way since I've been in the squad. Most girls now are at professional set-ups, they're at professional clubs, and that's massive. It's so important to be training every day against good players from all around the world.
"You've got people who are physical, fast, strong, you've got people who are more technical. It's great to test yourself against these kind of players. We need to keep pushing. The next step will be to compete against Germany, to try and get results against them. I don't think we're too far off it. All in good time."
Ireland are in a strict bubble this week. They will remain in Germany until Thursday morning, when they're scheduled to take a chartered plane to Kiev. Players are not allowed into each others' rooms, masks must be worn at all times outside of training sessions, while the players will have been tested for Covid-19 three times before they fly out for the game.
"It's tough," admits Littlejohn. "It doesn't feel normal for anyone I guess, but we've got to be professional. We can't risk anyone catching Covid so we need to keep our distance from each other.
"We've always got our masks on; we're constantly sanitising our hands; we can't go into each other's rooms to have a chat and a carry-on. We just can't do it right now. But that's fine. We need everyone fit and ready for the game. We have to make these sacrifices."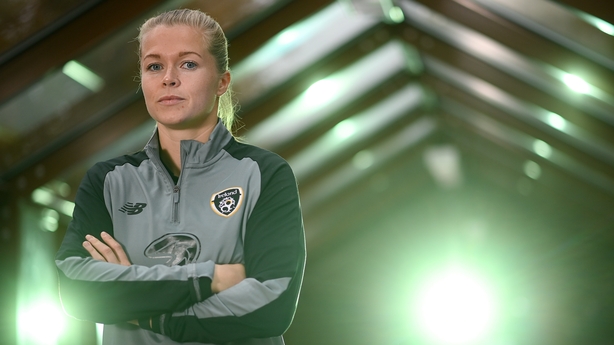 Littlejohn has 57 international caps to her name but things haven't always gone smoothly. She'd been out in the cold since 2018 before Pauw called her up for March's qualifier against Greece, the midfielder repaying the manager's faith by producing a terrific performance in a 1-0 win.
Now, she's at the heart of side determined to lift the spirits of a nation.
"It was hard being out of the squad for such a long time. I'm really happy Vera has brought me in. It's great working under her. She's always worked at a very high level so it's great to have someone with her experience, to be working under her and learning from her.
"I was at Tallaght, in the stand [for Pauw's first game in charge against Ukraine]. I was being a fan girl. For the team it takes time to get used to the new staff that come in, but everyone has bought in to what Vera and the staff are doing. That's the most important thing. It's going well. We trust Vera and we trust the staff.
"Pressure is a privilege when you're playing football. We have to see it as being just a game; we can't let the occasion and the surroundings get the better of us.
"We just have to be focused and calm. We're ready."
Watch Friday's crucial UEFA Women's Euro 2022 qualifier between Ukraine and the Republic of Ireland live on RTÉ2 and RTÉ Player from 4.30pm, with live updates on rte.ie/sport.