Rianna Jarrett has said Virgil van Dijk faces a long, tough road back to full fitness after suffering anterior cruciate ligament damage, but the Republic of Ireland attacker believes she's proof you can come back stronger than ever.
Liverpool defender Van Dijk requires knee surgery following a nasty-looking challenge from Everton goalkeeper Jordan Pickford during Saturday's Merseyside derby. He's now likely to spend the majority of this campaign rehabbing on the sidelines; and it's a pain that Jarrett knows all too well.
The Wexford woman has come back from ACL damage three times - twice on her right knee, once on her left. In all, those injuries cost Jarrett almost two years of playing time.
She's spoken previously of the enormous toll each setback took, but - still only 26 - the Brighton and Hove Albion forward now feels in the shape of her life, confident that overcoming those challenges made her a better footballer and a mentally tougher person.
"A serious injury like that is a long one," Jarett said from Ireland's Duisburg training camp ahead of the crucial Euro 2022 against Ukraine on Friday.
"There's no shortcuts in terms of the work and the graft you have to do to get back on the pitch. I definitely learned a lot about myself mentally.
"I was able to push myself to new limits and I think that helped me not only on the pitch, but off the pitch in everyday life as well. Physically, I think I'm now in the best shape I've been in in my whole career - even before I sustained the knee injury.
"It's proof that if you put your mind to it and put in the work there's no reason you can't come back better than ever."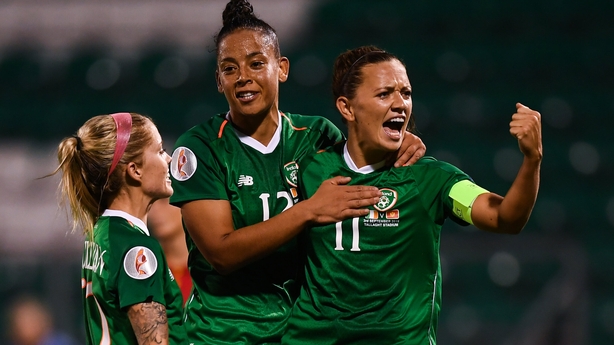 It's just over a year since Ireland beat Ukraine 3-2 at Tallaght Stadium in Vera Pauw's first game at the helm.
Jarrett - then a Wexford Youths player - scored her first senior international goal in front of a record crowd that night and there was a feeling that Ireland were a coming team, one ready to have a real crack at becoming the first women's side from these shores to make a major tournament.
They remain on track to do that, with Jarrett at the heart of an impressive maturation of a team desperate to make the breakthrough.
"It was Vera's first game, it was new management, a new set-up, so going into that game there was excitement from all angles," remembers Jarrett.
"The performance we showed on the day really put us in good stead as to how we wanted to play going forward and obviously put us in a great position in the group. For me personally, to get my first senior international goal, it's a day I'll never forget. The fact we got the three points too made it that little bit sweeter.
"Since Vera has come in, and since I've gone to Brighton in January, my knowledge of the game - and overall game - has improved.
"We've got myself, Denise O'Sullivan and Megan Connolly playing at Brighton which is fantastic. We've played internationally alongside each other for the last number of years; myself and Denise played underage together as well. The three of us are actually living together!
"For me it's been my first step up into a professional environment so I'm enjoying the fact I don't have to go into work or sit at a desk Monday to Friday for eight hours a day and then do the training on the side."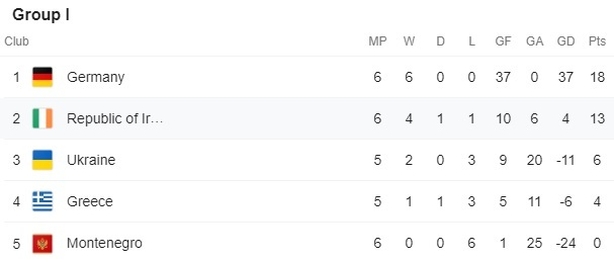 A point in Kiev would seal a play-off spot, though Ireland could yet finish as one of qualification's best runners-up to sidestep that scenic route.
Ireland acquitted themselves well last time out despite going down 3-0 to Germany, holding the powerhouses scoreless in the second half. Considering the Germans have annihilated all comers in Group I - including Ukraine, who they've twice beaten 8-0 - that was no mean feat.
After Ukraine, Ireland welcome the number two-ranked side in the world to Tallaght. Jarrett said there will be no inferiority complex.
"We're getting to a stage now where we don't want to just contain the bigger teams. We want to be able to contest with them. We want to go toe to toe with them. I've been exposed to a couple of those games this season with Brighton, playing Man City, the likes of Arsenal, and obviously Germany with the Irish team.
"Even a year ago I wouldn't have had those sort of games under my belt and I wouldn't have been able physically to get through those games. Playing 90 minutes against Germany, playing 90 minutes against City, that says a lot about how far I've come."
Stronger, fitter, and desperate to ease the nation's pain after the men suffered play-off heartache against Slovakia, Jarrett concludes: "We saw the disappointment of the men's team in the play-off last week. That still hurts me. It was a fantastic performance and they were just so unlucky.
"For us, we've put ourselves in a great position but we know there's still a lot more to do. Friday's game is massive. We know exactly what's at stake.
"If we can go out and get the job done and get to that play-off that's a major thing for the country, and if we can do that hopefully it'll boost a lot of people in terms of what's going on at the minute."
Watch Friday's crucial UEFA Women's Euro 2022 qualifier between Ukraine and the Republic of Ireland live on RTÉ2 and RTÉ Player from 4.30pm, with live updates on rte.ie/sport.