Republic of Ireland manager Vera Pauw believes that Ukraine underestimated her side in last October's Euro 2021 qualifier in Tallaght but does not expect them to repeat the mistake in Friday's crunch game.
Pauw's side take on Ukraine in Kyiv on Friday (Live on RTÉ2 and the RTÉ Player) in what the manager describes as a 'final' for both sides.
Last October's 3-2 victory in Tallaght means that Ireland are in the driving seat in the chase to finish second in Group I, behind runaway leaders Germany.
A victory or a draw in Kyiv would see Ireland secure a play-off spot with a game to go, but a win is needed to keep them in contention for one of the automatic qualifying places as a best runner-up from the groups.
The nine group winners and the three best runners-up qualify directly for the final tournament, while the remaining six runners-up advance to the two-legged play-offs.
Ireland currently sit in fourth in the rankings of the best runners-up, making victory essential but Pauw does not believe that they will catch Ukraine on the hop again.
"[Ukraine] underestimated us," she said. "I think they were overwhelmed by our structure and the way we were approaching them.
"When I see how they played against Greece, which is their latest game, their perseverance to get as many goals as they could and the way that they did it, it's more that I've learned from that game than our first game with them."
Ireland were spurred on by a record crowd during that game in Dublin and with Friday's rematch taking place behind closed doors, Ireland will have to look within for inspiration.
"Our first was that everybody wanted so much to get a positive result," Pauw said. "There was such an intensity, the whole stadium felt it, the crowd brought it on the pitch.
"No the intensity comes from the fact that this is a final, it's a final for both Ukraine and for us. We all know Ukraine need a positive impulse and they are looking for positive moments and I'm sure that squad are really ready to go for it, but we are as well.
"Yesterday I was talking to a player and she said 'this is most likely the most important game of my career', this was one of the veterans."
"We have prepared and we'll see on the pitch where the final dot is on the i."
Pauw has a near full strength team to chose from for the trip to Ukraine. Veteran striker Stephanie Roche has been left out of the squad, while goalkeeper Marie Hourihan misses out too with a dislocated finger.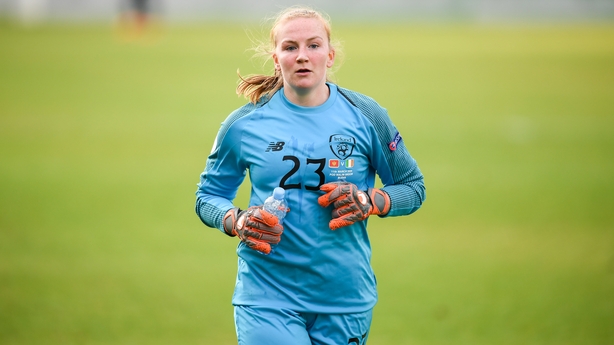 Hourihan has been in a battle with West Ham goalkeeper Courtney Brosnan for the number one shirt since Brosnan made her debut against Montenegro in March and Pauw revealed that while she could have taken a gamble on Hourihan's fitness, she's happy with her options.
"To be honest there was already a doubt whether Marie would be brought in or not," the manager said.
"Her dislocated finger gave that last push because you cannot have any doubt whether she could play and a doubt whether see could be on the bench. You have to concentrate on the others.
"Marie is not out of the squad, Marie is very much in the squad. We follow her, we've been in contact with her this week several times also to monitor her injury and she is on standby."
With all the focus on such an important game all other thoughts, such as equal pay with the men's team, have been put on hold for the time being.
There have been growing calls for the FAI to ensure that both men and women's senior teams receive the same level of payment, but while Pauw believes there are important discussion to have on that front, she insists that they have to wait.
"It's extremely important that those discussions are there because it drives the women's game forward to another level," she said.
"But at this moment our concern is of course this game. If we qualify then of course that will be brought back on the table but both the players and staff have said together 'keep it out of our discussions now'.
"We want to concentrate just on this game. It will not make a difference to discuss it this week, that will be after. First we qualify and that is our main concern."
Pauw did however reveal that an encouraging step towards equality between the men's and women's teams have already taken place with the FAI chartering a private plane for the women for the first time.
"Gender equality is having equal rights and opportunity," she said. "With this Covid situation, having to travel in a normal airport, being in lines with others, the risk of picking up the virus is so big.
"The management said 'we have to make this happen'. If we say we drive to gender equality, this is the moment that this is necessary."
Watch Friday's crucial UEFA Women's Euro 2022 qualifier between Ukraine and the Republic of Ireland live on RTÉ2 and RTÉ Player from 4:30pm, with live updates on rte.ie/sport.