If Stephen Kenny's side can produce a performance that remains competitive throughout their UEFA Nations League clash with Finland, the new manager can walk away from this truly bizarre international window with a real sense of achievement.
If losing two key players at the last minute for the vital Euro 2020 play-off in Slovakia was a tough pill to swallow, what happened in the hours before the Wales game placed the manager in a remarkable situation that Kenny and his staff somehow managed to sail right through.
Five added to the two from Slovakia and Ireland were left with a depleted squad for the game against Wales on Sunday.
After the energy-sapping and heartbreaking night in Bratislava, the expected lull never arrived and somehow a ramshackle Ireland put on a fine display of passing football rarely witnessed on the hallowed turf of Lansdowne Road.
With 1523 completed passes out of 1744 attempted from the three Nations League games, the footballing purists were salivating over the 87% passing accuracy, yet with just one goal, as well as 120 minutes of play-off stalemate from Slovakia, Kenny's critics are gathering their ammunition and setting the new manager in the crosshairs.
Despite the lack of goals, the chances have been created, and when you review Ireland's attempts in front of goal, most notably in Bratislava, as well as the home game against Wales, it would suggest that they will come if Kenny's side continues in the same vein.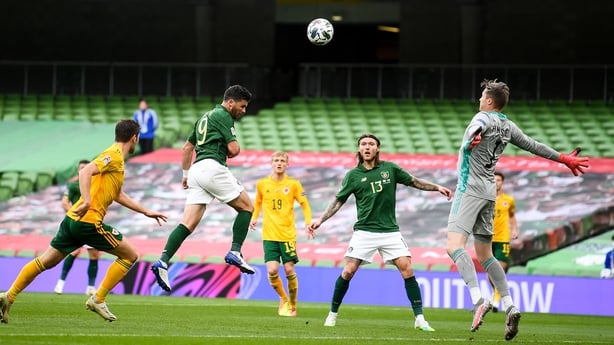 Shane Long at the Aviva, Conor Hourihane in Slovakia; nine times out of ten, those chances are ending up in the back of the net, while Robbie Brady, Daryl Horgan and Alan Browne were also involved in chances that maybe should have been converted.
For all the fine football, however, almost all of Ireland's chances against Wales came as a result of crosses into the box or from errors of the opposition.
The team's high press and excellent energy levels allowed Ireland to play a significant amount of the game inside the Wales half, yet that high-tempo approach may have thwarted the side's creative instincts in final third of the pitch.
Scoreless at home to Wales with 25 minutes on the clock and with Ireland lacking imagination in the final third, the manager turned to the substitutes bench for influence.
Surely a situation for Jack Byrne to showcase his passing ability and creative instincts, but rather, Kenny opted to bring on two players not even in his original squad.
Kenny obviously believes Byrne has a role to play in his Ireland side, but as things stand, it remains to be seen in what situation he will trust the Shamrock Rovers man to dictate the play and knit a performance together. If not in an evenly balanced home tie against Wales, then when?
Perhaps the manager is favouring intensity over intricacy in his approach at this early juncture of his tenure, and believed that if his side continued to play the same way, they would eventually get the rub of the green.
It was not to be and now four games into the new era, perhaps there is an over-eagerness in getting the ball into advanced positions, which could be a result of the manager and team knowing that the critics are ready to pounce.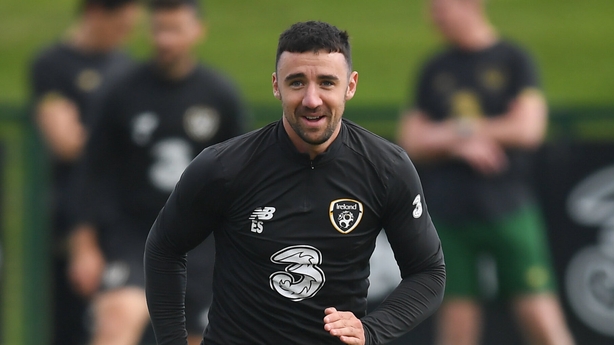 Ireland defender Enda Stevens was speaking to the media ahead of tomorrow's Finland game, and he offered a real insight into what the manager is asking from his players in that final third, which is certainly a work-in-progress at this early stage.
"The gaffer wants goals to come any way, whether it's individual brilliance, crosses in the box or it's playing through the line. He more or less wants us to dominate the ball and dominate long spells in the games and just be on top, and we have been doing that.
"The big thing for us is we need to score when we are on top and we haven't done that. But once we do that, you can relax and settle into the game.
"We've played really, really well. I thought we've created some very good opportunities, especially over the last two games, and we're not a million miles away from that.
An overall appraisal of that Wales game, when all extenuating circumstances are taken into account, suggests that Kenny really cannot be questioned about any aspect of the performance or the decisions that he made throughout.
Looking ahead to tomorrow's game, and there will be a real sense of déjà vu for the manager as he sets about pulling another rabbit out of the hat with all his plans thrown into disarray over the past week.
The latest Covid positive test, thankfully, did not have a similar domino effect with the squad, yet Kenny still has a severely depleted selection compared to those who began the training camp ahead of the Slovakia game.
The manager will be really buoyed by the return of Aaron Connolly and Adam Idah and there is a real possibility that both players will start in Helsinki.
Connolly would have started in the play-off, while Idah would have been certainly used in the latter stages with goals required, and it will remain a what-if moment throughout the manager's Ireland tenure.
Kenny will name his strongest side possible as he searches for that elusive first win to really kick-start his time in charge, but he will still have some big calls to make in relation to the make-up of the side.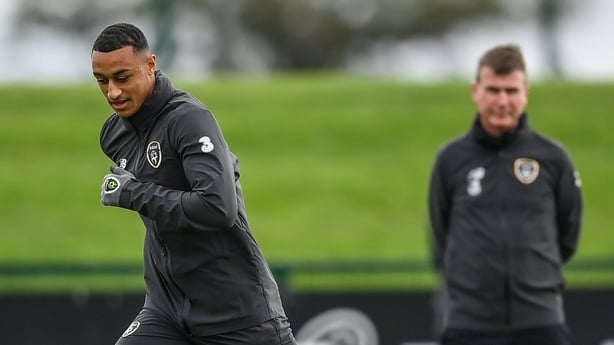 Darren Randolph will start in goal with captain Shane Duffy, Enda Stevens and Matt Doherty all set to line up in defence.
Kenny's first conundrum will be the fourth member of that unit and what way they will line out against the Finns if Kevin Long is not passed fit.
Does the manager ask Doherty to remain at centre-half and favour experience by selecting Cyrus Christie at right back. Both players did quite well in their roles against Wales, but naturally Doherty's best weapon, his attacking play, would be blunted somewhat sitting in the middle of defence.
If the manager wants Doherty bombing up and down the right flank, he is going to have to play Dara O'Shea alongside Duffy. The West Brom defender has plenty of Premier League football in the bank but has limited experience at international level.
Burnley defender Long, who went off with an eye injury on Sunday, travelled to Finland and the fact that he remains with the squad would suggest that he is ready to go again.
James McCarthy has not recovered fully from the injury picked up in Slovakia so will not line up alongside Jeff Hendrick and Conor Hourihane, however, Jayson Molumby is learning very fast at this level and Kenny will have no qualms about playing him again in Finland.
Robbie Brady has been one of the real positives for Ireland over the past week and really revelled in that right forward role, drifting inside, roaming free, while also linking with the overlapping right back.
The Burnley man will surely start again in that position, and with Connolly on the left side of the three, it just leaves the manager to select the striker.
Shane Long had his chance to cement his place on Sunday but did not do enough to be an automatic choice, while Sean Maguire looked lively when he came on but did not show sufficiently.
Which leaves Kenny's first choice from the two games in September, Adam Idah, who looks like he will improve in every game he gets at this level, and under the new boss, that could be quite a lot.
Republic of Ireland (probable): Darren Randolph; Matt Doherty, Enda Stevens, Shane Duffy, Kevin Long; Conor Hourihane, Jeff Hendrick, Jayson Molumby; Robbie Brady, Aaron Connolly, Adam Idah