Stephen Kenny believes that the show must go on when it comes to international football, despite the Covid crisis that has hit Ireland and several other sides over the past week.
Both Ireland and Slovakia were weakened due to coronavirus issues ahead of last week's Euro 2020 play-off in Bratislava, while many other countries have been affected since the current international window opened at all levels from the Italian Under-21 side, who played Ireland today, right up to the top teams in Europe, with Cristiano Ronaldo testing positive while on duty with Portugal.
There has been calls for a total review and even a halt to international football until the coronavirus is manageable, however, with another two games slated for November, the Ireland manager believes that it is an obstacle that needs to be cleared, for the benefit of society.
"I don't think it will be," said Kenny, when asked whether Wednesday's game in Finland will be the last international match for the foreseeable future.
We need your consent to load this Facebook contentWe use Facebook to manage extra content that can set cookies on your device and collect data about your activity. Please review their details and accept them to load the content.Manage Preferences
"It is difficult to be certain, but in life there are challenges, and society must exist. And you must try to overcome hurdles in your life or in society, I think that's important.
"History has taught us, it's thrown up many challenges throughout the ages and we've always had to overcome obstacles."
And Kenny believes that sport is one area that is bringing a sense of normality to people, in these difficult times, while he also feels that the Irish football team plays a very important role in Irish society.
"Sport is an important part of life and people need something to look forward to. The Irish national team are very important within Irish sporting life. Hugely important.
"It's the pinnacle of sporting life in Ireland, the Irish national football team, along with other sports.
"But it is a very special place in the hearts of the Irish supporters. It is great if it does continue.
"We've had setbacks and people have to review that, but it's good news if it continues, and that's for sure."
The Ireland manager was asked about the travel arrangements for the Finland trip, considering several players were ruled out of his squad as a result of being close contacts, most notably while travelling.
And the manager said that while some changes were made, it was essentially a role for the operations department in the FAI, while he believes that more changes will be made in the future.
"There were some differences. The operations director would mainly plan that with all the senior management.
"I spoke to him yesterday about the flight plan and we did change some things, these are things that everyone is learning. There are no experts at the moment.
"It's a real learning curve for everyone and there will be changes, I would think, going forward."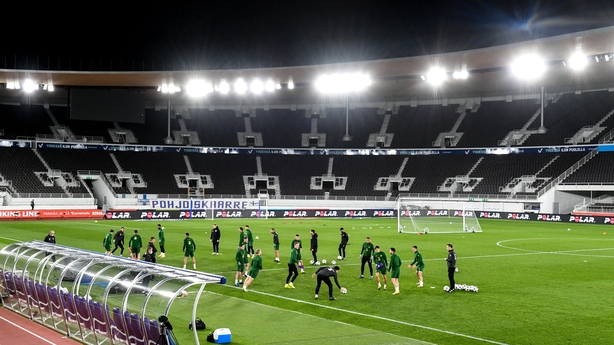 The Ireland manager was asked whether he had faith in the testing system, and while he did not offer an opinion either way, he is obviously still frustrated with the fact that he was forced to plan without players as a result of the Irish regulations.
"It's hard to believe that we lost two players for the playoff at such a late stage because of a false positive connected to contact tracing.
"If it was a Dutch player, they wouldn't have a problem because their rules are 1.5m, if it was in England, there wouldn't have been a problem.
"Our rules, the HSE rules are much more stringent than anywhere else in Europe, I think. In our country, we have to abide by the law and that's what the medical department did."
Yet the manager was quick to point out that football is a lot less significant when compared to the bigger picture in relation to the amount of deaths and hardship casued worldwide by the coronavirus.
"There are people experiencing far worse than we are at the moment. This coronavirus has killed thousands of people around Europe and bigger numbers throughout the world. It's bigger than sport but for us, it did have an impact."
Kenny agreed that Ireland were severely impacted by the Covid chaos of the past week, and combined with those ruled out injured, the manager tallied that Ireland were missing 13 players for the game against Wales, with the majority still missing for the game against Finland.
"We have eight players missing through contact tracing. So that has been significant. James McCarthy and David McGoldrick were injured, and we had Seamus Coleman, Harry Arter and Darragh Lenihan out of the original squad.
"We had 13 players unavailable for the game against Wales. So considering that, I think the players did remarkably well and were unfortunate not to win really."
And looking ahead of the return fixture against Finland – tomorrow's hosts won last month's game in the Aviva 1-0 – the manager expects a better performance from his side compared to the Dublin game.
Kenny felt that Ireland really struggled in that match as a result of most of the squad still essentially in pre-season mode.
"The last game against Finland, was in the middle of the off-season," said the manager.
"We can't just say that for us; Finland also. It was a strange time."
And Kenny also offered his opinions on the Finland side who have a club feel to them, while they have already qualified for Euro 2020.
"Finland, are a very, very good team, they proved that by getting to the European Championships.
"They are nearly like a club team in that they are very consistent in their selection and certain in their roles. They can play in different ways and tactical systems. Finland have maximised their resources."