Isn't a week a long time in football?
This time last week, Slovakia's misfortunes due to Covid-19 were the hot topic and little did we know that just seven days and two games later the positives and negatives we would be discussing, would relate to tests on the same person. 
But this is the era that we find ourselves in where adapting and being flexible is the order of the day, every day. 
Right-backs playing left centre-back is an adaptation you might expect for a Leinster Senior League manager as opposed to a senior international manager, but in these most unprecedented times, these are the challenges that Stephen Kenny, his players and staff all face. 
The amount of planning that goes into one football match is huge. 
From opposition analysis, to set pieces; in possession, out of possession, down to the finite details of the game plan itself. Allocating roles and responsibilities to players in the key moments of the game and then transferring all that detail, first to the staff and then to players on the pitch and in team meetings.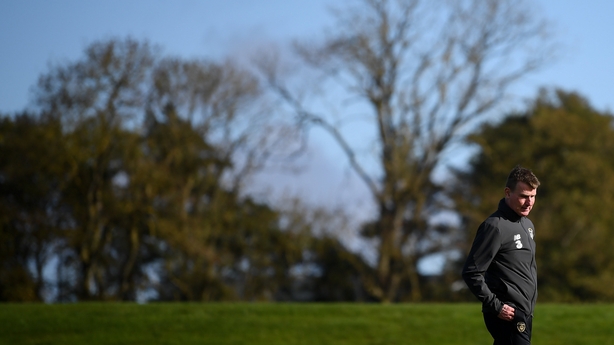 Those training sessions and presentations will also have been carefully constructed to ensure the message is clear and give the best opportunity to execute the game plan.
To find out hours before a game that much of that work has been utterly nullified is a big blow, but these are the challenges that sports teams everywhere are facing
And all this talk about 'bubbles', who are we kidding?
The bubbles were at the clubs. How can 35-40 people from 35-40 different households travel by air to convene in one spot and for that to suddenly become a secure bubble?
Then those 35-40 people fly and play three matches in three different countries and then return to their original bubbles.
These are not bubbles, they are suds!
There are flaws in UEFA's planning around international fixtures and everyone is learning as they go. A review of the lessons learned in this international window will inevitably be undertaken and may affect how future scheduling is implemented.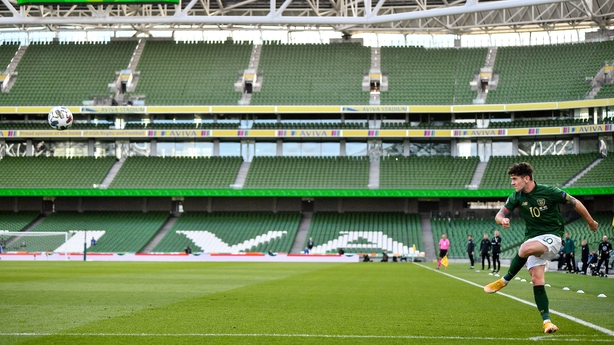 People talk about asterisks beside all these games, but the problem is these games matter and the results cost places in prestigious tournaments and therefore revenue.
There are also seedings in future groups at stake so we can talk about asterisks till the cows come home, but this remains a results business and we cannot wash our hands of the fact.
Perhaps a more condensed international window, with teams based in three or four secured locations with less travel might be a potential solution.
Despite the 1-0 defeat to Finland in Dublin last month, there is still cause for optimism
Ireland though, should be in more settled shape heading into this UEFA Nations League game away to Finland than last Sunday's fixture with Wales. Kenny has been able to replenish his squad, despite losing one further player to Covid-19 at the last hour before departing to Helsinki.
Seating plans on planes won't be the talking point ahead of this match and Ireland have the opportunity to finally get that first win on the board. Despite the 1-0 defeat to Finland in Dublin last month, there is still cause for optimism.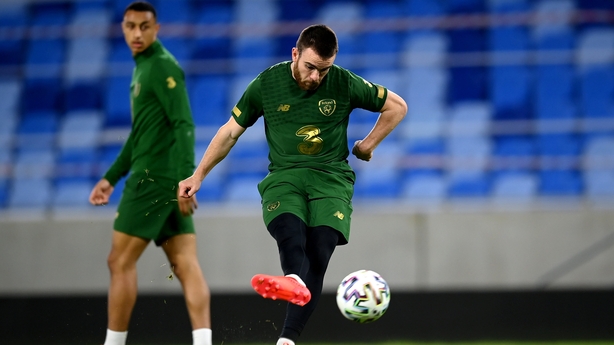 Aaron Connolly and Adam Idah have returned to the group and join the already drafted reinforcements Sean Maguire and Daryl Horgan. 
Portsmouth's Ronan Curtis is also called up and Ireland have shored up the attacking options for this game, after David McGoldrick, James McClean, Callum O'Dowda and Callum Robinson were all ruled out.
With Alan Browne, Derrick Williams and John Egan also ruled out, and with a question mark remaining over Kevin Long's eye injury, West Brom's Dara O'Shea and QPR's Ryan Manning have been drafted in from Jim Crawford's Under-21 side to add to Kenny's depleted defensive options whilst Derby County midfielder Jason Knight has also been called up.
The new additions are players that Stephen knows very well from his Ireland U21 days and Dundalk tenure where he worked with or against all of them.
And whilst some do not have the same levels of experience at senior international level as those missing, they will be capable of understanding a clearly defined game plan and their roles within it.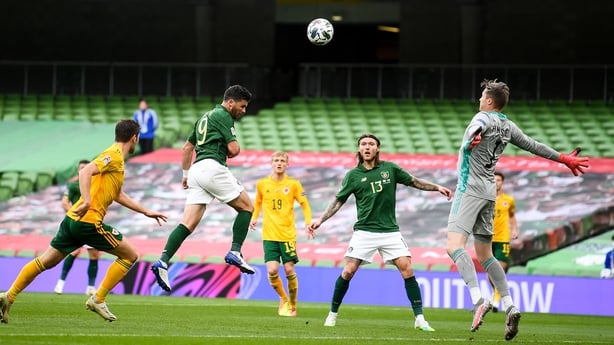 Ireland's biggest problem has been finishing the chances that have been created, scoring just 10 goals in the last 18 competitive internationals, so it is an old issue. However, what we are seeing is the deliberate creation of more scoring opportunities which are built on well-constructed phases of play. 
All that has been missing are those finite details of actually putting the ball in the back of the net. 
Ireland were passing the ball, successfully, to create opportunities to score
Whether Finland opt to play four (as they did against Bulgaria last Sunday) or five at the back (like we saw in Dublin) we should still take confidence from the fact that when you analyse the nuts and bolts of the Aviva Stadium outing, Ireland had more possession, a better pass accuracy and crucially, more attacks per minute than the visitors. 
The possession was not possession for possession's sake. It was purposeful, attacking possession. 
Ireland were passing the ball, successfully, to create opportunities to score.
We had 14 shots to Finland's 11, but only six of Ireland's came from inside the box compared to seven of Finland's.
Crucially, only one of Ireland's shots inside the box were on target (17%). Five of Finland's seven (71%) were on target.
This is the key area for Ireland to improve.
Finland are ranked 56th in the world, Ireland are 37th so this, on paper, remains a game that could and should be won.
The Scandinavian side shipped a heavy 5-1 defeat to a Poland side that did not include Robert Lewandowski in a friendly last Wednesday before seeing off Bulgaria 2-0 in the Nations League last Sunday.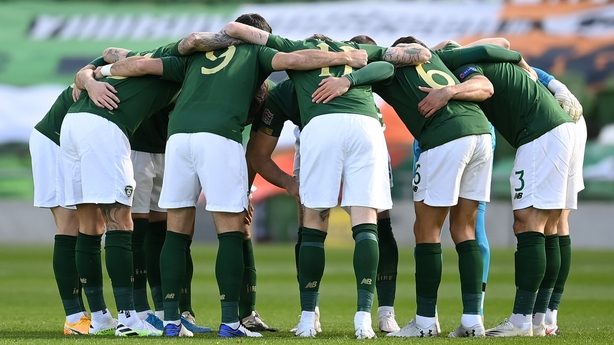 Ireland's general play, in and out of possession, is going in the right direction, the end product needs to soon. These are the differences between winning and losing games, because the only statistic that really matters is the score at the end of the game.
Kenny's reign won't be judged on successful passing stats, results will ultimately decide that. Time and patience are needed to build and embed a way of playing and things are progressing well regardless of asterisks, bubbles, seating plans and negative positives.
But one fact remains constant, Ireland need goals and need that first win under the new manager. And as Daryl Horgan so rightly put it, it doesn't matter if a winner goes in "off someone's arse."
It would be a positive that we'd all take. 
We need your consent to load this SoundCloud contentWe use SoundCloud to manage extra content that can set cookies on your device and collect data about your activity. Please review their details and accept them to load the content.Manage Preferences
Listen to the RTÉ Soccer podcast on Apple Podcasts, SoundCloud, Spotify or wherever you get your podcasts.