Even before the news filtered through that Italy were replacing their Under-21 squad with the Under-20s for a crucial Euro 2021 qualifier, work was well underway within the Republic of Ireland set-up to ensure that the players would be fully prepared, whoever they faced.
The Italian U21 squad has been hit harder than most by Covid-19, with Friday's qualifier against Iceland postponed at a late stage when two of their players tested positive for the virus.
Three more Italians tested positive on Monday, leading to the decision to replace all but four of the U21 squad with the U20s.
U20 manager Alberto Bollini will take charge of the team for their clash with Ireland, a game which will go a long way to deciding the final standings in Group 1.
With just the group winners going through to the tournament automatically, Ireland are top of the pile on 16 points from seven games, while Italy are three points behind in second but have a game in hand.
Victory in Pisa would be a huge boost to Jim Crawford's side in their bid to book a place in the European finals for the first time.
Crawford's team will now face an entirely different Italian side that they had originally prepared for, but despite the late change, the manager believes his side will be ready for anyone.
"We've been sifting through their U20 squad and we're piecing together clips of their individual players," he said.
"They have a few players that have dropped from the U21s to the U20s who had a tournament this weekend.
"We've got staff here that are on top of everything with regards to that U20s team and even U19s players that could be drafted in."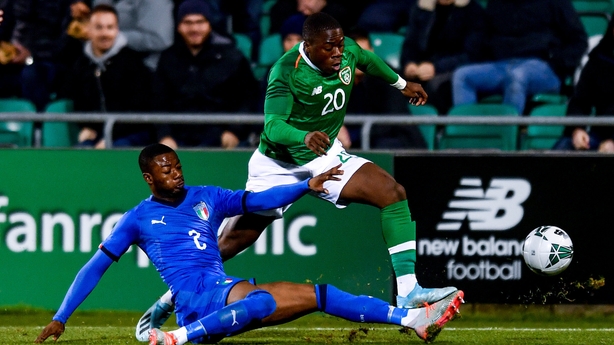 The Ireland manager does not expect his side to be phased by this late change of opponent and is confident his players are ready to take the next step as a group and book their place at the finals.
"I've spoken to them all individually and no matter who Italy put out this is an opportunity," he said. "If we can get three points, we're a step closer to the European finals.
"The feedback I've been getting from the players is that they're focused, they want to play whether it's against the U21 squad or the U20s.
"They know how big this game is and whoever Italy put out our players will be fired up, they've taken the information that's been given to them and they know that we have to go, give a good performance and get a result.
"They're all aware of the history. It gives them an opportunity to play against Europe's best players. It would be the first time of qualifying for the U21 tournament and could reignite people's love for football in the country as well."
While Ireland's preparations for the game haven't been hit as hard and Italy's, Crawford has still had deal with late changes as Dara O'Shea and Jason Knight were called up by the senior Ireland team who have been hit heavily by coronavirus withdrawals.
Crawford has sympathy for Stephen Kenny and his plight, and he's hoping to see international soccer continue even if changes and adjustments have to be made.
"I can only imagine what's going on with the senior camp, with all the close contact thing, it is very disruptive.
"But I do think people need football, I think they need this competition but I suppose if you're going to look at it in a broader scale, it could be safety first.
"I don't know the answer to that but it's just every day. I've said it to the staff here, every day there's going to be twists and turns with regards to Covid.
"Between now and kick-off there might be something else, who knows? All I know if from our point of view, the boys have been excellent with regards to all the Covid protocols."
We need your consent to load this SoundCloud contentWe use SoundCloud to manage extra content that can set cookies on your device and collect data about your activity. Please review their details and accept them to load the content.Manage Preferences
Listen to the RTÉ Soccer podcast on Apple Podcasts, SoundCloud, Spotify or wherever you get your podcasts.