Dundalk are set to apply to UEFA today to move their Europa League group stage matches to Windsor Park, saying it will cost €50,000 to split their games between Tallaght Stadium and the Aviva.
Club chairman Bill Hulsizer also accused the IRFU of having "bad blood" with the SSE Airtricity League outfit as the row over use of the national stadium continues.
Filippo Giovagnoli's side had previously announced that they would host all of their Group B matches in the Aviva Stadium, where they beat Faroese champions KÍ Klaksvik 3-1 at the start of the month in a play-off.
However, the opening match against Molde FK on 22 October has been pencilled in for Tallaght Stadium as the Lansdowne Road venue was unavailable due to a kicking session for the Ireland rugby team ahead of the Italy Six Nations game.
It had been expected that the remaining group games at home to Rapid Wien and Arsenal would take place at the Dublin 4 venue but Dundalk are now looking at Windsor Park as an alternative for all three matches.
Hulsizer estimated it would cost Dundalk in the region of €50,000 extra to host the Molde game in Tallaght before moving back to the Aviva for the matches with Rapid Wien next month and Arsenal in December.
"We decided to pay extra for the Aviva. It costs more to rent the Aviva but the bottom line, Tallaght costs more than the Aviva when you take into account all the add-ons.
"Do you really want to host Arsenal in Ireland in Tallaght Stadium and broadcast it to the world? We have one of the best stadiums around. The Aviva Stadium is gorgeous and we're trying to promote Irish football, not just Dundalk, by playing there.
"The bottom line is us having to play in two stadium costs us about €50,000 extra because the stadiums have to be prepared for UEFA and we pay to prepare them at our expense. So if we have to prepare two stadiums instead of one that means you've got double the expense.
"Tallaght is a lot less ready for what UEFA need than the Aviva. Make no mistake this is about money. If they really don't want us and sport in Ireland doesn't want us that's okay."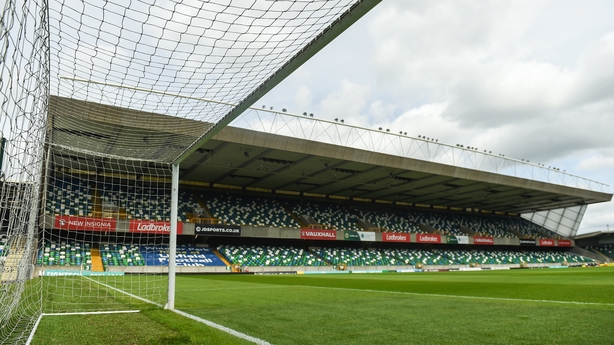 Chicago-based PEAK6 announced in September that they were creating 160 jobs at a new centre of excellence in Belfast and Hulsizer says it was one of these hires who suggested using Windsor Park (above) as an alternative.
"We have a presence in Belfast now and the manager of our data business said he knew the boss of the IFA so he has called him on our behalf.
"If we can save €50,000 and maybe buy one defender next year or a goalie or a forward with that €50,000 then that's better for everybody."
As UEFA favour clubs playing all matches at the one venue and preferably "within the territory of its association", Dundalk face an uphill battle to have their games in Windsor Park.
"Firstly Windsor Park needs to confirm it's available so that we're not conflicting with something that they have scheduled. Then UEFA has to say we can play in another jurisdiction but it's a venue that is closer to Dundalk than the Aviva or Tallaght.
"We're also bringing an English team from the UK into the UK so there's logic to that I think.
"I want to get it done as fast as possible because it's unfair to my staff otherwise because there is loads of work to be done to host one of these games. It's not just a case of opening the gates and letting the teams in."
Hulsizer believes Dundalk need to look beyond the Aviva because of 'bad blood' with the IRFU following his comments regarding the rugby governing body's management of the Aviva last month.
"It is an underused stadium that is losing money every year," Hulsizer insisted.
"I think what the IRFU are doing is saying we don't like what you said but if it's the truth then change it and move on."
Hulsizer, the father of PEAK6 founder Matt, absolved the FAI of any blame in relation to having to move the Molde game out of the Aviva, which they were set to pay in the region of €30,000 per game to use.
"The FAI have not been uncooperative," he said.
"The only mistake they made when we were establishing the dates was they assumed they had a partner in the IRFU, not an enemy, but they've worked hand in hand with us to get this thing over the line. It's important for them as well but the only mistake they made was saying okay to us.
"Obviously there is bad blood that will continue because the IRFU is happy to take their money from the Government," he said, referencing the IRFU's call for financial assistance due to the coronavirus pandemic.
"They're begging for money, I didn't make that up, I saw that in the newspaper, so I can't see how they are turning business away."
An IRFU spokesperson told RTÉ Sport it was disappointed with what is saw as 'misleading comments' of recent days.
"The IRFU understands that it would have been operationally impossible for the Aviva Stadium to facilitate a short notice request from Dundalk Football Club to hold a Europa League fixture just two days before the rescheduled Ireland v Italy Six Nations match," the spokesperson said.
"The exceptional grounds people and operations teams at the Aviva Stadium were presented the impossible task of having to repeatedly replace posts, clean all facilities multiple times, and crucially, prepare, paint, repair, cut and repaint the playing surface four times between Wednesday, when pre-match football practice would have taken place, to Saturday, for the pre-booked rugby fixture.
"The ask to effectively repurpose the surface four times in three days was impossible to deliver."
We need your consent to load this rte-player contentWe use rte-player to manage extra content that can set cookies on your device and collect data about your activity. Please review their details and accept them to load the content.Manage Preferences
Listen to the RTÉ Soccer podcast on Apple Podcasts, SoundCloud, Spotify or wherever you get your podcasts.