FAI interim CEO Gary Owens has admitted the past week has been an education as he countered Stephen Kenny's assertion of "non-essential" personnel travelling with the squad for last Thursday's Euro 2020 play-off with Slovakia.
Kenny spoke on Saturday about the "non-essential football member" who tested positive for Covid-19 which led to Adam Idah and Aaron Connolly being ruled out of the game.
"That is something that we have to live with," Kenny concluded, hinting at his unhappiness at the situation.
Owens has taken a different view today, pointing out UEFA protocols deem that there are non-playing staff who must travel to games.
It subsequently transpired that the staff member produced a false positive.
A player tested positive within the last 24 hours, throwing the Ireland camp into further difficulties before the Nations League game with Wales.
Asked if he agreed with Kenny's "non-essential" comment, Owens said: "No I wouldn't. I think roles and responsibilities are important. We had 53 people on the plane.
"You could actually deem whether I was an essential member, and I travelled. And you know what, I'm really glad I did. I learned so much in the week. If I wasn't there I wouldn't have learned as much.
"As it turned out, the person who was positive transpired to be negative with two negative tests. It was really unfortunate that happened. I would keep reiterating we followed the HSE guidelines and the UEFA guidelines. Everybody who got on the plane had a negative test.
"Today's case is a different circumstance because we have a positive test for a player. The player who has tested positive came into the camp last Tuesday and had a negative test.
"He hasn't got it from anybody in the camp, that is clear by everybody else testing negative. We do need to review with UEFA and the HSE on the protocols itself and if they are fit for purpose for international games.
"There is a lot of travel involved which actually does create additional risk. As far as our own team is concerned, the FAI staff, we did comply with all the regulations we had to."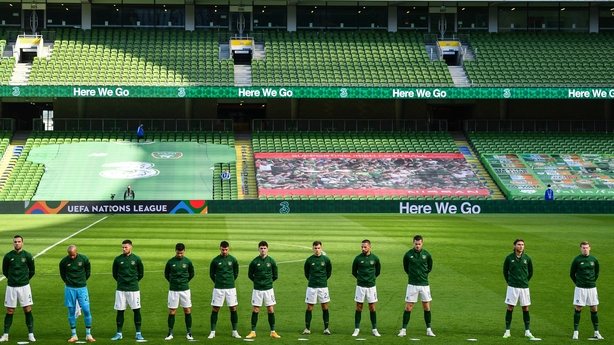 Owens said they will now make preparations for the Finland game and follow up with UEFA and the HSE in how such a situation, where five players drop out of a squad on a matchday, can be avoided: "The first thing is getting the team on the plane. Stephen has contacted players to reinforce the squad and all of those will be tested tonight. Hopefully if they get a negative test, they will travel out.
"In terms of roles and responsibilities, we'll have a look at that and see. We have UEFA requirements so in terms of communications, we're obliged to have somebody on the ground there.
"This is all new for everybody. Everybody will pick up exactly what are the key learning points. I think in particular UEFA and the HSE because we follow their protocols, we have to feed into them exactly what we think could be changed as a result of it.
"You need testing on the ground, you can't just have testing coming in. We need very quick results to the testing because if you need to add squad players you have to do it quickly."
Fears have been expressed over the viability of international football in the current environment where Covid-19 cases rise throughout Europe.
Owens said: "I think UEFA will be working really hard to make sure the games take place and we can all feed in. This is not just an Irish problems, we had teams all over Europe who have had problems. I think it's important for UEFA and the associations that the matches continue and I think they will."
We need your consent to load this SoundCloud contentWe use SoundCloud to manage extra content that can set cookies on your device and collect data about your activity. Please review their details and accept them to load the content.Manage Preferences
Listen to the RTÉ Soccer podcast on Apple Podcasts, SoundCloud, Spotify or wherever you get your podcasts.