The Ireland squad are full of confidence heading into tomorrow night's Euro 2020 play-off against Slovakia, according to Matt Doherty. 
Stephen Kenny's squad travelled to Bratislava on Tuesday for this must-win encounter, and Dubliner Doherty said that the squad are buzzing going into the game. 
"Training has looked really good, people look like they want the ball," said Doherty, speaking at a virtual press conference from Bratislava on the eve of the game. 
"We're obviously trying to penetrate higher up the pitch; we look comfortable on the ball, we look like we want to play, lads are kind of buzzing around the place, so yes, things look pretty good for us right now." 
And Doherty believes that his side will bring those levels of enthusiasm and endeavour into the match on Thursday night and take that training ground confidence into the reality of the match-day scenario. 
"Obviously when the whistle goes tomorrow, that needs to be the case. We all still need to have the confidence and the right mindset to want to play and take risks in good areas for opportunities for us to score and create chances. 
"Everybody needs to know that it's going to be tough as well and everyone's going to need to kind of dig in and put a shift in defensively and offensively."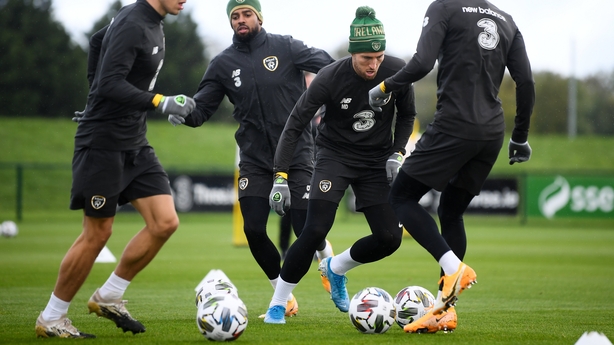 Doherty expects to see a different Ireland performance against Slovakia, compared to the two lethargic outings in the Nations League last month when most of the team were still in pre-season mode. 
The Spurs defender admitted that he was shattered after those games, where Ireland drew 1-1 away in Bulgaria and lost 1-0 to Finland at the Aviva Stadium. 
"The first camp was a bit difficult. A lot of us came in with no training really. I know a few people might have had a few training sessions, a few games.
"Myself, I had absolutely nothing at all going into the games. Playing 90 minutes, you're absolutely shattered afterwards." 
During those September fixtures, the players were not only working on their fitness, but also trying to come to terms with a new management team and a new approach to playing the game at international level. 
And while Doherty thinks that it will take time to fully assimilate the manager's philosophy, he does feel that it is already starting to manifest itself on the training pitches. 
"It's difficult to judge on that when we went in there with hardly any time at all. It's not going to happen overnight," said Doherty in relation to the new manager's approach to the game.
"It'll take a few more training sessions to get the philosophy across. It's already starting to come across in training. 
"Hopefully, it'll click for us tomorrow night, but things aren't going to be drastic," added Doherty, referring to his summation of the September matches.
"That first camp, there were a lot of factors to take into account; the lack of game time, training and the lack of time together."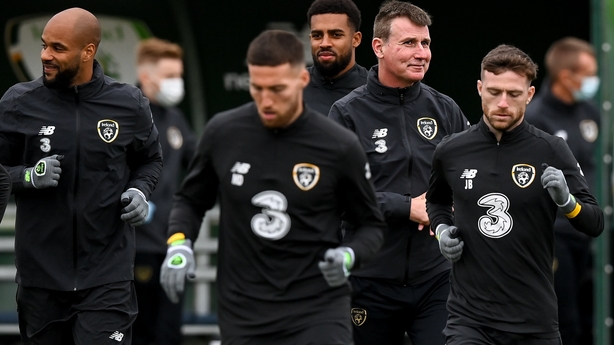 Kenny's attention to detail will make sure that the players know exactly what is asked of them going into the match, however, the manager did mention that he expected his players to accept responsibility on the pitch. 
And the former Wolves man said that while the game-plan had to be adhered to, it was up to players to use their natural ability and talent to really bring that aspiration to fruition.
"We obviously have a game-plan, a way that we want to play, a way that we want to press, we want to defend, a way we want to attack, but, at the end of the day, once you're going forward, you've got to let people's natural ability and talent kind of take over. 
"We obviously have patterns of play, but if someone wants to do something special and take a few people on and put the ball in the net, you're obviously not going to say no." 
The Spurs man also said that you really needed to be switched on when comparing the difference in duties from a defensive perspective when playing as a full-back compared to a wing-back role. 
"At wing-back, you don't have to defend as much, but as a full-back, you have to be switched on as there are a lot of one v ones, people running off the back of you, your body position, everything about it defensively is totally different."
Matt Doherty says Ireland won't push the panic button if they concede in Slovakia and he is confident the team have the ability to score themselves tomorrow #SLOIRL #EURO2020 pic.twitter.com/3yTiNdCUrs

— RTÉ Soccer (@RTEsoccer) October 7, 2020
Captain Seamus Coleman has been ruled out of the trip to Slovakia through injury, but Doherty believes that the experience within the side will remain a vital commodity in the play-off encounter, which is akin to a cup final, a winner takes all situation.
And while Ireland infamously threw caution to the wind against Denmark in the second half of that ill-fated World Cup play-off, where the central midfield was sacrificed during the second half of the 5-1 thumping, Doherty feels that this team will not push the panic button should the side go behind.
"Worst-case scenario, you go a goal down, it's not the end of the world," said Doherty.
"It's a 90-minute game, which is a long time, so I think there are enough of us in the squad that have enough experience to not panic. 
"None of us would panic at club level if we were 1-0 down. All of us would be saying to each other, 'Let's stay in the game and see what happens'."
Follow Slovakia v Republic of Ireland (Thursday, 7.45pm) via our live blog on RTÉ.ie/sport and the RTÉ News app, watch live on RTÉ2 and the RTÉ Player from 7pm or listen to live commentary on RTÉ 2fm's Game On.
We need your consent to load this SoundCloud contentWe use SoundCloud to manage extra content that can set cookies on your device and collect data about your activity. Please review their details and accept them to load the content.Manage Preferences