Stephen Kenny is preparing for the most important game of his life, 90 minutes that - rightly or wrongly - will either vindicate his backers or give more fuel to the sceptics.
He's been here before. Loads of times. In fact, Kenny has built his career on a wall of milestone victories.
It's taken him from Longford Town to his dream job with the Republic of Ireland. And now, he is the man carrying the hopes of a nation.
He says himself that Ireland "will have to do something extraordinary" to come through a Euro 2020 play-off semi-final against Slovakia and then beat either Northern Ireland or Bosnia away from home in the final but Kenny always brings huge self-belief into games where the odds seemed stacked against his teams.
It's a quality he's carried from the very early days of his coaching career. Next Thursday in Bratislava, he'll need it more than ever before.
THE GAMES THAT MADE AN IRELAND MANAGER
---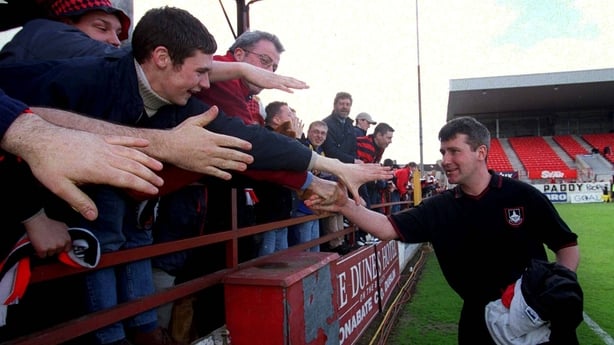 First Division, 15 April, 2000
Longford Town 4-1 Monaghan United
Kenny was 27 years old when he walked into the Longford Town job in 1998. The side had finished bottom of the First Division the previous season, amassing 12 points from 27 games (two wins, six draws, 19 defeats).
Kenny's initial target was to avoid finishing the bottom two. At the end of his maiden campaign, they were fourth. In his second season, they went up with Bray Wanderers.
"I just felt with an injection of young blood, and a more focused mentality, a lot could be achieved," he'd reflect halfway through his tenure.
His eye for talent and strong coaching ability transformed the midlands club, who flourished despite being hamstrung in many fundamental areas.
Kenny would bring his players up to a driving range in Celbridge, where they'd shuffle on to a five-a-side astro pitch which was tucked beside the range. To a backdrop of golf balls being smashed into the night sky, Kenny worked his magic.
His squad regularly gathered at the Camlin Court Hotel for tea and sandwiches to be debriefed on the opposition, the young manager using a large flip chart to lay out his plan. In those days he'd often wear a shirt and tie with neat cords - one part rising football coach, two parts amiable office team leader.
This defeat of Monaghan at Bishopsgate was the culmination of two years' work. Kenny had built a lean, hungry team of outliers who swatted the visitors aside with four goals inside the first hour, Keith O'Connor and Richie Parsons netting a brace each.
They were going up. So was Kenny's stock.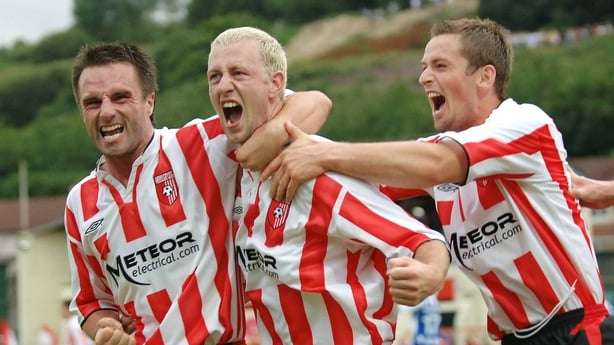 UEFA Cup first round first leg, Ullevi Stadium, 13 July 2006
Gothenburg 0-1 Derry City
Nothing has enhanced Kenny's reputation more than big glory nights in Europe.
This memorable win in Sweden was his first major scalp, and it remains one of his proudest days.
Gothenburg were a genuine force. They had a pedigree, resources and history that commanded respect but by the time Kenny was through with his preparations, the Candystripes travelled to Sweden expecting to win.
The squad pored over DVDs of their opponents, Kenny highlighting cracks in their armoury and working on specific set-piece movements he believed would nick a goal. They went through corner after corner on the training ground to perfect a particular routine that ultimately bore fruit.
Having lined up with a 4-5-1 formation at the Ullevi Stadium, the Premier Division side kept alternating their shape throughout, depending on the ebb and flow of the game. Gothenburg never looked comfortable, and as the contest wore on, Derry grew stronger.
With nine minutes to go, Kevin Deery bent a corner towards the near post. Sean Hargan was there to meet it because, firstly, he knew exactly where the ball was going before it was kicked, and secondly, a team-mate had cannily blocked off the defender who was supposed to track his run.
The ball hit the net, Derry won the game.
"Gothenburg will not underestimate us now," Kenny deadpanned afterwards.
They wrapped up the tie with another brilliant 1-0 win at the Brandywell two weeks later.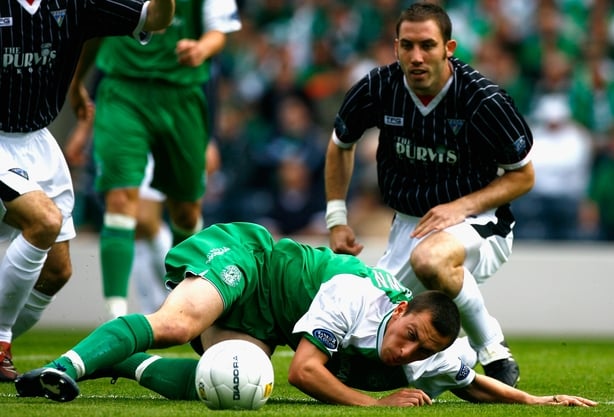 Scottish Cup semi-final replay, Hampden Park, 25 April 2007
Dunfermline 1-0 Hibernian
Kenny lasted just over a year at Dunfermline; it's a reign that's been reassessed since he got the Republic of Ireland job.
A lot Pars fans noted the Ireland appointment with a raised eyebrow. Did we miss a trick? Should he have been given more time? Was he unfairly treated?
But really, this was just one of those match-ups that came at the wrong time for club and manager.
Kenny was only 34 when he headed for Scotland from Derry City. He had a young family, who all made the move with him. New schools, a new house, new surroundings. He also inherited an ageing team that was bottom of the league.
Still, there were good days in Scotland for the Irishman, this undoubtedly being the best.
Dunfermline had beaten Rangers and Hearts en route to the last four but Hibs bossed possession in both games, seeing two efforts cleared off the line in the replay.
A delicious panenka penalty from Jim McIntyre four minutes from time settled it though, giving Kenny a sweet moment of respite from that campaign's relegation battle, a battle they would lose before being beaten by Celtic in the decider.
"I'm not saying we were the better team but we have had a lot of kicks in the teeth this season," Kenny said afterwards. He also dedicated the victory to the club's director of football Jim Leishman, whose sister passed away the day before the game.
Dunfermline got into Europe off the back of this result, and Kenny is quite warmly remembered by the club's faithful, albeit there's a general surprise at the trajectory his career has taken in the years since he was in the East End Park dugout.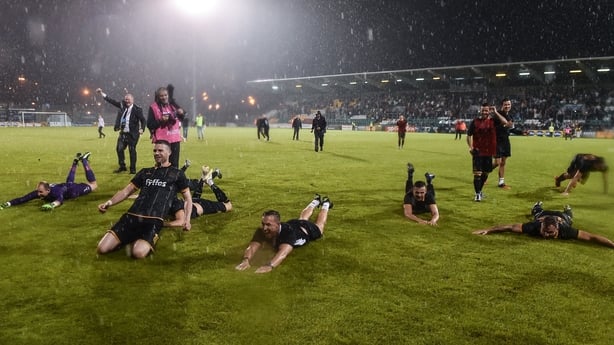 Champions League third qualifying round second leg
Dundalk 3-0 BATE Borisov, Tallaght Stadium, 2 August 2016
The game that got Kenny the Ireland job? Quite possibly.
It'd be two years before the FAI came calling but this memorable night in Tallaght elevated his status to a level where the appointment no longer seemed implausible.
The Lilywhites had lost to BATE 2-1 on aggregate twelve months previously in a Champions League second-round qualifier.
There had been little between themselves and the Belarusian champions over those two games but in the first leg of their 2016 showdown, Dundalk were pummeled.
Substitute Mikhail Gordeychuk's effort 20 minutes from time gave the hosts a 1-0 win at the Borisov Arena and it could have been a lot worse. Igor Stasevich ran riot on the left, with Dundalk pinned back for large chunks of a frantic game.
Lessons were learned.
In teeming rain the Lilywhites, rugged and streetwise, systematically dismantled BATE. Kenny was acutely aware of the opposition's physical prowess from dead balls, so his team were steeled to deal with that, while also testing the Belarusians' defensive resolve.
Although Kenny's men had been outplayed in the first leg, they still made a couple of chances. It was enough to make them believe the tie could be turned around.
Everything on the night clicked, right down to Robbie Benson's glorious insurance goal in the dying stages that shook the bones of the stadium.
"Have you seen Dundalk?" Eamon Dunphy cooed a couple of months later after watching Martin O'Neill's Ireland labour to a 1-0 win against Georgia.
"They're absolutely superb. They pass the ball, home and away. They play football, there's great movement and nobody looks afraid. Everybody looks confident on the ball. That is induced by having a good coach who encourages players to do what really is the sensible thing.
"They're a credit to the game in this country. Maybe we should get Stephen Kenny to manage the Irish team."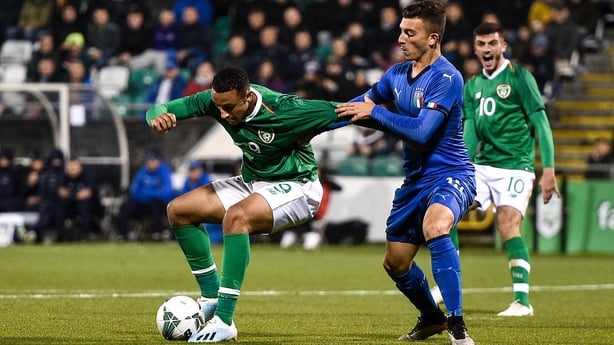 European Championships U21 Group 1 Qualifier
Republic of Ireland 0-0 Italy, Tallaght Stadium, 10 October, 2019
In the same week Mick McCarthy described a goalless draw in Georgia as "a point gained", Kenny was telling the country to think big.
"As a nation overall, we have to show greater belief in ourselves," he said. "We can't be paralysed by fear. Life is short, you have to maximise everything you've got and see the possibilities that exist."
Italy, studded with some of the best footballers around in the age grade, would not be beaten but they were certainly matched. There was a lot of attention around this game as the public gauged how the incoming senior boss fared against a traditional powerhouse.
Troy Parrott and Moise Kean both saw red following a second-half flashpoint but the vibes were generally good.
Ireland played with refreshing authority, standing up to vaunted opponents with genuine confidence.
The presence of Parrott, Jayson Molumby and Adam Idah - three players who've all since gone on to make their senior debuts - offered supporters a glimpse of how Kenny's Ireland team of the future may look but it was the side's commitment to their manager's principles in a high-stakes game against quality opposition that stuck in the mind.
Those principles may or may not be enough to guide Ireland to the Euros, but don't expect any compromise.
Kenny has had enough ups and downs throughout a 22-year career to know the dangers of losing conviction in your beliefs. No matter what, he'll do things his way.