Republic of Ireland fans still dreaming of watching their team play at a Euros in Dublin will be very interested observers of Thursday's Super Cup final in Budapest.
The Irish capital is one of 12 cities slated to host games at the deferred finals, and outgoing FAI CEO Gary Owens said last week that there's a lot riding on the showpiece game between Bayern Munich and Sevilla.
The Puskas Arena will be at 30% capacity for the game, meaning around 20,000 fans will be in the stadium.
"I was on a UEFA conference call last Wednesday and they are still expecting fans to be attending games next June so we obviously have to work here with local government and the expert medical group and NPHET," Owens told the Oireachtas Covid-19 Response Committee. 
"That's why I feel next week is important in terms of a pilot test for 20,000. They are doing that on the basis that they have an eye on the Euros next year."
When Hungarian and European football leaders invited Hungarian ambulance workers to the continent's first major international match open to fans since the Covid-19 pandemic began, 500 paramedics jumped at the chance to attend.
Champions League winners Bayern of Germany and Europa League champions Sevilla of Spain meet at the Puskas Arena in a game that European football's governing body UEFA considers a safety test of games with spectators.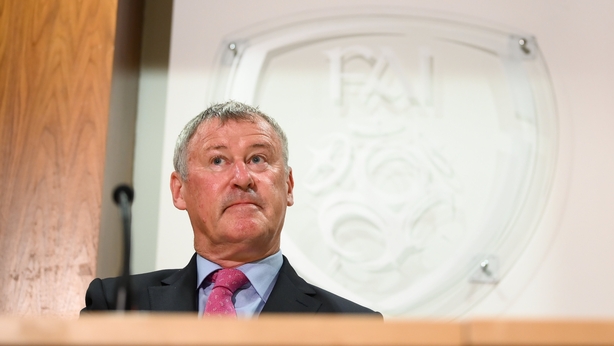 The match comes amid a growing second wave of Covid-19, with Hungarian cases at record highs, which prompted warnings of the possible consequences of mass gatherings from leaders in other countries, health experts, opposition politicians and citizens.
But even as both clubs will send far fewer fans to the game than the 3,000 each allotted to them, UEFA has proceeded with the plans and Hungary concurs, saying strict rules would prevent infections.
Hungarian Prime Minister Viktor Orban, an avid football fan who has pledged billions of euros to stadium building, has yet to see a big international competitive game in the newly completed Puskas Stadium in Budapest.
Although local authorities could have ordered the match to be held behind closed doors, they have not done so and spokesmen for Orban and the government declined to explain why, referring repeated questions to UEFA.
UEFA did not reply to Reuters questions on Wednesday, citing an August press release instead that said the match would be open "in order to study precisely the impact of spectators on the UEFA Return to Play Protocol," a safety plan.
Orban has not addressed the Super Cup match directly, but his chief of staff told broadcaster ATV earlier this week that the match would be held amid such rigor that it would be "safer than almost any other gathering."
Opposition politicians have long criticised the government's handling of the crisis, which focuses on keeping the country open to aid the economy instead of limiting infections.
Even amid that openness, the Super Cup amounts to an illegal human experiment, which is punishable under Hungarian law, according to opposition Socialist deputy Ildiko Borbely.
"This experiment is unacceptable," Borbely said. "They use 14,000 compatriots as experimental rabbits to see how the coronavirus spreads at mass gatherings. We reject exposing Hungary to such danger."
Epidemiologist Andras Csilek, who advises the Hungarian Medical Chamber, said the match carried unnecessary risk and added the invitation to the paramedics was "absurd."
"Just about everyone in the health care sector will work on Covid cases soon, he said. "The Chamber also considers it wrong. It is a feel-good story, but I don't think it should be allowed."