Republic of Ireland boss Vera Pauw revealed that a hasty half-time video analysis allowed her side to compete with Germany in Essen - and gave the Dutch coach real confidence that her team are a coming force.
Ireland went down 3-0 in their Euro 2022 Group I qualifier, with all the home goals coming inside the first 45 minutes.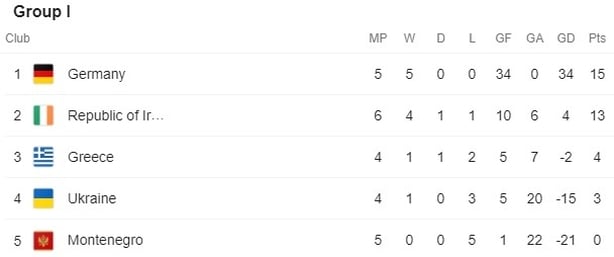 The result saw the Germans leapfrog Ireland into top spot but given they had previously beaten Montenegro 10-0 and Ukraine 8-0, this was hardly a catastrophe for the Girls in Green.
Pauw rates Germany as the best team on the planet right now, and she took a lot of pride in how Ireland carried themselves in the second period.
"At half-time we showed them two clips," she told RTÉ Sport after the full-time whistle. "One of the organisation, where the spaces were so they were able to see it themselves; and one of how we could play out, where the spaces were in midfield and behind the full-backs.
"They immediately corrected [the issues] and that is the good thing about this team: when they feel it, you coach it, they can do it. The second half, we can take a lot of heart out of.
"We were tighter... and we put constant pressure on the ball against an opposition that is arguably the best team in the world. So 3-0 is not a bad result. We were of course disappointed that in the first half we didn't attack the ball, that we didn't put pressure on them, we didn't make it difficult for them, although everybody was working their butt off.
"They took [the instructions] on board. The training sessions went really well, you get to an opposition that's ten times higher pressure than what you've trained at so then you lose myself, and you fight through that first half.
"But they are very adaptable. What went wrong? What do we need to do tactically to make it better? How do we execute that to make it better? And that's what you see on the pitch."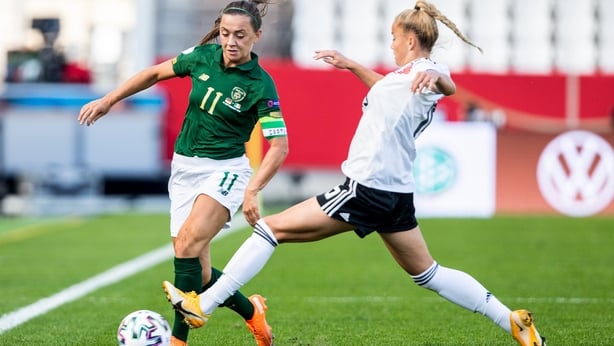 Ireland have two games to go in their qualification campaign. If they win in Ukraine next month they are guaranteed second spot in the group. The nine group winners and the three best runners-up (not counting results against the sixth-placed team) qualify directly for the Euros in England, with the remaining six runners-up heading for the play-offs.
Their final match is against the Germans in Tallaght.
"This team has a ceiling that we don't know where it is," added Pauw.
"We can grow so far still and we'll take a lot of positives out of that second half because they adapted to what they felt in the first half and the formation that they got.
"If you have a team that's more static, it's easier to defend. Germany played exactly how we expected them to play, they did exactly what we trained for, but you first have to experience it to be able to fight it.
"In the second half it was better connected.
"You need a game like this in your legs to be the best you can against Ukraine next month."