One year in the job, Vera Pauw has just passed her first milestone as Ireland head coach, and as her team sit atop their qualifying group, unbeaten after five games, it is no surprise that she has already extended her contract with the FAI.
The Dutch coach has only been in charge for four games in what has been a heavily interrupted 12 months in the job as a result of the coronavirus, however, she has already made a huge impact on the women's game in Ireland.
And now her side are set for their biggest test of the campaign as they take on the mighty Germans in Essen in a top of the table clash as the quest for qualification continues.
Germany are the number two ranked side in the FIFA rankings, however, coach Pauw believes that they are currently better than the USA, who top the list, and for this reason, Ireland are not expected to hold on to their first-placed position with Germany a point behind with a game in hand.
The two sides have yet to meet and while the Irish have 13 points from a possible 15 and remain unbeaten in Group I, they will be hoping they can snatch a point in either or both of the games against the Germans.
Germany have been rampant in the group so far, knocking 16 goals past second seed Ukraine over their two games, while adding ten more against Montenegro and taking it easy on Greece by only hitting five.
And for those 31 goals scored, there have been no goals chalked up in the against column, which really highlights the task at hand for the Irish side.
And it is no wonder that coach Pauw is ready for every eventuality, even suggesting that her side would not give up should the Germans put a big score on the board.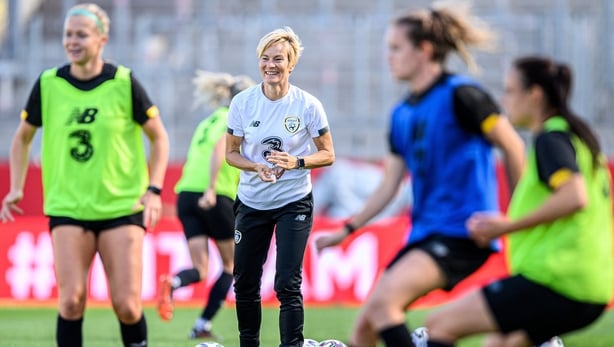 Not that Pauw is planning for such a scenario, in fact, she possibly believes that her side will, at least, make the game competitive as she assesses where her side are currently at in relation to the best in the world.
"They dominate every part of the game and play with a lot of variety," said Pauw, ahead of the game.
"The full-backs attack, they play balls over the top, they play in between the lines and it is all connected.
"We have to expect that this will be a very, very difficult game for us. We will do everything we can to stop them from playing their variety."
Pauw said that she hopes her side will be able to play an open game and not spend the match defending on the edge of their box in a one-sided affair.
But she conceded that she may have to revert to Plan B, C or D depending on how the game is going.
Pauw spoke about the importance of players being clear with what is expected of them, and she is confident that her side know their roles and can easily adjust to whatever plan is in place.
Diane Caldwell is one of Pauw's real leaders in the squad and the commanding centre-half is charged with implementing her wishes on the pitch once the call comes from the sideline.
And already Pauw has created a consistent look to her side, favouring key players who she appears to completely trust and believes in their ability.
A strong squad assembled in Germany ahead of the game and Pauw revealed that she had no major injury concerns going into the game, and in fact, she added that she was really happy with the mood of the squad who are "fit and lively" considering all the disruptions in recent months.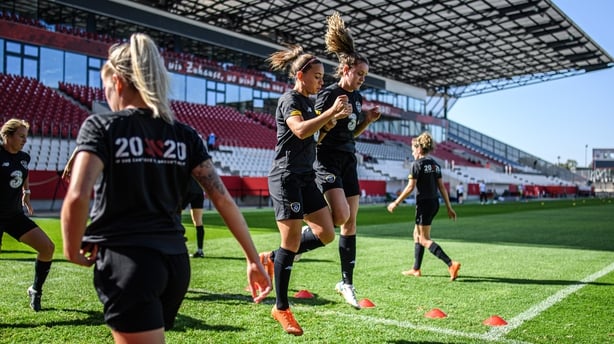 Pauw is quite happy to change formation from game to game or within a game, however, a core group of players have really emerged throughout her tenure, which brings real continuity into the daunting trip to Germany.
Birmingham's Harriet Scott, Louise Quinn, who is now at Fiorentina, the ever-reliable Diane Caldwell, who plays her football at SC Sand in Germany and Peamount United stalwart, Aine O'Gorman should all line out in defence, while Liverpool captain Niamh Fahey and Brighton duo Denise O'Sullivan and Megan Connolly are expected to start in midfield
Pauw has a wealth of talent to draw on in attack with Leicester's Ruesha Littlejohn and captain Katie McCabe, who plays for Arsenal, both likely to get the nod, while the number nine jersey looks like it will still belong to another of the Brighton contingent, Rianna Jarrett.
And those forward roles will surely cause Pauw a selection headache with Heather Payne, Leanne Kiernan, Amber Barrett and Kyra Carusa all looking to be included.
Ireland have not been as free-flowing in the goalscoring department as their opponents, however, they have averaged two goals a game in the five matches played.
If they manage to maintain that average in this clash with Germany they will be well on the way to causing an unlikely shock against the top seeds.
Ireland's best result in recent years was a scoreless draw away to the Netherlands, the reigning European champions during World Cup qualification campaign in 2017, however, Pauw said that the game in Germany is incomparable to that match in Nijmegen.
A large contingent from that game, which happened under Colin Bell's tenure, will be in action for the Irish in Germany, however, it is fair to say that the performance will not bear too much resemblance to the grafting, defence-minded approach in Holland.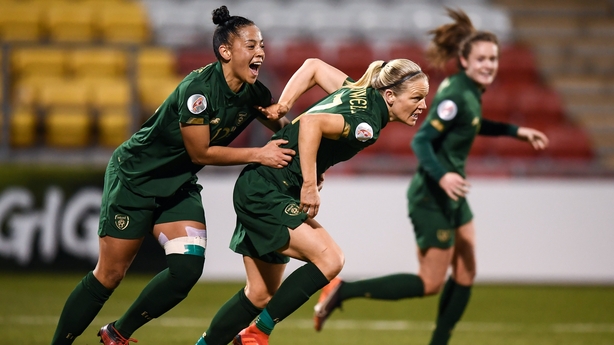 A metamorphosis of sorts has begun in the men's senior team under Stephen Kenny towards a ball-playing side, while earlier this week, Shamrock Rovers stuck to their attractive, possession-based football against the mighty AC Milan, and likewise, Pauw belongs firmly in the progressive football camp.
So while Ireland will need to be organised, hard-working and compact for large parts of this game in Germany, expect to see Pauw's side attempt to play strong possession-based football at times during the game.
A lost in translation moment on the call with the Ireland coach, Pauw eventually agreed that this match was effectively a free hit for her Irish side, yet the confidence and enthusiasm emanating from the coach suggests that she believes that the "free hit" may yield something tangible.
Either way, Pauw is relishing this high-profile match to see how far her side have evolved during her short tenure, and an away game against Germany should provide the perfect litmus test for the girls in green.
All eyes firmly remain on next month's vital encounter against Ukraine in a bid to secure that second-placed spot in the group - get a result in Germany though and the Irish can begin to dream about becoming number one.
Follow the Republic of Ireland's UEFA Women's Euro 2022 qualifier against Germany this Saturday (kick-off 1pm) on our live blog from 12.30pm on RTÉ Sport Online and the RTÉ News app or watch live on RTÉ2 and RTÉ Player.