Vera Pauw is under no illusion about the size of the task facing her players in Saturday's Euro 2022 encounter with Germany in Essen.
Ireland currently sit top of Group I, one point ahead of the Germans, however, the two sides have yet to meet and Pauw's charges must take on the top seeds twice in their final three games as they continue their quest for qualification.
Germany are ranked second in the FIFA rankings, although Pauw believes they are currently the very best side in the world, and the Ireland manager was not sounding too optimistic going into the game.
The best Pauw could offer was that she believed that the Irish will be proud of the team by the end of the game, while also adding that her side will keep fighting even if a big score has been tallied by the hosts.
"We have to expect that this will be a very, very difficult game for us," said Pauw, speaking to the media from the team base in Germany.
"We will do everything we can to stop them from playing their variety, [but] we have to be very realistic, and even if we don't plan to defend a lot – we plan to play an open game – we know that we will be pushed back.
"Germany are ranked number two in the world, and arguably, they are the best team.
"We will give Germany the best game ever and then we will see if it is good enough to get a result. The game itself will show where we are.
"We cannot expect that we will gain points from the game, but you will be proud of us, even if it is a big score, we will not collapse, we will keep going, because that is our strength.
"But we are Irish, so we will be doing everything we can to get something from the game. But please be realistic."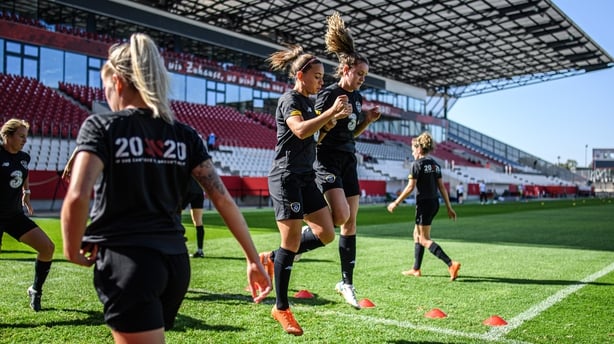 In terms of qualifying for the rescheduled 2022 tournament in England, Pauw's side are realistically aiming for a strong second-placed finish, and victory against Ukraine in October would present a great chance that Ireland would gain automatic qualification irrespective of what results occur in the double header with Germany.
As a result, Pauw was asked whether she considered using Saturday's game to experiment with her side and set up to aid preparation for the trip east next month.
"No, we don't take this game as an experiment. It is too big a game to experiment. We do that in friendlies.
"Off the pitch, we've done a lot in improving with the video, watching video of the players, giving them feedback. But this game is not a game to try out.
"This game is to be at our best. But to be at our best, we'll be at our limit, we will carry that on with the Ukraine game. We will hope to have friendly games and then we can make an experiment and test players to what end they can go."
Pauw is very comfortable in the role of the underdog having spent several years of her early management career coaching Scotland.
And Ireland are the ultimate underdog for this trip to Germany, which may lead Pauw to believe that there is a slim chance that her side could battle their way to a valuable away point if everything goes to plan.
But first of all, the coach believes that clarity is paramount and that the team must know their role and what is being asked of them.
"I have a lot of experience of being the underdog.
"The only way to prepare is to be clear. Everybody knows what we're doing and everybody is clear how we're going to do it.
"We've only got five days together after six months so the only thing we can do is to make sure the tasks are related to one another and that everything is clear to everybody and everybody believes in that strategy.
"The players then need to carry that strategy into the game and coach a lot to the younger ones and make sure we don't lose the grip of what we want to do."
And the manager admits that even if her side performs to their very best, they will need an element of luck to take something home from their trip to Germany.
"You need luck. You need the goals just not going in, hitting the post.
"When the difference is so big, you need luck for sure. But I always say you can also force a lot. You can still give your best game while you're depending on luck."
WATCHLOI: Half-season Pass for the SSE Airtricity League Premier Division run-in
We need your consent to load this SoundCloud contentWe use SoundCloud to manage extra content that can set cookies on your device and collect data about your activity. Please review their details and accept them to load the content.Manage Preferences
Listen to the RTÉ Soccer podcast on Apple Podcasts, SoundCloud, Spotify or wherever you get your podcasts.
Follow the Republic of Ireland's UEFA Women's Euro 2022 qualifier against Germany this Saturday (12.30pm) on our live blog on RTÉ Sport Online and the RTÉ News app or watch live on RTÉ2 and RTÉ Player.