Shamrock Rovers manager Stephen Bradley was bursting with pride despite watching his side exit the Europa League following a 2-0 defeat by AC Milan at Tallaght Stadium.
A goal in either half saw the Italian giants progress to the next round but not before they were given a scare or three by the home side who created several clear-cut chances throughout the game.
Milan dominated the early play yet it was the Hoops who almost broke the deadlock after 15 minutes when Aaron Greene raced through onto a sublime defence-splitting pass by Ireland midfielder Jack Byrne.
Greene's well-hit shot stung the hands of Milan goalkeeper and captain Gianluigi Donnarumma, and the big stopper did enough to keep the effort out and keep the tie scoreless.
Zlatan Ibrahimovic would eventually punish Rovers for a defensive lapse midway through the first half, and the visitors would wrap the tie up midway through the second thanks to a well-hit Hakan Çalhanoğlu strike.
Hakan Calhanoglu puts AC Milan 2-0 ahead against Shamrock Rovers in the Europa League at Tallaght Stadium #RTESoccer pic.twitter.com/mHKiBSmufZ

— RTÉ Soccer (@RTEsoccer) September 17, 2020
"Pride in the players to be honest. I thought they were fantastic," said Bradley when asked about his main emotion after the game. 
"I thought we were brave, we played our way and we got three really good chances off the back of that.
"On another night if Aaron scored that first one, you'd never know what might happen so I'm really proud of the group, really proud of how they attacked the game. 
"We know what we were up against in terms of quality. But we didn't take a step back, we played our way and that was the most pleasing thing."
And that Rovers way is a possession-based approach, which allows the Dublin side to play out from the back as they attempt to work the ball up the pitch.
The first Milan goal came from a move that went awry as Roberto Lopes' clearance was intercepted, and three passes later, Rovers were picking the ball out of the back of their own net.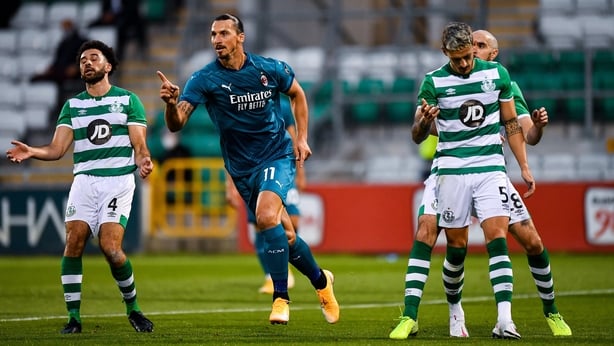 But the manager had no regrets following the game and accepts that such situations can be punished when up against the quality of a side like Milan.
"At this level, if you are pressing and your angles are half a yard off you get punished. 
"It wasn't even a bad press, but we took the wrong step when we were pressing and when you do that around the box it's two touches and it's in the back of the net, especially when you have someone like Ibrahimovic. 
"It's very small margins at this level. We could have prevented it but, like I said, it's split seconds and you are punished."
You have to be tactically right, and I thought we were tactically really good
Despite that opening striker, the home side staying in the game throughout the early stages of the second half and were looking to keep it that way until the latter stages.
And the manager said that he had no other choice, as it would have been a futile endeavour to attempt to play front-foot football against a side of the quality of Milan.
"You can't be gung-ho and open up against that quality. They want you to bite and open up. 
"You have to be tactically right, and I thought we were tactically really good. The players deserve credit for that. 
"Sometimes you can get frustrated as we are used to having a lot of the ball, and jump out of position, but I thought, tactically, we were good. And patient.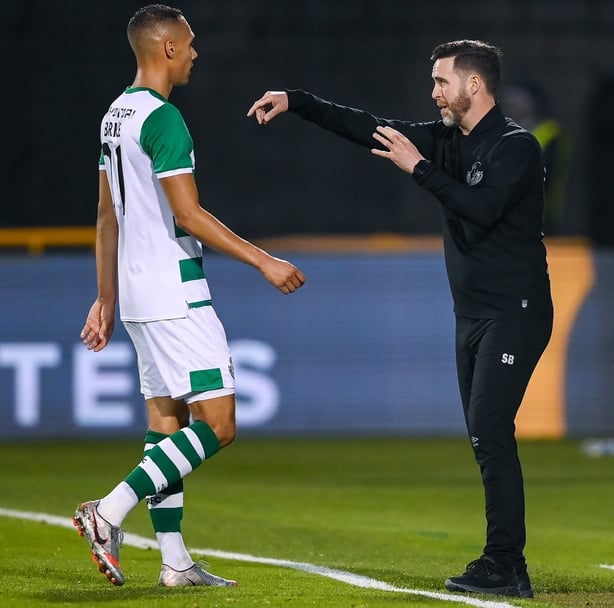 "If you go chasing it too early in the second half you're asking for trouble, as their quality on the counter is so high."
So it's back to the business of attempting to secure Rovers' first league title in nine years as they resume league action on Monday with a home clash against Waterford, and while the European adventure has ended, Bradley said that he would take nothing but positives out of the performance.
"I'm so proud of the group. What we need to take out of it as a group is massive learnings, in terms of what we did really, really well and what we can do better. 
"When we sit down tomorrow, take the emotion out of it and analyse it, I think the overall feeling will be pride. 
"A bit hurt with the goals we gave away, but like I say, when you're against quality and give them half a chance...massive learnings for us here tonight."