Dundalk go into their Europa League tie against Inter Club d'Escalades in Andorra tonight as red-hot favourites to advance to a third qualifying round tie against Moldovan champions Sheriff Tiraspol, but midfielder Greg Sloggett knows from his limited European experience that favouritism counts for nothing at this level.
The 24-year-old was part of the UCD squad which knocked F91 Dudelange out of the competition in 2015.
Since then the Luxembourg outfit have made the group stages of the Europa League in the last two seasons.
Speaking ahead of the game at the Estadi Comunal, Sloggett said UCD's famous victory from five years ago, at a time when they were plying their trade in the First Division, shows that no one can be taken lightly at this level.
"There's no easy game in Europe, no matter who you're playing against," he said. "We were strong underdogs against Dudelange for UCD and we came out on top.
"Just because we may be favourites going into the game in Andorra, there's nothing to say they won't put it up to us. We'd expect it to be a difficult game.
"Obviously, we got a favourable draw compared to what we could have got but we're expecting a tough game and we've got to make sure we're right up for it.
"We can't take anything for granted. You just don't know the standard of player that some of these countries have.
"On paper it might seem like a small populated country with very few competitive teams but still they can surprise you and be very good. We'll have done our research and our background on them so we'll make sure we're ready to go," he said.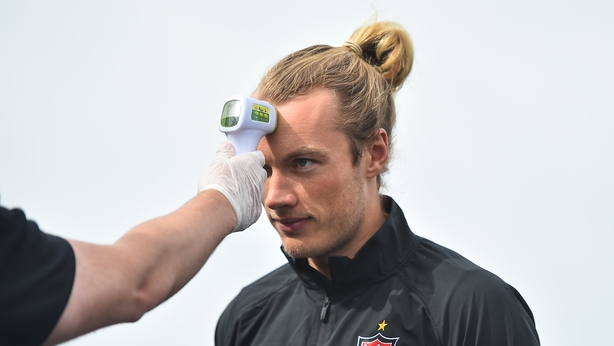 While Adolfo Baines' side are playing just their second ever European match tonight having only won the Andorran league for the first time last season, they contain a number of highly experienced internationals including the likes of Ildefons Lima Solà (40) and Cristian Martínez (30), who have both scored in qualifier matches against the Republic of Ireland, in 2001 and 2010 respectively.
"Most of them have played against some serious opposition at international level so they've a wealth of experience," said Sloggett.
"I think it's quite an ageing squad in many ways, with an older generation of players, but that means they've an experience that we can't underestimate. They'll be smart on the pitch and will be up for the game so we'll have to have our wits about us."
The Meath man, who scored the winner for Filippo Giovagnoli's side in their 3-2 league win at home to Shelbourne on Friday, will be hoping to make his European debut in this match.
He missed out on the UCD adventure five years ago with a hip problem and had been due to start last month's 3-0 Champions League defeat against Slovenian champions NK Celje in Budapest only to sustain a hairline fracture to his toe the night before the game.
"I'm buzzing for it," he said.
"I've missed a few European games now, which has been difficult to take. I was injured for UCD for the two games against Dudelange and Slovan Bratislava and then I fractured my toe the night before the Celje game so I'm definitely looking forward to this one now. Just hopefully I'll get selected."
Sloggett said the mood has been good under Giovagnoli, the unknown Italian who was a surprise appointment as interim head coach following Perth's sacking last month.
"I think it has been good so far," he said.
"There's definitely an air of positivity around. He has come in and been clear about how he wants us to play and I think he has been very good on the training pitch. We're all enjoying our football at the minute.
"We've had two good wins already under his tutelage and we're really looking forward to the next one and hopefully it's on Thursday night so we can continue that run."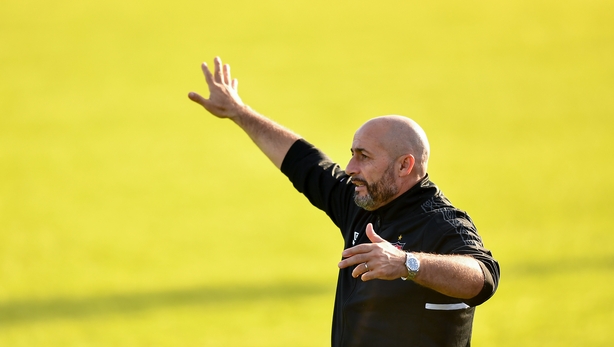 Dundalk received Government dispensation to travel to Andorra, which is not on the country's Green List, with the Louth men confined to the team hotel except to train and play the game.
That can create challenges but Sloggett is hoping it's all worth it.
"You do miss the atmosphere," he said.
"I kind of wheeled away to celebrate towards the stand after I scored on Friday and then realised it was empty but hopefully we'll get the fans back at some point.
"It'll be a fairly behind doors trip this time as well, just as it was in Budapest. 
"It's a challenge in itself to keep yourself occupied. You just have to rest and sleep and eat and then it's laptops, PlayStations and books to keep yourself occupied for the few days.
"In many ways it is quite dull and boring but ultimately the cause is pretty big so it's easier to accept and we hope we're doing it all again the following week," he said.