It's not all that often that Irish clubs cross paths with their Italian counterparts in European competition.
Athlone Town were the first to do so back in the 1970s against AC Milan, who are the visitors to Tallaght Stadium tonight to face Shamrock Rovers in the Europa League second qualifying round.
The only other time club sides from the two nations faced off competitively was 10 years ago and though  it also involved Rovers, on this occasion Milan were not the Serie A giants on show.
Stephen Rice was part of a successful Hoops midfield at the time as Juventus were drawn to play the Dublin side or Israel's Beni Yehuda Tel Aviv in the 2010-11 Europa League third qualifying round.
"At the time we still had to play the second leg out in Tel Aviv. Excitement was obviously the first feeling but also knowing that we had a huge task on our hands against the Israeli side," Rice tells RTÉ Sport as he looks back on a memorable late July that would prove beneficial the following year.
"We were 1-1 from the first leg, so when Juventus came out just before we played the second leg, there was huge excitement and it lifted everyone."
The Dublin side duly did their duty and Thomas Stewart's goal in Tel Aviv was enough to send them through to a glamour tie against one of Europe's elite.
Juventus have won the last nine Serie A titles in a row but the 2010-11 season would be the most recent one in which the Scudetto proved unattainable for the Bianconeri - coming five years after their enforced relegation due to the Calciopoli scandal.
But Rovers would still have to face some star names. Alessandro Del Piero, albeit coming towards the end of his career, needs no introduction. 
Leonardo Bonucci and Giorgio Chiellini are still going strong for Juve and their peak had yet to come but the former had been capped by Italy just six months earlier and Chiellini had already earned Azzurri honours six years previously.
Rice would also have to contend with the class and technical ability of Juve's hometown product Claudio Marchisio at the heart of a midfield that also contained Brazilian playmaker Diego, Italy winger Pepe and former Liverpool midfielder Momo Sissoko.
Planning for the home leg was given a bit more breathing space with a Premier Division game scheduled between the Israel trip and Juve's arrival moved to give Shamrock Rovers every opportunity to be ready.
"We celebrated that Thursday night out in Tel Aviv and then basically we flew back to Dublin and started the preparation on the Saturday," Rice explains.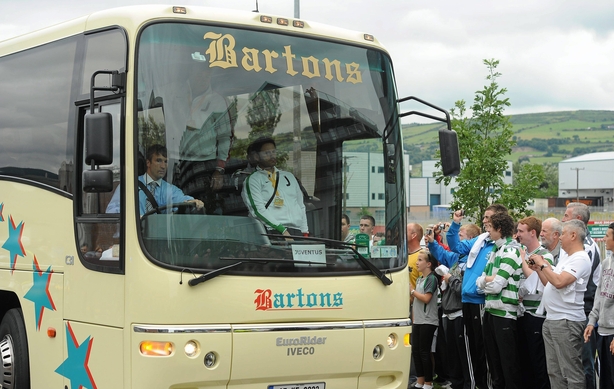 Luigi Del Neri, who would only last a season in charge before Antonio Conte proved an inspired appointment in the summer of 2011, had only become manager of Juve weeks earlier and came to Dublin with a strong squad of first teamers off the back of a pre-season programme and with Serie A still a month away.
The Juve teamsheet read like a veritable who's who: Storari, Motta, Chiellini, Bonucci, De Ceglie, Sissoko, Marchisio, Lanzafame, Pepe; Diego, Amauri.
Del Piero would be sprung from the bench late on, while French World Cup and European Championship winner David Trezeguet was an unused sub in Tallaght.
Yet for Rice and co, while there was evident respect for the opposition, it was key not to be over-awed.
"Your immediate reaction is these people are obviously very recognisable, they're superstars and they have Italian internationals," he says.
"So there's always that element of the recognition of who they are and what they have achieved and the level that they're playing at.
"But we put ourselves in a position that we could be on the same pitch as them, so I don't think there was too much of that and Rovers, I think the team they have now with Joey O'Brien and Jack Byrne, both of whom have international experience, might be better prepared to deal with that side of the game than we would." 
---
Shamrock Rovers' first leg team: 1 Mannus, 4 Sives, 24 Murray, 5 Price, 3 Stevens; 8 Chambers (15 Kavanagh '78), 6 Rice (20 Dennehy '66), 18 Turner, 25 Bayly (7 Bradley '90), 23 Stewart; 9 Twigg.
Read Glenn Mason's match report from ten years ago right here.
---
Juve would, as expected, boss possession with Rovers' setting up to stifle their interplay. 
"You have to concede a part of the pitch and we obviously conceded their defensive third to them in possession," Rice explains.
"But in terms of the speed in which they move the ball and they're decision-making, you could tell it was a level above what we were used to, heir game understanding in terms of positional sense and timing of movement."
Chiellini made an impression of Rice, who remembers him as a "really nice guy with a nice way about him" on the pitch and "very chatty".
Rice's own task was to keep tabs on Diego, who is still playing now aged 35 for Flamengo and had been a Brazil international since 2003.
"He was a really, really good player," he says of the former Werder Bremen and Porto playmaker.
"We focused on the space rather than man-marking players because if you man-mark players at this level, they're too intelligent and can really hurt you.
"So we focused more on that central zone, marking half-spaces rather than individuals."
It was Juve's target man Amauri who did the damage however with a goal in each half to leave the final score at 2-0.
The second was a header but it was the Brazil-born Italy forward's early goal that remains firmly in Rice's memory of that game.
"I remember they scored very early in Tallaght after a direct pass which was how [Amauri] got in and finished one on one against Big Al [Mannus]," Rice recalls.
Ultimately, a 2-0 loss against that calibre of oppositon was a creditable result to take to Modena where Juventus were hosting the second leg.
Heavy rain in that part of Italy had even led to the possibility of a postponement. But given it went ahead, the conditions gave the travelling Rovers party hope of upsetting the applecart.
"It was a leveller because they wouldn't be able to move the ball as quick and how they played was disrupted," says Rice.
"We tried to use that and we had a really good chance to get a goal back in the first half that might have hit the back post.
"The water on the pitch slowed them down but then you lose the game from an absolute wonder strike."
---
Second leg teams
Juventus: Storari; Motta, Chiellini, Bonucci, De Ceglie; Pepe, Sissoko, Marchisio, Lanzafame; Diego (Del Piero, h/t), Amauri (Trezeguet, 81 mins.).
Shamrock Rovers: Mannus; Flynn, Murray, Price, Murphy; Kavanagh (Stewart, h/t), Rice (Bayly, 59 mins.), Bradley, Chambers (Turner, h/t), Dennehy; Twigg.
---
Step forward Del Piero who overcame Juve's inability to fashion a goal from open play and instead came on as a sub to lash in a typically outrageous free-kick from range.
While Rice had departed the field by the time that goal went in, he had got to take on Del Piero for the quarter hour that followed the Champions League and World Cup winner's introduction at the break.
"You don't need to be pacey. If you're quick in your head, it makes up for any speed," he said of the Italian.
"To share the pitch with somebody like that who's had such an amazing career, it's something that I know is great to look back on. He's a legend of the game around the world."
After the 3-0 aggregate defeat, Rice had a memento to keep from the tie, swapping shirts with Marchisio in Tallaght. 
"I was lucky enough to get Marchisio's shirt after the first game and that's something that I'll obviously keep and cherish," he says, pointing out that Rovers striker Gary Twigg got Del Piero's jersey.
"Or Del Piero got Twiggy's shirt," he adds jokingly.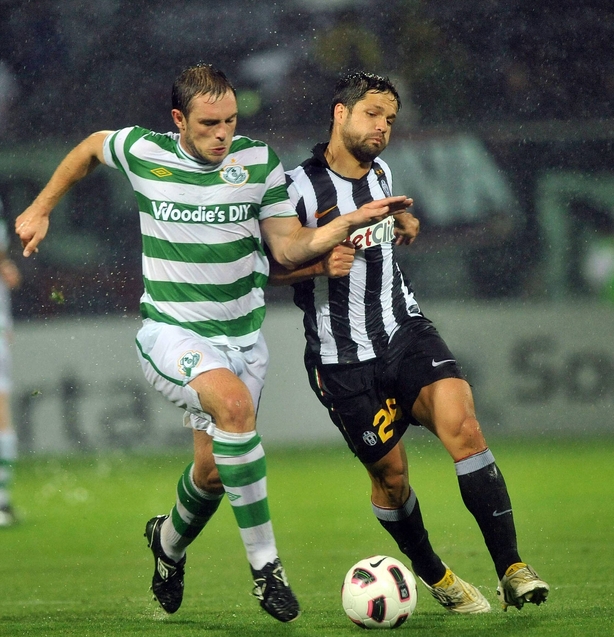 "But as great as it is to get jerseys and stuff, there is nothing as powerful as watching it back."
And just as powerful was the value of the experience. The following season, Shamrock Rovers famously made history as the first League of Ireland club to reach the group stage of a European competition, where they would go on to face Tottenham - Rice would score against Spurs - PAOK and Rubin Kazan in the Europa League. 
He believes that Juve experience was crucial in teaching Rovers how to go about European ties against clubs of that level.
"It was brilliant and we had Real Madrid the year before, which wasn't a European game, but it was a preparation and a style of play, conceding possession and understanding that you're going to spend long periods without the ball," Rice explains.
"It was a good education for us going into Bnei Yehuda and then Juventus which were big games with big media attention and really helped the group.
"Then in 2011, we went to Estonia and to Belgrade and won and Copenhagen. It was a real education for us so when it came to the big night in Belgrade, we understood what we needed to do.
"We were well drilled and Michael had us well organised and we were able to use those past experiences to set us up for qualification."
The 35-year-old, who recently became an Under-23 development coach at Crystal Palace, will be doing his utmost to catch the Rovers v AC Milan game.
"I was lucky enough to be offered the job," he explains of his new role in the English top-flight.
"I'm here in London now two weeks. It's the chance to work as a full-time coach, to improve myself and to work around some of the best coaches and players in the Premier League.
"So it's going to be an education for me but also learning more about the game and different styles of play.
"I just felt it was the right step for me at this moment in time. I've loved the two weeks so far and have settled in and working with these top people will only improve me as well." 
Follow Shamrock Rovers v AC Milan (kick-off 7pm) via our live blog on RTÉ.ie/sport and the RTÉ news app, or watch live on RTÉ2 and the RTÉ Player from 6.30pm.