When Vera Pauw's Republic of Ireland team played their last European Championship qualifier in Montenegro on 11 March, Heather Payne was absent.
Six days earlier, the versatile Florida Seminoles player had sustained a torn hamstring in the crucial home win over Greece.
But with international football returning in the shape of a daunting trip to face Germany in the third last qualifying fixture in the group, Payne is raring to go after getting through the rehab phase of her injury and building back fitness since June.
"I've just been training normally ever since and haven't had any problems, so that's been good," she says in an upbeat assessment ahead of Saturday's fixture in Essen, before touching on the chances of starting the game after injury.
"With regards to starting this week, it all depends on what Vera's plans are and what her game plan is.
"I just have to put in the work in training and be sharp and to just click again with the team and hopefully I'll be starting but we'll just wait and see."
Ireland are well positioned in the group ahead of the away game in Germany and with a home fixture against the same opposition in December and a trip to Ukraine still to come before that in October.
While the Irish team convene for a pre-match training camp in the build-up to Saturday, the squad's preparations have been going on in the background for quite some time according to Payne.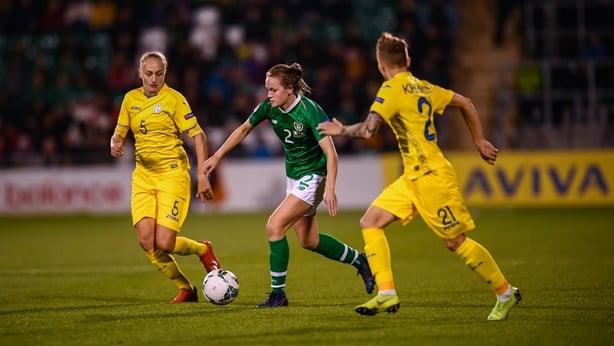 "We have been doing background work for the last month looking ahead at different games, so we've done a bit of work but of course we have this whole week to prepare for this game, so that's the most important thing," she says.
For the moment, Ireland are top of the group having played one game more than Germany and while the Germans will be heavy favourites to finish at the summit in the final shake-up, Payne is taking heart from the position her own side find themselves in.
"It's great to be top of the group. If you look at the table, you're not always going to look at the amount of games played, you're just going to see Ireland sitting at the top so for us that is a great [for our] mentality," she says.
"But of course we're all aware that Germany have a game in hand and we've seen them play other teams and they're beating them by many goals and everything.
"So we are aware that we still have to play Germany two more times and then Ukraine once more. We are going to keep level headed and we're not going to let that get to our heads that we're top of the group because we still have many big tasks ahead."
Listen to the RTÉ Soccer podcast on Apple Podcasts, SoundCloud, Spotify or wherever you get your podcasts.
Follow the Europa League clash between Shamrock Rovers and AC Milan (7pm Thursday) with our live blog on RTÉ Sport Online and the RTÉ News app or watch live on RTÉ2 and the RTÉ Player