While Germany present the most daunting of tasks for Republic of Ireland on the road towards the rescheduled Euro 2022 tournament, Megan Connolly says the team can take lessons from the famous draw against the Netherlands in 2017 into this Saturday's qualifier in Essen.
The Germans have scored 31 goals and conceded none from four games in Group I so far. Indeed, their 'worst' result, if such a term is even applicable, was a 5-0 stroll to victory in Greece last October.
But an Irish side, who are also unbeaten, are top of the group albeit having played a game more and having yet to face Saturday's opponents home or away.
Vera Pauw's side go into the game as underdogs but in November 2017, they faced an away trip against a strong Dutch side and came away with a famous goalless draw in the World Cup qualifier.
We need your consent to load this Facebook contentWe use Facebook to manage extra content that can set cookies on your device and collect data about your activity. Please review their details and accept them to load the content.Manage Preferences
Ireland midfielder Connolly believes that result offers a template of sorts as they look to pull off something similar in Germany.
"I wasn't a part of it but I watched it and I think that was one of the games where you can compare it to the Germany game where we're going to be massive underdogs," she said.
"You look at their quality, you look at their players and I think Vera and her staff will have a game plan for us and it's having the trust in that, the staff and the players around us and knowing that everyone is on the same page.
"We're going to prepare as best we can and that's how it was with the Dutch game. It was a case of where there was belief, there was a plan, and it was a case of 'look, everyone has to buy into it, everyone has to trust and not give up really'.
"I think that was a big result against the Dutch team and it does go to show that anything is possible really. I don't think many people would have thought that was a result we could have got.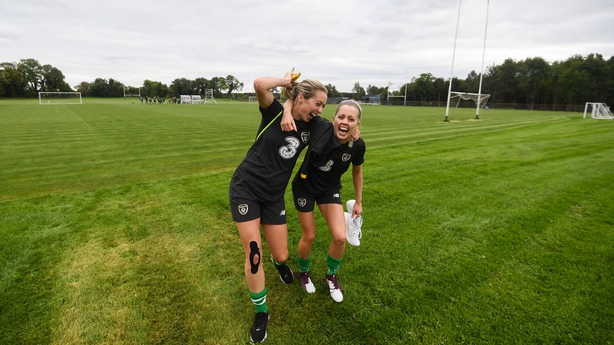 "But we all believed that we have trust in each other and the staff and we'll do that."
She added that a draw would be a "great result" for Ireland on Saturday in the context of the group and opposition.
Similarly, Connolly was part of a Brighton side that held their own against elite opposition at the weekend as they drew against Manchester City in the Women's Super League and she believes that result will stand her and the Irish contingent at the club in good stead for the weekend.
"In the WSL, playing the likes of Man City where you have top class players who have that kind of pace and one-touch football that the Germans are going to bring," she said.
"It gives you a test of it and you're not going into the game thinking, 'I haven't really had experience of that kind of play."
With Ireland's Rianna Jarrett leading the line for Brighton on the day, it was also even more significant in the fact that Connolly's fellow Cork native Denise O'Sullivan made her debut as a sub after sealing her loan move from North Carolina Courage. All three will be reunited again in the matchday squad against Germany.
"Obviously, it's great having two of the girls on the team playing for us," she said.
"Going into that game, we were underdogs and that's what we want to do on Saturday. For us coming in, it does help me, Ri and Dee, coming in with that result and that belief.
"It was the kind of game where our backs were against the wall. City were on top of us and second half, most of it, they were on us but it was a case of the belief and the trust in each other."
She also reserved praise for O'Sullivan, adding that "you can't meet a better person" and "that translates on the pitch a lot of the time".
"In the big games, she always performs. As a team-mate, you know she's always performing," Connolly added.