Stephen Kenny had to think for a minute when the question was posed as to whether Ireland's UEFA Nations League clash with Bulgaria was the most important of his footballing career. 
Not that Kenny was ever going to answer anything other than in the affirmative, but rather the new Ireland manager admitted that he had not had time to ponder such a scenario. 
Twenty-two years a manager, Kenny is not yet 49, never mind 50, and was leading teams to promotion, FAI Cup finals and European football while still a novice coach in his twenties. 
League of Ireland Premier Division titles followed in his thirties, coupled with Scottish Cup finals and top-tier encounters with the mighty Celtic and Rangers while manager of Dunfermline throughout the 2006-07 season, not to mention some great European nights when in charge of Derry City, including a 0-0 draw with Paris St-Germain. 
By the age of 41, Kenny was a veritable veteran of the managerial merry-go-round, yet his best work was still to come. 
A Dundalk side struggling to stave off relegation were transformed into perhaps the best team to ever play in the League of Ireland, winning four league titles in a five-year period, while Kenny brought his team into the group stages of the Europa League in 2016, and enjoyed great European nights against Zenit Saint Petersburg, AZ Alkmaar and Maccabi Tel Aviv. 
So when Kenny was asked the question, and with two decades of previous to dissect and digest, it was no surprise to learn that he had not given much thought to the question ahead of such a big night. 
But such is the want of the new manager, he gave it a good stab. 
"If I took time and reflected on that, thought about it in that way, there is no doubt that it is, but I haven't had that period of introspection," said Kenny. 
"I have been focused on the game itself and that's how I view it, we are just preparing the team as best we can. 
"We are just focusing on how we are going to play, the challenge of playing in an empty stadium, we know it's not the same, the connection between players and supporters, the energy that brings. 
"But I am not looking at it from my own point of view, I don't have time for that, we just have to get ready to try and prepare the team and try to perform well."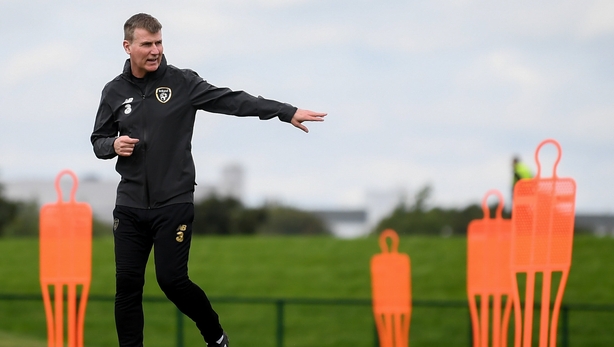 Reward for all that fine work, most notably during his recent tenure at Dundalk, where League of Ireland players, once again gained international recognition, Kenny was promised the Ireland job back in November 2018. 
A spell as Under-21 manager would be served ahead of securing this post, and then despite the long wait, it all happened quite quickly in the end, as Covid came calling and Mick McCarthy passed the baton on to the Tallaght native. 
And now with just a few days to get to know his new squad on the training pitch, the Kenny era kicks off, as Ireland will play two games in three days, as they host Finland in Dublin on Sunday, and as a result of the return trip to Sofia, Kenny will have missed vital time on the training pitch to establish a philosophy and style of play with his new side. 
But the manager believes that his side will know exactly what is asked of them in the two matches, as they are used to changes of regime and tactics at club level and he is not asking for anything radical from his side in these opening fixtures. 
"They're all good players who are playing at a high level and they're used to changing managers and coaches at their different clubs, they are used to having changes within their club environment. 
"This is an international environment, it's different, but they're all adaptable, so tactically they're adaptable. They're intelligent people and they can take stuff on board. 
"You're not going to radically change everything in two days, that's not realistic, but we want to play with confidence - that's important, we want to have the balance of the team right so that we can be creative and create chances. 
"The balance of the team is important and we want to have speed in out attack as well. It's very important that we have speed in our attack, that we're a real threat when we need to be." 
Kenny's appointment came with criticism from afar amongst some former players who did not seem to be completely au fait with the pedigree of his background, however, judging by the reaction of senior players this week, it appears that the squad are most willing to buy into his attacking and entertaining style of play. 
And the manager himself was impressed with the levels of intensity on the training ground, which have shown the appetite and enthusiasm throughout the squad, who still harbour ambitions of qualifying for next summer's delayed Euro 2020 tournament. 
"One of the things I would say is that when we did play some 11 v 11 in training, you can see that there's not really a disparity in quality overall. We've two very competitive XIs and that's going to be important over the next year. 
"Their intention is that we play a lot of games, but in order for us to do that, we have to be successful. 
"We'll have to do well over the next few weeks and months, and that's what we're trying to do." 
Follow Bulgaria v Republic of Ireland this Thursday via our live blog on RTÉ.ie and the RTÉ News app or listen to live commentary on RTÉ 2fm's Game On