As the class assembled at Abbotstown today, Darren Randolph's mind drifted toward history.
Irish history to be exact, and the opportunity this Republic of Ireland squad has to become a part of it.
New manager Stephen Kenny finally got on the training pitch with his players having laid out his vision to the group the day before.
There are fresh faces - Jayson Molumby and Adam Idah are both in with the big boys for the first time -  while the coaching staff has been invigorated by the presence of Keith Andrews, Damien Duff and Ruaidhri Higgins.
It meant there was a novelty factor to the session on Monday morning. Everyone is getting used to each other again as the camp adjusts to the change in chemistry unfamiliar arrivals can trigger.
So it was all smiles on day one of the Kenny regime; backslaps and elbow bumps galore.
Still, West Ham shot stopper Randolph was keen to stress that everyone is already aware that their Euro 2020 play-off semi-final against Slovakia on 8 October presents a chance they dare not blow.
"We could qualify for a major tournament and have two of the games in Dublin," he said.
"That in itself would be massive, to make yourself part of sporting history, Irish history.
"Not many people get that chance. We will have that chance. I'd be lying if I said that's not in the back of people's minds. We need to get everything spot on to make those thoughts and dreams a reality."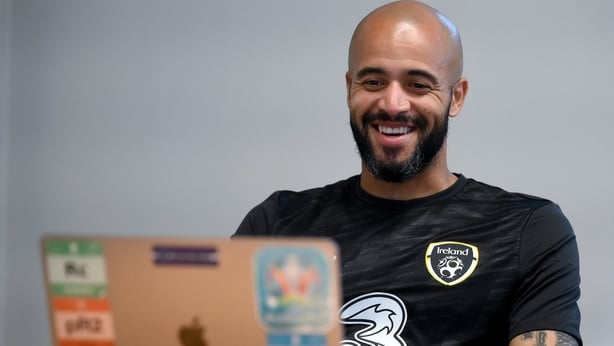 Kenny may be a rookie in international terms, but he has a clear plan with Ireland and a definitive style.
These Irish players will be asked to keep the ball far better than they have done previously, to impose themselves on matches and play with more flair. Kenny rails against the idea that Ireland should be plucky underdogs and seems to be on a mission to shatter anything resembling an inferiority complex.
He knows how to build progressive, attractive teams too, but Randolph warned that anyone expecting an overnight transformation will be disappointed.
"Some of [the media] or the public may think we're going to start playing like Barcelona and Man City," he said.
"Yeah we want to play, but we're not going to be taking stupid risks.
"It's international football with stuff to play for. Yes, we're going to be a possession-based team. We're going to try different things, but it won't be anything ridiculous. 
"Everyone was well aware [of Kenny's achievements]," Randolph added, quietly debunking any suggestion the manager will have to convince the players of his coaching pedigree.
"Even in different camps before you'd be hearing stuff, seeing stuff, reading stuff. Everybody is fully aware of everything he achieved with Dundalk and everyone is excited to get things started."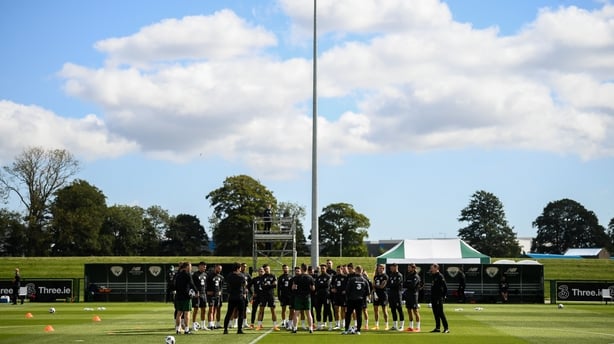 Before that pre-Halloween showdown with the Slovaks, Ireland have a couple of Nations League clashes to get through - away to Bulgaria on Thursday and against Finland in Dublin on Sunday.
Ireland's last Nations League campaign two years ago was a grim slog that consisted of two defeats to Wales and two goalless draws with Denmark. Martin O'Neill was sacked off the back of those results, but this autumn offers a fresh start and a fresh philosophy.
"You get kind of numb to [criticism]," Randolph said when reflecting on some of the stick Ireland have endured for the way they've played over the last few years.
"I've known some great moments and matches here. In the good moments, you don't hear any of the negative talk, it's all celebration and praise and everything else. Then, such is life, when things aren't going so well, that's when you hear everybody's opinions. 
"[The Nations League] gives us two games under the belts before the Slovakia game, which obviously is a huge game.
"We want two wins to bring even more confidence going into the Slovakia game."
So the new era began with a meet-and-greet, a rallying call and a declaration of intent.
Then, it was down to business. 
"There were no initiations, no songs or anything like that today!" Randolph chuckled.
"Yesterday was more of an introduction day. There's new faces, player wise and staff wise. It was about getting to know everybody. Then we had a meeting with the manager about what he expects, about what he believes we can achieve as a group. 
"The manager said he was sick of hearing certain comments and sometimes the negative approach that we'd take towards games against certain opposition.
"He said he wants us to have more belief in ourselves, try and play to our strengths. It's a shame we haven't got a little bit longer of a training camp to really go over things.
"The games are coming thick and fast but we definitely know what he wants from us and what he expects."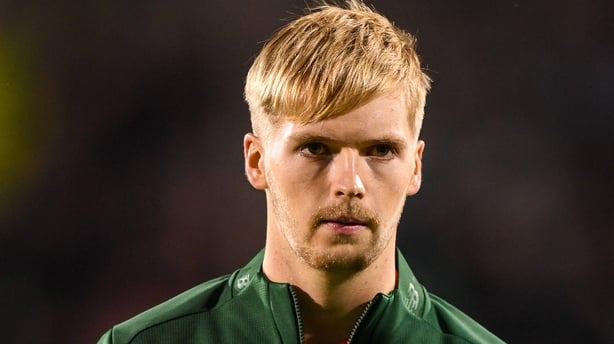 Meanwhile, Liverpool goalkeeper Caoimhin Kelleher (above) has been called up to the squad after Kieran O'Hara suffered an injury that rules him out of the double-header.