Dundalk's former manager Vinny Perth says he wasn't surprised by the club's decision to dispense with his services and that there were bigger issues than the disappointment of their Champions League exit.
The Lilywhites dismissed Perth yesterday, just 24 hours after their Champions League campaign ended in its first game after a 3-0 defeat to Slovenian side Celje.
A poor run of form since the league resumed after lockdown has also seen them fall off the pace set by Shamrock Rovers.
"It's certainly not a surprise to me that the decision was made," Perth told RTÉ Sport. "It was inevitable. It wasn't a real shock.
"I had a brief discussion with the chairman last night. It's been a difficult time for the club on and off the pitch for a number of months.
"There have been things in the background that haven't been good enough. Ultimately, we haven't been good enough on the pitch.
"There's no doubt there was a difference of opinion on where we are and where we need to move forward. We have a difference of opinion. I have to respect that.
"The club have decided to go in a different direction. We're comfortable with that. That's where we've ended up.
"People will say ultimately the decision is down to losing in the Champions League. It's not. It's a bigger decision than that. That's fine."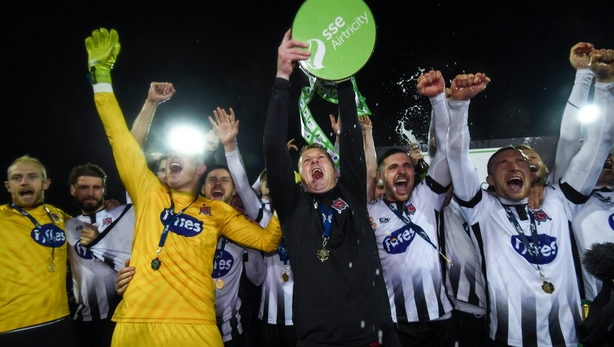 Perth led Dundalk to the Premier Division title last year in his first campaign in charge and only missed out on double glory with a 4-2 penalty shootout defeat to Shamrock Rovers in last year's FAI Cup final.
He said he was proud to have been part of that success and the four title wins as assistant boss under Stephen Kenny.
"What Dundalk have achieved in the last eight years is incredible," he said.
"Yes, we were a penalty kick away from complete dominance eight games ago. That's all. From that point of view, it's disappointing.
"But the club have been phenomenal and I'm very proud of my association with the club.
"Ultimately, I think LOI is better because of what's happened at Dundalk over the last eight years. We changed Irish football as a group."
Perth denied reports of tension between him and first-team coach John Gill, saying their relationship was "very strong".
"People will throw mud and if they throw enough of it, it will stick," he said. "There's no doubt there was a difference opinion with the club.
"On Wednesday night, I went out with a very clear mind what I thought the right team was in the Champions League. I don't think ultimately that's why I lost the job."