Football without fans is… what exactly?
Well it's certainly better than nothing. And for League of Ireland clubs starved of matchday revenue, it's actually everything right now.
The WatchLOI streaming service was born out of necessity really, but it still feels like an important moment for football in this country.
With almost every single game accessible on a single platform, and staggered times to accommodate binge watching, this is a chance to feast after a 146-day famine.
All revenue generated will be split between the clubs, which will hopefully help alleviate some of the strain most are feeling after a difficult few months. The League of Ireland's return hasn't exactly been plain sailing, but the last couple of days have at least allowed us to focus on the football again.
This was one to savour. Jack Byrne bent home a brilliant free-kick to put Shamrock Rovers ahead against Finn Harps in Tallaght this evening. Top class. #RTEsoccer #greatestleagueintheworld #watchloi
Subscribe to https://t.co/M41attID1h to watch over 55 games pic.twitter.com/JfinTncRZa

— RTÉ Sport (@RTEsport) August 1, 2020
And there was plenty to focus on. This shortened 18-game campaign may not be to everyone's liking, but it's going to serve up a lot of thrills and spills.
Derry City and Sligo Rovers got the ball rolling at the Ryan McBride Brandywell Stadium on Friday evening as we dipped our toes into this unfamiliar and - yes - sterile new world.
How would the players react to it all?
Before the game, former Candystripes hero Liam Coyle told RTÉ Sport commentator Adrian Eames that when he was playing he felt he needed the energy of the crowd to get him going. His fear was that the game would be pedestrian, an exercise in shadow boxing.
Perhaps it affected the hosts here, but certainly the Bit O'Red looked well up for it.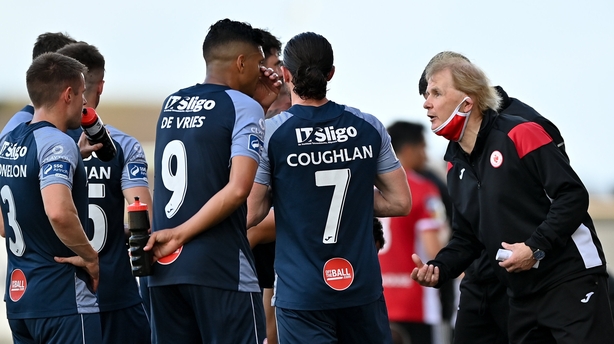 Liam Buckley had spoken about his desire to repay the club's fans for their fundraising efforts during lockdown.
A poor display would have made those words look hollow - his team's physical, committed showing suggested they were from the heart.
Sligo were excellent and fully merited their 2-0 win, a first three points of the campaign. It was full-blooded, even a little colourful at times.
On the eve of the restart, PFAI chief Stephen McGuinness had appealed to players to mind their Ps and Qs. "With the new streaming service, every game will be shown and there won't be any background noise used," he said. "That means every little sound is going to be carried into people's living rooms all around the country and we just want players to be aware of that.
"It doesn't matter whether they are responding to a rival player, a referee or assistant referee or the opposition bench. We don't want something said in the heat of the moment becoming a bigger story than the match itself."
It was just over an hour before we got the first passionate "f*cking hell" from the sideline after Mark McCrystal had barged into Ronan Coughlan. There'd be a lot more F-bombs dropped before the weekend was out.
The stream itself is simple and intuitive. After you log in there's a dropdown menu of the 'Live & Upcoming' games which allows you to dive in to the full schedule. After that you're just a click away from the action.
So once Sligo had taken the points from Derry, we were able to turn our attention to Dundalk v St Pat's.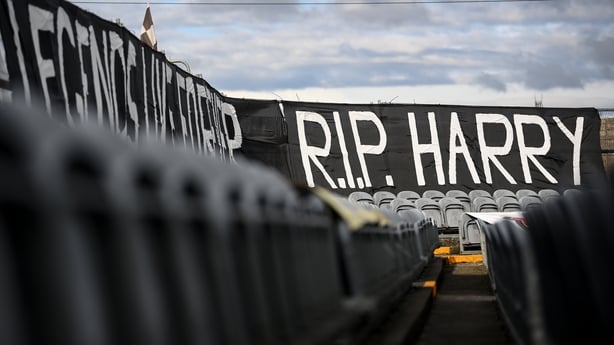 It's been a tough week for the Lilywhites. The passing of their groundsman/videographer/friend/confidante Harry Taaffe was a desperate blow. The sincere and emotional tributes to Taaffe continued before and during the match itself, with the home players warming up wearing T-shirts with 'thanks for everything' printed on the back above a large 'H'. Floral tributes hung on the stands as did a huge black and white banner that read: 'Legends Live Forever - RIP Harry'.
Saints boss Stephen O'Donnell knows the parish well having soldiered under Stephen Kenny - who was at this game - during the club's glorious rise and he paid his own tribute to Taaffe in the build-up to the game. "A mountain of a man," O'Donnell told Tony O'Donoghue.
O'Donnell served as an opposition analyst at Dundalk before taking the reins at Pat's. He's an intelligent, canny young coach who had his side set up exceptionally well at Oriel. They tired in the last third of the game but a fine goal from another ex-Lilywhite - Robbie Benson - earned them a merited point.
"I think the couple of extra weeks that Dundalk had back training before us kind of took a toll," Benson lamented afterwards, though he did admit: "Maybe if there was a big crowd here roaring them on, they might have put us under a bit more pressure so we're thankful for that."
There's a wave of young coaches in the League of Ireland at the moment; bright, ambitious young things who bring a good energy to the Premier and First Divisions.
That being said, it was oddly refreshing to see no-nonsense 55-year-old John Sheridan breathe life into Waterford on Saturday afternoon.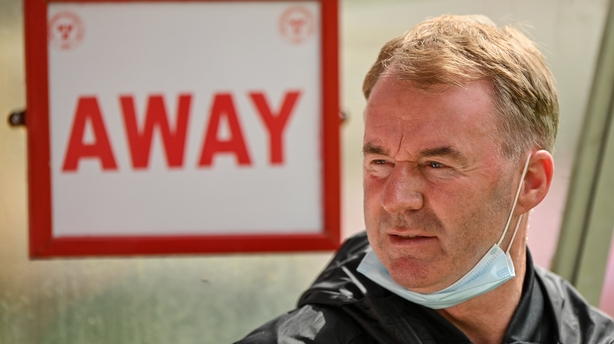 Sheridan was a lovely footballer, cultured and tough. As a manager he has a reputation for being uncompromising and demanding - cut from the same cloth as his old Republic of Ireland gaffer Jack Charlton.
He was at Tolka Park for his first game in charge of the Blues, reunited with Ian Morris - formerly a player for Sheridan at Chesterfield, now a 33-year-old manager of newly promoted Shelbourne.
Morris had said he expected his men to come out firing on all cylinders after a positive few weeks of training but it was the master, not the apprentice, who shone here.
Waterford gave debuts to Kurtis Byrne, Robert Weir and Tunmise Sobowale and they all impressed.
When he got the job Sheridan was quite bullish. "I can give them my experience and help them compete and achieve and try to get up and win the league, get in Europe, that is what I'm going to try and do," he said.
They've a way to go yet, but this was a great start for Waterford, a club that desperately needed a morale boost after the messy way the players and management were temporarily laid off and the painful departure of Alan Reynolds. Sheridan is a tonic.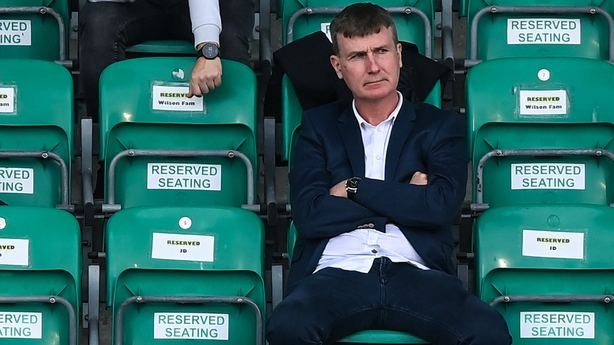 Time will tell if he can actually take the south-east club to the top of the tree - and if Sheridan needed a reminder of where the bar is set right now then he might have logged on to watch Shamrock Rovers ease past Finn Harps later in the day.
Stephen Bradley's men are setting the pace. This was a sixth win from six and came decorated with passages of real class.
Kenny zipped over to south Dublin to watch this game too and would have been impressed with Jack Byrne, who glided around the field with supreme authority.
As Byrne stood over a sixth-minute free-kick 25 yards from goal, you could hear the hum of the traffic on the N81. Once he bent it brilliantly over the wall and into the net, you feared for Harps.
After Dylan Wattts and then Aaron McEneff extended the home lead to three goals, a hammering felt inevitable.
That, however, did not materialise. Ollie Horgan's character tends to bleed into his teams and Harps are not the type of side to roll over easily. They dug their heels to nick a goal back, and though a comeback never looked likely, neither did complete pasting in what was a more even second period.
So Shamrock Rovers ended the day five points clear of Dundalk with 12 games to go, Sligo and Waterford re-emerged with renewed vigour and St Pat's offered more evidence they may be a coming team.
We stand on shifting sands though. It's a league like no other in a year like no other and none of us have a clue what the overall landscape will look like in a fortnight.
It's just nice to know we'll have a decent view.