The League of Ireland has become a young man's game - and not just on the pitch.
A wave of ambitious young coaching talent has emerged in the Premier and First Divisions in the last few years to freshen up the battles in the dugouts 
The likes of Daire Doyle (Longford Town, 39), Ian Morris (Shelbourne, 33), Tim Clancy (Drogheda United, 36) and Stephen Bradley (Shamrock Rovers, 35) make Neale Fenn (Cork City, 43), Vinny Perth (Dundalk, 43) and Keith Long (Bohemians, 46) seem like old-timers.
And then there's St Pat's boss Stephen O'Donnell, still just 34 and honing his profession in a tough, competitive division.
O'Donnell acknowledges the LOI has been flushed with young coaching talent. And the reason? The Galway man says it's all down to Pep.
"Probably the biggest swing for that was maybe Guardiola when he took over the reins of Barcelona at such a young age and then did so well," he told RTÉ Sport's Tony O'Donoghue. 
"I think other clubs in other countries maybe started following the trend and that, thankfully for us young coaches, seems to be a trend that's been prolonged."
.@Corktod speaks to St Pat's boss Stephen O'Donnell, one of a new wave of young coaches making their way in the LOI, ahead of Friday's clash with his old club Dundalk #RTEsoccer pic.twitter.com/uTU5akOX7B

— RTÉ Sport (@RTEsport) July 29, 2020
He's seen changes in other aspects of the game. O'Donnell previously worked as the senior opposition analyst and scout at Dundalk where he pored over hours of footage to help prep the team for upcoming games.
"Like, just the video analysis alone... there would have been very little video analysis during the first half of my career, I suppose, if any at all," he adds.
"Maybe there'd be a little match report on the opposition, but now with all the software that's available to everyone, video analysis is massive. 
"I think the players are more demanding now. They want to know more about the opposition and you've got to be coming to the players with a plan. I think if you sort of try to wing it nowadays players will find you out  because they're used to so much detail and analysis. That's been the biggest difference.
"Gym wise as well it's been huge. There's been big shifts in strength and conditioning over all codes in the last 15 or so years."
Pat's are currently in fourth place with just 14 games to go in this truncated campaign.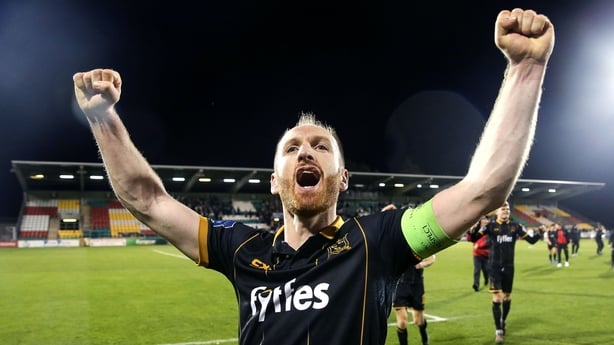 It's hoped Georgie Kelly will add goals to the side after his arrival on loan from Dundalk. He's not eligible to play on Friday, but O'Donnell is highly aware of his capabilities.
"We just want to improve, you know? We had a 50/50 start, two wins two losses, and in games we probably dominated possession so we just want to keep getting better on the training ground.
"Where I get my little kick is seeing players taking information on board and getting better individually themselves. I think if you do that, results will come and you improve as a team. 
"Look at Georgie's goals-to-minutes ratio, it's second to none. Any time he's taken to the pitch with Dundalk he's scored. I'm looking forward to working with him. Georgie is just desperate to play games and get minutes and I'm looking forward to trying to improve him and make him enjoy his stay for the next three months."  
It will be an emotional return to Oriel this Friday for O'Donnell.
He was a terrific player for the club during a golden era under Stephen Kenny and still has many good friends at the Lilywhites, who've brought old favourite David McMillan back from Scotland. 
And there's the passing of Harry Taafe too, the hugely popular groundsman and videographer who died earlier this week. 
"All the boys loved him," O'Donnell says. "You know, it's just so sad. Obviously people would have seen it but it is unknown the contribution he had in all them great times with Dundalk.
"As I said, he was all the players' friend. You could have rang him from Kerry and said you were broken down or something and he would have hopped in his van and drove down the country to pick you up. That was the type of character he was.
"So to Harry and his family, I just want to send my condolences and say that we are thinking of him because he was a mountain of a man up at Dundalk... a huge loss.
"I still have a lot of sort of close relationships with a lot of people in Dundalk and while I was there the town was great to me and  the people who are great.
"I enjoyed my time there but I'm representing St Patrick's Athletic now and looking forward to the game."
Watch Dundalk v St Pat's live this Friday on RTÉ2 and the RTÉ Player from 7.30pm