Niall Morahan's injury-time strike for Sligo Rovers may have proved nothing more than a mere consolation goal for the Bit O'Red in their 3-2 defeat to Shamrock Rovers back on 7 March - however, it very nearly became the last goal of a unique season in the SSE Airtricity League.
That Saturday night in early spring was the last match played in the League of Ireland Premier Division before the coronavirus crisis called time on sport in the country.
Five months on, and despite talk of some clubs wanting to cancel the entire season, football finally returns this weekend, and bottom club Sligo will look to pick up where they left off – in a goalscoring sense – as they aim to make an immediate impact in their quest to maintain their status as a Premier Division side, in what has turned from a marathon to a sprint of sorts in the - eventually - agreed 18-match format for this shortened season.
The Bit O'Red travel to their north-west rivals, Derry City, for the resumption of the league on Friday night, in the first game of Friday's double-header, with the game kicking off at 5.45pm, ahead of the meeting of reigning champions Dundalk and St Patrick's Athletic later that evening.
Staggered kick-off times will allow for the league's new streaming service, WatchLOI, to be maximised with 55 games available to view between Friday and the end of the season.
And while a lot has been written about how the players have been preparing for the return to play, all 19 League of Ireland sides have had to take a whole new approach to the logistical side of hosting a game of football.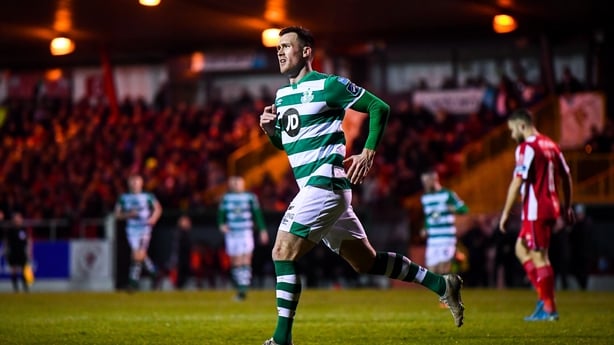 Shamrock Rovers return to action on Saturday at 5pm – hardly their traditional time for games at Tallaght Stadium – as they host Finn Harps.
And while the Dublin stadium is perhaps the best equipped to deal with the social-distancing guidelines that must be adhered to from the time the players and officials arrive at the venue until the post-match duties are completed, a lot of additional work has had to go into planning the return to play.
"Playing in a modern stadium like Tallaght Stadium gives a number of advantages at operational level on any given match day," said Shamrock Rovers board director Mark Lynch.
"And even in Covid matchday preparations, it presents solutions to allow us to observe the protocol that otherwise might prove challenging.
"So operationally, our matchday team is a fairly efficient machine and in this case, following our match-planning session, we believe that we have all aspects of the matchday protocol covered from access to the stadium for away teams, officials, for stewards, for first aid and matchday staff.
"So getting everybody in and out of the ground safely and within the protocol is something that we have now gone through and are happy that we have all our plans in place."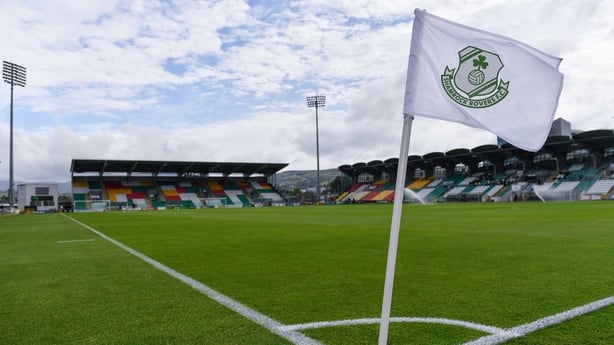 Rovers will get to put those plans into practice on Saturday and then they will have to do it all again on Sunday afternoon as their First Division side entertain Drogheda United.
"We obviously have to do it twice as much as everyone else as we are playing Premier Division and First Division games in the stadium," added Lynch.
"And broadly speaking, the same operational team will be in place on both days with the same procedure, and hopefully carrying it out as effectively as the plans are designed to do.
"Some of this is voluntary work by Rovers members who have matchday roles, others are paid personnel and then obviously officials and teams, home and away, the stadium staff and the local gardai all pitching in to make this happen safely."
The current government regulations stipulate that no more than 200 people are allowed to be at any particular venue for an outdoor event.
And while some League of Ireland clubs are going to have a small amount of home fans at upcoming games, Shamrock Rovers have decided not to allow any season ticket holders to attend, as the club has erred on the side of caution, having tallied the numbers that will be in attendance.
"We had hoped to allow some supporters in to watch the game, however, after totaling all the stakeholders involved in a matchday operation, we just don't have the flexibility to allow fans in with the capacity set at 200."
The #bitored will permit 50 supporters to attend the @SSEAirtricityLg match against Waterford FC in The Showgrounds on Tuesday 4 August.

Supporters who applied in the ballot earlier this month, and are successful, will be contacted in next 48 hours. https://t.co/voMgJG5QSE pic.twitter.com/d3Z9oXc8pZ

— Sligo Rovers (@sligorovers) July 27, 2020
Meanwhile, over in the Red and Black part of the city, Bohemians are making the return trip to Turner's Cross to take on Cork City on Sunday, and while there will be many issues to address ahead of the club's first home game, the away game brings with it a different set of circumstances.
"You can see from watching games from all around Europe just how weird it really is at the moment, and it is no different for us," said the club's public relations director, Luke O'Riordan.
"The first-team travelling party would be around 30 people and then you would usually have seven or eight of the board travelling down as well. So on this occasion, I think we have one director going.
"And last year you would have had anywhere between two and five hundred away fans travelling down to this game.
"I was talking to [former captain and current Under-17 coach] Derek Pender during the week and he said that you just cannot replicate that atmosphere of when the players come out onto the pitch and it will be very surreal for the players.
"So from a supporters' point of view, it's going to be a bit surreal as well as you will have several hundred Bohs fans watching from the various establishments around Phibsborough – I believe The Back Page is booked out and the Bernard Shaw is going the same way."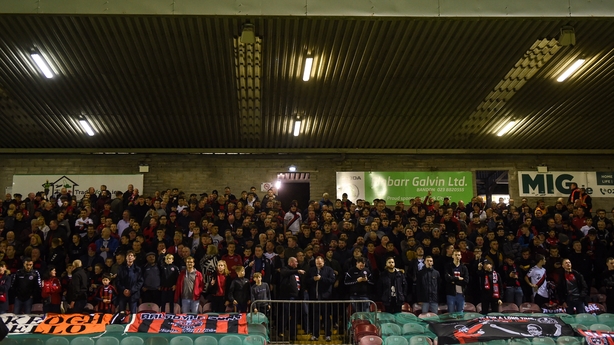 Bohs will play their first home league game on Friday week, as they welcome Dundalk to Dalymount, and O'Riordan admits that the limitations of an old ground have really been highlighted when attempting to adhere to the government guidelines throughout the Covid crisis.
"The home games are a bit of a nightmare as the dressing rooms have been there since the old wooden stand was built, whatever year than was, so those dressing rooms are the same size as they have always been, which isn't ideal.
"We have to use the Members' Bar as the overspill for the home dressing room, and we use the Jameson Bar as the overspill for the away dressing room, and that's why we wanted to highlight why we are potentially moving the Europa League game from Dalymount to the Aviva Stadium, because in reality, we kind of have to.
"Its just really surreal to see all the jerseys laid out where you would normally have a crowd of supporters enjoying a pre-match pint."
For people wondering why Bohs would move a Europa League game to the Aviva when it's behind closed doors anyway, this is one of the many reasons.

The Members' Bar is the overspill for the home dressing room tonight, the Jameson Bar overspill for the away. pic.twitter.com/70gMDZHfae

— Luke O'Riordan (@luke_oriordan) July 24, 2020
And from a media perspective, while there will be RTE cameras at every game for the remainder of the season, journalists and photographers will also be present, however, they have to adhere to strict guidelines issued by the clubs.
The champions Dundalk are taking on St Pat's as they look to close the gap on leaders Shamrock Rovers, and the Oriel Park club will only allow six photographers into the match, while "journalists will be allocated seats in such a way that the seat allocations adhere to safe distancing guidelines".
Journalists that do get accreditation must be in the ground over half an hour before kick-off, while no post-match interviews will take place in the stadium after this game.
Photographers will be strategically placed at pitch level and will only be allowed to change position at half-time.
So while club officials like O'Riordan are the perceived lucky ones, being able to attend games in this time of virtual behind-closed-doors action, the inner supporter admits that the matchday experience is a far cry from the past few years when the 'Sold Out' sign was regularly hung outside the door of the spiritual home of Irish football.
"I was at our friendly against Longford last Friday and you had to shout to be able to speak to the person next to you," said O'Riordan.
"So you'd almost rather be watching the game at home with friends or whoever, because it's just not the same."
Subscribe to WatchLOI to stream 55 Airtricity League matches and selected FAI Cup games this season.
Watch Dundalk v St Pat's live this Friday on RTÉ2 and the RTÉ Player from 7.30pm