Mick McCarthy believes that there's more to come from David McGoldrick after the 32-year-old striker finally got off the mark in the Premier League with a brace of goals against Chelsea earlier this month.
McCarthy has been an influential figure in McGoldrick's career with the striker emerging as one of Ireland's most important players during the former's second stint in charge of the Republic of Ireland.
He also previously managed McGoldrick at Ipswich Town and regularly extolled his worth whenever consulted by interested managers, including Martin O'Neill and Chris Wilder.
In an interview with The Athletic, McCarthy detailed how he was consulted in advance by members of the Ireland set-up about recruiting McGoldrick and he himself advised the player when he was pondering declaring for Ireland.
"Ireland asked about him and I told them what I tell anyone who asks about Didzy," he says. "That he's a good player. Later, Didzy also asked me about it and I said straight away the set-up would suit him."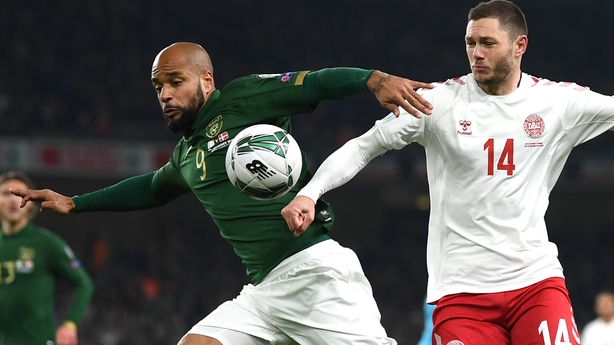 McGoldrick made his Ireland debut in 2014 but really blossomed at international level in 2019. The Sheffield United front-man featured in six of the eight competitive fixtures Ireland played in McCarthy's second spell, missing two of the more disappointing results of the Euro 2020 qualifying campaign, the goalless draw in Tbilisi and the 2-0 away loss to Switzerland.
McCarthy hailed the player at every opportunity in interviews and believes that even though he is in his early 30s, the striker is capable of improving again.
"I really enjoyed those two years we had together. When we met up ahead of the international matches, I could see how much Didzy was enjoying playing for Sheffield United. I was the same as a player - in 1988 when I was playing for both Celtic and Ireland, it was the best time of my life.
"I loved him at Ipswich but he has stepped it up a level since then. He got that new contract recently and I believe there is still a lot more to come from him."
And the recently departed Ireland manager revealed that a picture of McGoldrick will occupy a prominent place on the wall of his new home, as a memento of his second stint in charge of Ireland.
"The picture shows Didzy scoring against Switzerland. I have it on my shelf at the moment but it'll be going up on the wall in the room where I keep my exercise bike. That's how much I think of Didzy."
Subscribe to WatchLOI to stream 55 Airtricity League matches and selected FAI Cup games this season