Liverpool's long 30-year wait to reclaim their place at the top of English football finally comes to an end this evening.
After so many false dawns, near misses and last season's agonising final day disappointment, Liverpool have reclaimed the title that Bill Shankly famously described as their "bread and butter".
However, when injured captain Jordan Henderson hobbles up to raise the Premier League trophy, it's going to be a title celebration unlike any before, taking place in an empty stadium with not even the players' families allowed in to participate.
Jurgen Klopp and his squad are putting on as brave a face as they can about the whole thing, with players putting out videos on social media urging supporters to stay away for the sake of their own health, but even they would admit that tonight will be very different from how they imagined it.
A Chelsea side still fighting for their place in next season's Champions League will be eager to play the role of gatecrashers and, given their need and the form of Liverpool since securing the title, you wouldn't put it past Frank Lampard's side to take a little more gloss off the title winners.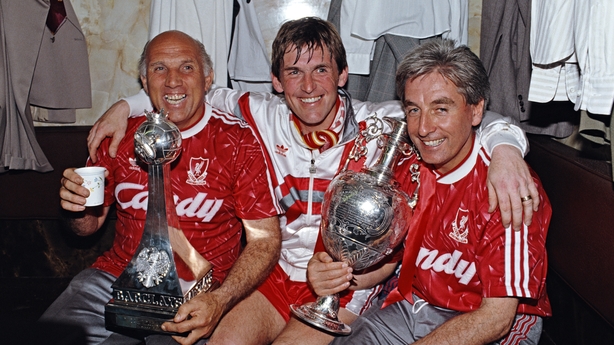 Liverpool are at least trying to make the most of the situation.
A temporary podium has been erected in the Kop end, echoing the Royal Box at Wembley in an attempt to give the occasion a cup final feel, while the club have confirmed that there'll be a pyrotechnics display as Henderson collects the trophy.
Kenny Dalglish, the man who was in charge when Liverpool won their last title, will present the trophy and you'd hope that he had nothing to do with the choice of music that will accompany the trophy lift – the desperately bland A Sky Full Of Stars by Coldplay.
Presumably the ubiquitous David Guetta was doubled booked.
It's all a far cry from those 1990 First Division celebrations when the Reds clinched the title at Anfield with two games to spare courtesy of a 2-1 victory over QPR, edging out runners-up Aston Villa. There was no trophy on that day however, with the only presentation being that of a microwave won by a supporter in the half-time competition.
Liverpool did get their hands on the trophy three days later in their final home game of the season against Derby County and player-manager Kenny Dalglish, then 39, brought himself on as a second-half substitute for his final ever appearance in a red shirt. Jurgen Klopp has promised not to follow suit this evening.
It was Alan Hansen who did the honours on that occasion, collecting the old First Division trophy in the centre-circle at Anfield in front of a packed stadium, with You'll Never Walk Alone ringing out from all corners.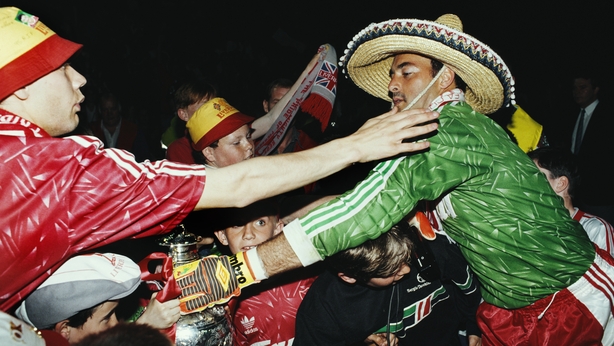 Looking back now, the celebrations of the 1990 title winners seem slightly muted. It was after all a fairly routine event for Liverpool to lift the title at the end of the season, winning the league seven times since 1980 as they did.
Fans, used to this kind of success were treated to a fairly sensible lap of honour around Anfield, with only Bruce Grobbelaar offering any kind of entertainment.
The Zimbabwean goalkeeper managed to find a sombrero from somewhere and then caused a minor panic among stewards and police when he brought a gang of young supporters down from the stands and onto the pitch so he could take photos of them with the league trophy.
Much like this evening, there were no wives, partners or darling young children with 'Daddy 7' on the back off their jerseys to join in the festivities. Mercifully there was no Coldplay either.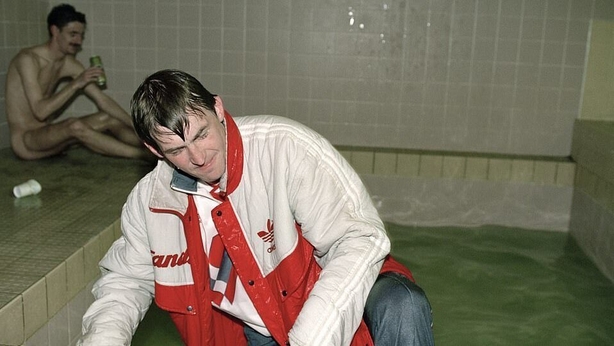 The real celebrating was done in the dressing room afterwards back then, and the image of a dripping wet Kenny Dalglish hauling himself out of the giant communal bath while a bollock-naked Ian Rush sups from a tin of lager in the background is what sums up that title win and the celebrations.
The players were happy to parade their trophy around in front of their supporters and soak in the acclaim and applause, but the real joy came when they were away from the crowds and able to share their triumph with their team-mates and the people who really knew just what they put in to get to that point.
We got a glimpse of that with Liverpool's hotel celebrations when Man City's defeat to Chelsea wrapped things up and it will be the same this evening.
The title presentation and trophy lift are for the TV cameras and supporters at home, but afterwards the real party will begin and don't doubt for a second that these Liverpool players deserve it.
Their domination over the course of the season means that even with their post-title clinching stutter, they will finish a minimum of 12 points clear of their nearest rivals, and not even an empty Anfield can take the gloss off what Jurgen Klopp's side have achieved.
Follow Liverpool v Chelsea via our live blog on RTÉ.ie/sport and the News Now app from 8pm this evening.