Liverpool will get their hands on the league title for the first time in 30 years tonight with a lavish ceremony on the Kop after their final home game of the campaign against Chelsea.
The club have worked hard to make the occasion as memorable as possible in the absence of fans due to the Covid-19 crisis.
A lights and fireworks display will accompany Jordan Henderson's lifting of the trophy, with Anfield being plunged into darkness as the players climb on to a specially constructed podium in the stand.
Kenny Dalglish will be part of the celebration, as will some of the players' family members.
Liverpool women's vice captain and Republic of Ireland midfielder Niamh Fahey said the city has been on a high for weeks.
"The celebrations started a month ago," she told RTÉ Radio 1's Morning Ireland.
"The buzz around the city, it's been a hectic time. Ending a 30-year wait is long enough - for them to finally get their hands on the trophy, I can't even imagine the excitement, the satisfaction and the joy that will bring. It's huge. It's massive for them."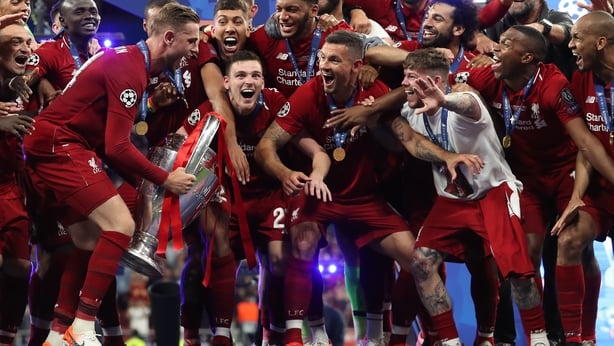 Henderson, who is injured but will be there to lift the crown, penned an open letter to the supporters ahead of the trophy lift.
"At Liverpool every single player in our dressing room recognises how fortunate we are to have the best in the world looking out for us and after us - and on a night like Wednesday it's important to express that appreciation," he wrote.
"The supporters, of course, are a huge factor. Without them this club isn't what it is. Speak to anyone in the world about Liverpool Football Club and the conversation always comes back to the passion and emotion around the club - and that's entirely down to our fans.
"This is an emotional club and we shouldn't shy away from that fact. It brings pressures, yes, but it means everything we do together means more - in good times and bad.
"It's gutting for all of us that our fans are not with us in person, but we can still make this one of the most enjoyable shared experiences we've ever had if we want it to be."
"I promise you: we will feel you with us when we lift that trophy, even though you're not at Anfield in person," he continues.
"We are lifting it for you - you've driven us to achieving this dream. But this club's values are about taking care of each other and that means supporting us from home and in safe environments."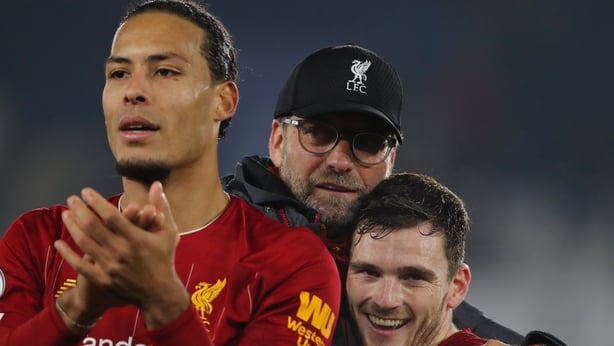 Meanwhile boss Jurgen Klopp has urged his players to savour their achievement.
Manchester City's 2-1 defeat at Chelsea handed the club their 19th championship after waiting three decades. That was almost a month ago, and though Liverpool can not break the 100-point barrier, their dominance this season has been spectacular.
"Being champion of Europe, England and the world, it doesn't happen too often," said Klopp.
"So I think it makes sense that we take a picture with all four trophies because I don't think there are a lot of pictures in existence where a club has all four of these trophies. We will do that 100% and rightly so.
"It's not that I had to say it to them, but I have mentioned it. This is absolutely special. This is the moment, pretty much where you talk about things after a season, but this is the moment that you really have to cherish.
"You have to appreciate it and reflect, 100%, it has been exceptional. The last 13 or 14 months of this team, it didn't start then, it started before then but we won all that since then so that makes it really really special."