President Michael D Higgins has paid tribute to the "incomparable contribution" of Jack Charlton in moving the game of soccer to the forefront of Irish life. 
Speaking on Sunday Sport on RTÉ Radio 1, President Higgins described Charlton, who died on Friday aged 85, as a product of the mining communities of the North East of England who found it so easy to relate to the Irish people.
President Higgins said Charlton not only brought Ireland to its major soccer tournaments, in Euro 88 and the World Cups in 1990 and 1994, "he brought the hearts of the Irish people with him".
He added: "The more I've thought about it, and reading the tributes, and indeed thinking back to my own brief meeting with him, there was something very special about him because he was coming from a sense of community. 
"I was thinking back to a time when I was living in Manchester myself in 1968 and reading about coal-mining communities. In a way, one of the great achievements of Jack Charlton was the way he brought all of the different elements together. 
"Suddenly, this game, which had to overcome obstacles here in Ireland, was now, as we say in Irish, i lár in aonaigh.
We need your consent to load this SoundCloud contentWe use SoundCloud to manage extra content that can set cookies on your device and collect data about your activity. Please review their details and accept them to load the content.Manage Preferences
"That's an incomparable contribution. This 6ft 1 man who so easily moved from a deep sense of community which he had in the game in England - and he had such a reputation as well, winning the World Cup - and here he was.
"He was so easily able to move, not just in Dublin and not just on international occasions, but he was moving through villages and towns. Everyone felt that this is someone we could relate to. 
"Another thing about him was the ease with which he was able to deal with people of all ranks and kinds. 
"I met him when I was Mayor of Galway in 1991 at the Clarinbridge Oyster Festival. I think after that he was going on to the Moy River to go fly fishing. We were very fortunate that he came in and took us to a place where people would have dreamed about going before - and suddenly here we were at World Cups and European Championships. He brought us there and he brought the hearts of the Irish people with him."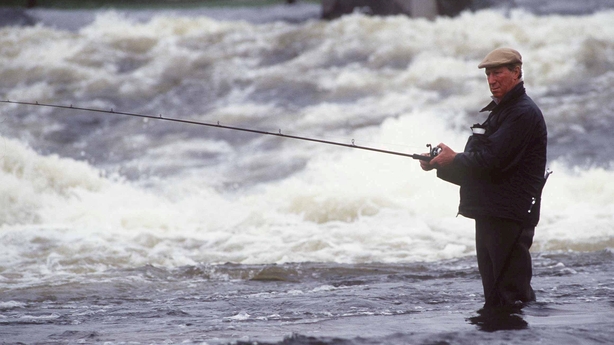 Charlton and his brilliant team, the President said, had helped create "a new soccer community" in Ireland in the late 1980s and early 1990s, one which saw the game stretch well beyond its traditional roots in the country. 
And he credited with Charlton in boosting the Irish in Britain and the relationships between the countries at a difficult time. 
"What's fascinating is his relationship with the players. You had a brilliant team and a brilliant squad. In a way, it was the bringing of them together in this 'enterprise Jack Charlton' as it was going to be, the way he wanted the game to be played. 
"There are pundits who will take the game to pieces for you - I saw a wonderful documentary on Barcelona recently - but it wasn't about that. Remember, Jack was creating for us a new soccer community at a most general level. 
"Soccer had not been given its proper place in my view. It is one of the most highly participated sports. There was a kind of inclusiveness for people who had little familiarity with the game as well as the people who were from soccer families and the experts. 
"One has to think of the Irish in Britain as well. We were coming out of a difficult time in relationships and suddenly we had someone who could enable us to rise above everything. We were fortunate to have him.
"He very much appreciated the connection he had made in Ireland and the reciprocity he got from Irish people. Remember this man had won everything for the country he was born in. And he didn't hold himself back, he didn't invent a different Jack Charlton when he was over here. 
"I was very moved by his family's tributes. He was a very warm man. I remember the ease with which he moved back in the 1990s when he used to do things here other than soccer.
"And those lovely images of him on his own with waders up to his ankles in the River Moy. I'm glad he had a good experience in Ireland and we gave something back I hope."