Chiedoze Ogbene's declaration for the Republic of Ireland is a cause for celebration - and not just because the 23-year-old's career is on an upward curve that looks likely to keep rising.
Ogbene is the third player to publicly air their desire to represent Ireland over Nigeria in the last two years, following in the footsteps of Michael Obafemi and Jonathan Afolabi.
There's a slew of footballers currently blossoming in our underage ranks who have the same ancestry. 
Centre-half Andrew Omobamidele, currently at Norwich City, was born in Dublin. His mother is from Cork and his father is Nigerian. He graduated from an excellent Leixlip United side that produced two other Ireland Under-18 internationals - goalkeeper Harry Halwax, currently of Derby County, and winger Josh Giurgi, who's also at Norwich.
At Carrow Road, he can take inspiration from Republic of Ireland Under-21 striker Adam Idah, born in Cork to an Irish mother and a Nigerian father, and currently on the fringes of the Canaries first team.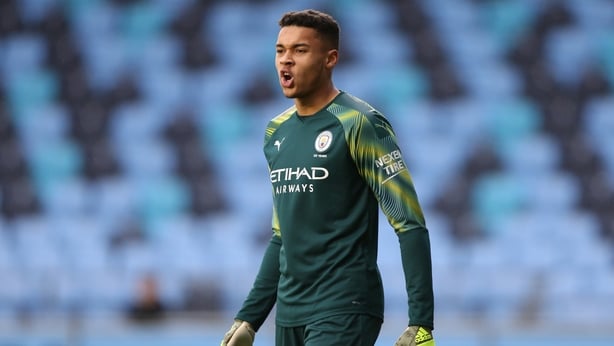 Ireland Under-19s full-back Festy Ebosele is also making progress at Derby. His dad Fustas moved to Enniscorthy from Nigeria in 2000. He told the Gorey Guardian that his son has been "football mad since he first started playing the Moyne Rangers when he was around eight". Now he's trying to catch the eye of former Barcelona star Philip Cocu.
Gavin Bazunu was a sensation at Shamrock Rovers, his displays enticing Manchester City to make a swoop for the keeper when he was just 16.
When he made his debut for City's Under-18s against Stoke in 2019, Bazunu lined up alongside Timi Sobowale. Both were born and raised here and have played for Ireland Under-19s; both are also eligible to play for Nigeria, with the Golden Eagles particularly keen on Bazunu.
The list goes on and on - a generation of Irishmen whose parents came to this country in the 90s/early noughties for a new life, kids who've grown up here, honed their sporting excellence to now find themselves with extra international options given their heritage.
Not that the players themselves are overcomplicating matters.
They are, as Obafemi put it, "all in".
"I knew that I was going to choose Ireland, but obviously everyone from the outside was bringing England and Nigeria into it, but I don't think I was ever going to choose any of the other ones," the Southampton attacker told RTÉ Sport last year. "I was born in Ireland so I don't see a reason why I should play for England or Nigeria."
"It was about making a conscious effort to support the process of integration through football."
Celtic frontman Afolabi was similarly emphatic. "I've grown up in Ireland," he told the42 last summer. "I know where I'm from is Tallaght in Dublin. I've spoken to my parents. My ma doesn't know much about football. She wants me play for Nigeria, because it's her home country. But I've been playing with Ireland for a long time and want to keep that going. That's the way I see it."
It all seems like much ado about nothing to the footballers themselves and that in itself is a testament to a lot of the work done at grassroots level over the last 15 years.
Des Tomlinson is the FAI's National Co‑ordinator for the Intercultural Structural Programme. 
He's been working in the role since 2007, which was, he says, "a period of peak inward migration in Ireland, when it changed from being quite monocultural to one that's more pluralistic in terms of people's background and so on".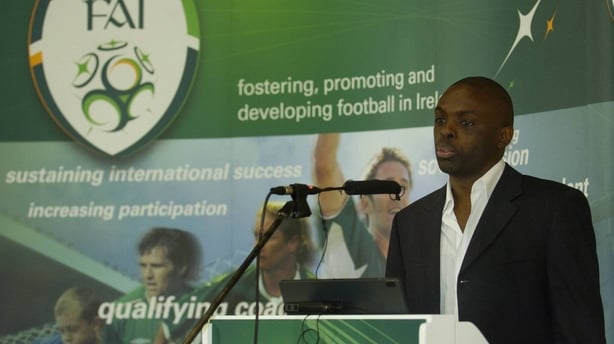 Tomlinson classes himself as being London-Jamaican. "That recognises my Jamaican heritage, and I was born in London. My parents migrated to the UK in the 60s. I understand the process [of integration]. When you do have a sense of that it does help."
Over the last 13 years he's seen Ireland change and been at the forefront of efforts to enable black Irish children to embed themselves in their communities through football. 
"The strategy that was put together, it was about making a conscious effort to support the process of integration through football," he says when reflecting on the progress made since '07.
"Integration is a two-way thing. It was about reaching out.
"We'd try to establish creative partners or link up with community activists that would have connections into groups. That's one way of doing it. Another way of doing it is through programmes. We have an after-school programme that runs for six weeks, and after that it links people into a club, for the club to run an open day or some action that engages people.
"Some clubs would have been doing that organically themselves. Our role is to try and support that. It's a combination of strategic stuff nationally and some things that are more organic.
"Things happen because of programmes, programmes play a part, but also affiliates on the ground, where they're doing stuff organically. I'd definitely take some pride in the fact programmes have been able to try and help that process.
"At the same time I'm not positioning that as something that's just done by a programme. Our affiliates, the ones who are in diverse areas and can see the value in inclusion, play a massive role as well."
Brian Killoran, CEO Immigrant Council of Ireland, further emphasises that point.
"Integration happens in local communities," he stresses.
"It's the type of thing that happens in housing estates, in towns, in villages across the country. Any opportunity that exists for people in a local community to get to know each other is a massive advantage.
"Sport is one of the biggest things you can do from an integration perspective because it's such a great uniter at local level.
"Young people whose parents were migrants see themselves as being as Irish as the next kid. They're joining sports clubs and coming up the ranks, using sport as a method to get to know their peers, with the parents also using the clubs as an opportunity to get to know the community around them - it's such a residual hub, a brilliant place for integration to happen. It's a crucial element of it."
We are on the precipice of a generation of black Irish sportspeople taking prominence on an international stage - in soccer and track and field particularly.
This generation represents a new Ireland, a cosmopolitan and diverse country. They've also been brave enough to speak out about problems they've encountered along the way.
In June, Irish 800m national champion Nadia Power called for a greater conversation about racism, telling RTÉ Sport: "A lot of people are realising that the problem is worse than we thought, and I think I am lucky that I haven't experienced that much in Ireland. But I wonder is that because I have one Irish parent, so that is frustrating for me because, why should I be treated differently to Gina [Akpe Moses] as we are both Irish?"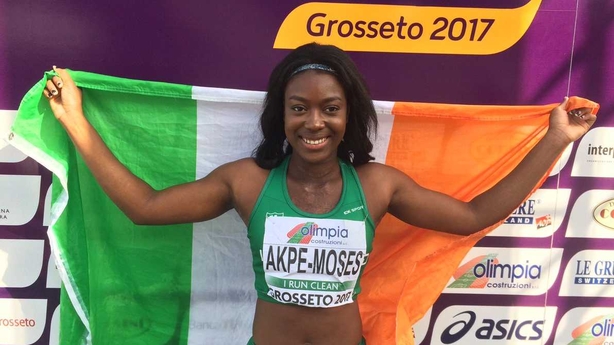 Akpe Moses, born in Nigeria but raised in Dundalk, has been vocal about the issue of racism in the wake of the global protests that were sparked by the killing of George Floyd in Minneapolis.  
"It's scary to think about bringing a child into this world as a black female," the sprinter said. "I saw a little girl marching in the protest and I was like: 'You are so small, you should be going to the park, you should be living a childhood, not having to protest to get the police to stop killing your people."
Killoran believes these young athletes are giving themselves the platform to spread a "powerful message".
"They've gone on to do great things in sport, represented their country and spoke about how proud they are to represent Ireland and what it means to them to represent Ireland," he says.
"That's an incredibly powerful message to send out.
"There's some people who will always be against it, and think someone who's black for example shouldn't be representing Ireland. They're a minority.
"I think we're getting to the stage where we have to take into account the negative voices that are there, and not to overamplify the type of reach that they get.
"If you look at political representation, a lot of these same voices have tried to get political office - they've run at council level, in general elections and they've never gotten more than a tiny percentage of the vote, thankfully.
"The voting public doesn't adhere to those kinds of attitudes. There's some people you'll never convert. There's people who are always going to have negative attitudes.
"But there are others who are a bit more ambivalent - they don't really know or they don't really have positive examples that they can hang their opinion on. We're at a point in time where we really need to step up our efforts to plan around things like racism, plan around anti-migrant disinformation.
"There's some people you'll never convert. There's people who are always going to have negative attitudes."
"Promoting sport, investing in integration measures that allow these young people to make a difference at a national level and a local level so that we can reinforce the positives, double down on the positives and make sure public opinion is informed by what the reality is, and not what the small minority are trying to convince them."
This year's sporting calendar has been decimated by the Covid-19 pandemic but competitive action is slowly returning. The autumn schedule looks jam-packed, while 2021 could be be a real feast for Irish sports fans who may be gorging on the delayed Euros and Olympics, not to mention the usual buffet of rugby/GAA/golf/horse racing etc.
These events offer our elite athletes a chance for glory. They are an opportunity for new heroes to rise.
"Young people growing up in Ireland who are from a migrant background... they need to see role models," Killoran adds.
"Those role models might be in a local club; they might be in the GAA county team; they might be in the national team playing for the Republic of Ireland. Those young people need to see somebody like them that's come on a road that they've come through and been able to succeed.
"That's such an important thing for them to be able to see, and it's such an inspiration for young people as well."