Burnley bade farewell to Jeff Hendrick on Saturday, three days before his contract fizzled out at the end of June, bringing with it an anti-climatic ending to the Ireland midfielder's four-year stint by the banks of the River Brun.
In pre-Covid times, the Dubliner would have played out the season, and perhaps spent these idle weeks of June thrashing out a deal to suit both club and player.
Talks between the two have been reportedly ongoing throughout this final 12 months of Hendrick's contract, but a new deal could not be agreed despite the strong bond between manager and player.
Hendrick has certainly won the trust of manager Sean Dyche throughout his time at Turf Moor, and the midfielder has returned that faith by ably adjusting his game to play where asked, most often out of his preferred central midfield position.
It appeared that Dyche wanted Hendrick to continue his career in Claret with the midfielder starting 22 of his side's 29 Premier League games ahead of the coronavirus stoppage.
Hendrick helped his side to all but guarantee their Premier League place for the 2020-21 season, and Dyche's side passed the magical 40-point mark on Saturday with a narrow win over Watford.
The departing midfielder was not afforded a chance to take one last trot out on the Burnley turf ahead of his departure, as Hendrick was not named in the squad for either game since returning from the Covid-enforced break in season.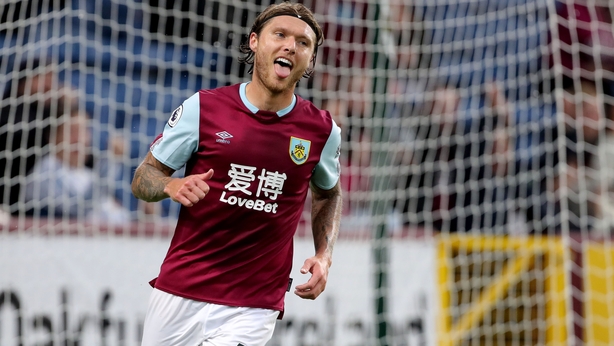 Upon his departure, the general consensus among Burnley fans was that Hendrick was a versatile, committed player who generally did the job that was asked of him, with real recognition that he was often asked to play out of position.
Criticisms of the player would range from the opinion that games would sometimes pass him by, while getting caught in possession was another area that the midfielder could tighten up in his game.
But in general there was an appreciation for Hendrick's natural talent, as he possesses the potential to light up a game with a sublime pass or individual effort on goal.
Burnley signed Hendrick from Derby shortly after he shone on the international stage, playing a key role for Ireland at Euro 2016, where he was nothing short of brilliant against Sweden, and performed admirably until Martin O'Neill's side exited at the handed of hosts France in the last 16.
However, Claret fans, just like their Irish equivalents, have only got to see glimpses of that real potential from Hendrick, who has yet to find consistent form at that level since the summer of '16.
Cast your mind back four years to Ireland's opening game against Sweden at the Euros when a 24-year-old Hendrick proved near perfect in one of the finest overall Irish performances in recent memory – albeit before allowing Sweden to dominate late on and equalise, denying the victory.
In a rare moment of real attacking intent, the Ireland manager sent out a team comprising of a front three of Wes Hoolahan, Jon Walters and Shane Long, with Hendrick selected in a midfield three alongside Glenn Whelan and James McCarthy.
Throw Robbie Brady in as a marauding left-back, and suddenly Hendrick was given the space and freedom to play free-flowing, fluent football, dictating play in that inside-left midfield role, where the Swedish selection found it very tough to counter.
We saw the best of Hendrick that day, as he linked play with soon-to-be Burnley team-mate Brady, bombing up the left flank, as well as with the attacking trio, while the more defensive Whelan and McCarthy also facilitated freedom.
Aside from his all-round play, Hendrick came close to scoring on two first-half occasions, drawing a fine reflex save from Andreas Isaksson before being denied by the width of the crossbar, following an audacious effort from 25 yards.
The Ram knew he was in the shop window that summer and his performances ensured that the Premier League dream would soon be realised.
Hendrick would end up at newly promoted Burnley, and perhaps, with the benefit of hindsight, that move is what proved the beginning of the end of the midfielder's potential to turn into a top-level attacking threat.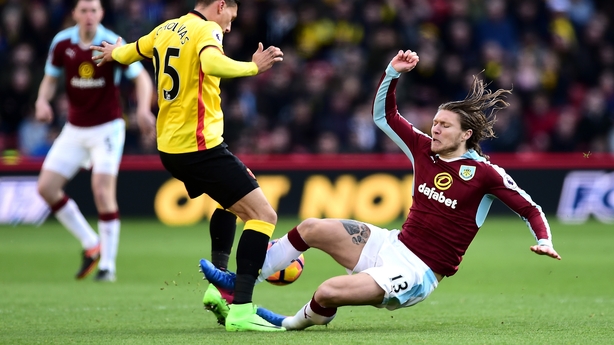 "He is someone who can add to our strength in midfield and he's a player who is still learning and still developing and is someone who we think we can work for us now and in the future," said Dyche, after securing Hendrick's signature.
Whatever was spoken about between player and manager ahead of signing for the Lancashire side and of the player's future development, the reality of the situation has been that Hendrick has been played out of position for a manager who rarely strays from the classic 4-4-2 system.
Hendrick was sometimes used in a number 10 role, sitting in between midfield and lone striker, but generally he has lined out on the right side of that midfield four, and more often than not, tucking in and offering a dig out with the much-needed dirty work that has kept the Clarets in the top division for as long as Hendrick has been there.
When Burnley do go on the attack from midfield, they generally look to left-winger Dwight McNeil, who has come to prominence over the past two seasons and is carrying out the role that injury-hit Robbie Brady was probably brought in to do.
Either way, it limits Hendrick's attacking game as he is needed to sit in, when they do go on the offensive down that left wing.
Likewise, Hendrick has never looked completely comfortable in the number 10 role, as he appears more effective facing goal, running onto the ball from midfield.
Hendrick's time has come to an end at Burnley, and while he will have learned massively from working with such a demanding coach as Dyche, he will surely look to move to a club that allows him to bring a bit more of his footballing attributes to the fore.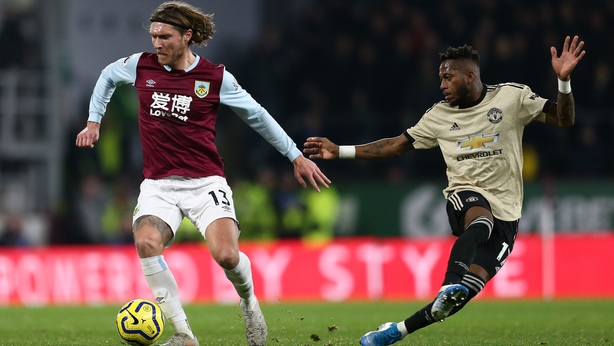 At 28, Hendrick has now reached presumed peak age for a professional footballer, and perhaps in another pandemic-less era, Hendrick may have been arriving at Euro 2020 as a free agent with the opportunity to, once again, put himself in the shop window had Ireland qualified.
But now the player has to rely on both reputation and rumour to stoke up interest and announce to interested parties that he is open for business.
Links to AC Milan and Roma do not come around too often for Irish players, and a move to the Italian league would surely benefit the player after four years at Burnley, while the interest from Europe will also make others enquire further about what sort of player he can be over the coming two or three seasons.
Two years ago, Mick McCarthy appeared to pin his hopes on Hendrick to guide Ireland through Euro 2020 qualifying by urging the player to make more of those attacking runs from midfield into the box.
Hendrick obliged in that first game, albeit against Gibraltar, and it looked like he had the manager's blessing to potentially turn into a Frank Lampard-style midfielder, coming from deep to add vital goals to the campaign.
Alas, Hendrick would score no more during the remaining seven games of the qualifying stages, as the McCarthy approach appeared to lack much more ingenuity than getting the ball and bodies into the box, with Hendrick again asked to play in that number 10 role on occasion.
So now it all depends on what offers are on the table for Hendrick, and whether those interested options from Italy are genuine, or whether it will come to mid-to-lower ranked Premier League sides to take a relatively risk-free gamble on the Dubliner.
Potential managers will have forensically looked at how the player has progressed over the past four years, but here's hoping for Hendrick, that many have looked as far back as that day in Paris to see what they could unearth for the price of a one-way ticket from Turf Moor.
We need your consent to load this SoundCloud contentWe use SoundCloud to manage extra content that can set cookies on your device and collect data about your activity. Please review their details and accept them to load the content.Manage Preferences
Listen to the RTÉ Soccer podcast on Apple Podcasts, SoundCloud, Spotify or wherever you get your podcasts.