From the outside looking in, professional football must be one of the dream jobs. And what's not to like about kicking a ball around all day, financial security, living in the lap of luxury, and performing in front of thousands of adoring fans, week in, week out?
But we all know that life is reserved for the chosen few. In the real world, especially when it comes to women's sport, survival is as good as it gets. 
We need your consent to load this SoundCloud contentWe use SoundCloud to manage extra content that can set cookies on your device and collect data about your activity. Please review their details and accept them to load the content.Manage Preferences
Irish international Rianna Jarrett is living her dream as a professional footballer with Brighton & Hove Albion having signed from amateur side Wexford Youths in January. She turns 26 next week and what better time to reflect on the hard yards that come with chasing a life goal. 
"It was a something I dreamed about when I first started playing soccer at six or seven with North End United in Wexford," she says. 
"I built my way up playing for different teams, I dreamed of playing professionally. Now, I didn't really think it wold happen, but when it did, I jumped at it, and it was definitely the best decision I have made." 
The journey to this point has been long and winding path, and lesser people would have packed it in years ago. Challenge number one, finding a team. Girls competitions and teams were few and far between as a kid, so young Jarrett set her sights on playing with the boys.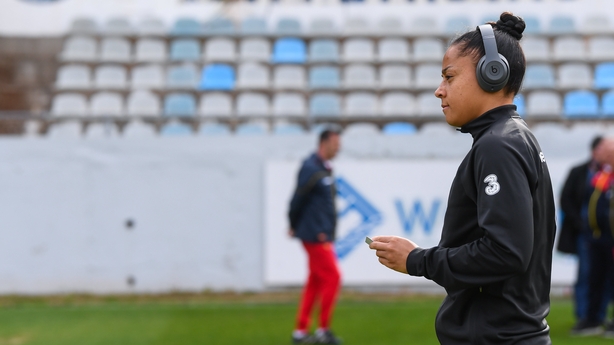 "Football was always my main sport, I started playing with the boys team in Wexford, I have a twin brother so he started playing, and I pestered my mam for ages to let me go and play with the boys as well, and eventually she let me play. And she will tell you to this day that she didn't think I would stick at it, but obviously here I am 20 years later" 
Next up, getting accepted in a male dominated world. Growing up she saw first hand the culture struggle for the women's game. When she did end up playing with the girls, her club brought the group to a couple of Irish women's games. With little access to any women's matches on TV, she gravitated towards the men again.
Robbie Keane and Thierry Henry were her heroes, although she turned her back on the Frenchman following the infamous handball incident in Paris in 2009.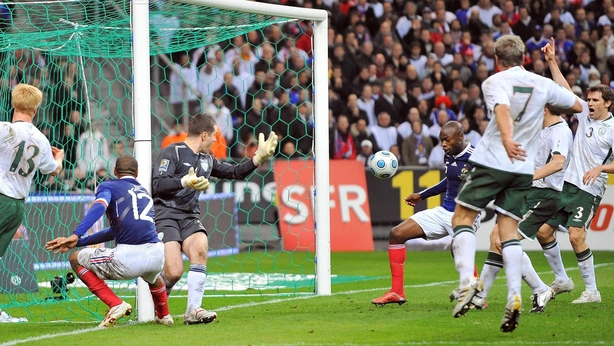 "I was a big Arsenal fan so I used to watch Arsenal play. I used to watch Robbie Keane play for Ireland and I remember the first Ireland jersey I bought, I got my name put on the back, Jarrett, number 10, as a centre forward looking up to Robbie Keane. But there was always that hope, as a kid you dream of doing what you love, and for me that was football." 
As she progressed the young striker blossomed as a player and made her name on Irish underage teams.
However reality kicked in and she knew she couldn't rely on football as a carer, so took on a sport and business degrees at Carlow IT, which is run in conjunction with the FAI.
As Jarrett developed on and off the field, the women's game began to advance too. Her first major setback was enforced time on the sidelines.
There was a patch in the recovery where I didn't really know if I wanted to continue playing
By the time she was 22, the forward had suffered three cruciate knee injuries, the third one almost causing her to quit the game.
"There was a patch in the recovery where I didn't really know if I wanted to continue playing. I didn't know if I wanted to play with Wexford Youths at the time. There was a week or two where I wasn't really sure.
"I just wanted to get back to a level where I could have a kick around with my brothers or friends. But at the time with all the injuries, I never missed a training session or a match, and just standing on the sidelines watching the girls having fun, I knew I wanted to get back playing."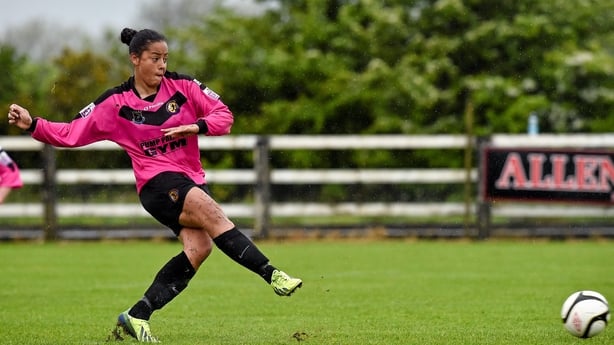 Jarrett is Wexford through and through. Her mum Doreen is from the county, and her late dad David was born in Jamaica, but he grew up in London where her parents first met.
We discuss the 'Black Lives Matter' movement and I was surprised to hear that she has never been the victim of racism in Ireland. But her brothers have been less fortunate. 
"I have been fortunate, I have never experienced any issues with racism towards me or anything in that context. Some of my friends in Ireland and in the UK have. It doesn't appear to be as big an issue in the women's game as the men's. I was fortunate enough not to experience anything targeted at me due to my race."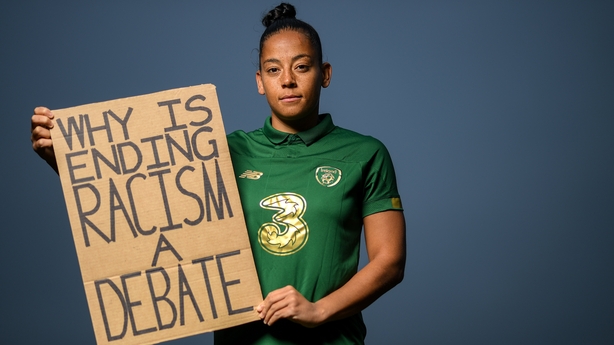 In saying that, she finds it hard to see what is going on around the world, adding it's a pity it's taken the loss of life in America to spark change. 
"It's going to take a lot to change, but hopefully this is the start of a newer generation, a new Ireland, a new world." 
"It's crazy you have to try and fight for your human rights. I mean we're all human, there is no difference in what we can do, or what we can achieve, or what we can bring to society, just because of the colour of our skin, or our nationality.
"It's great to see this fight in this day and age, and that's the biggest factor behind it, but we shouldn't have to fight for something that should be our human right." 
Changing attitudes can been a challenge, but when you do, the rewards are huge. Just three years ago we learned that the Irish women's squad were being asked to change out of their official kit in the bathroom at Dublin airport before handing it back to the FAI.
Degrading and embarrassing, it proved to be a pivotal moment. Now this Irish team under Vera Pauw are playing in front of record crowds and have given themselves a chance of qualification for a major finals for the first time.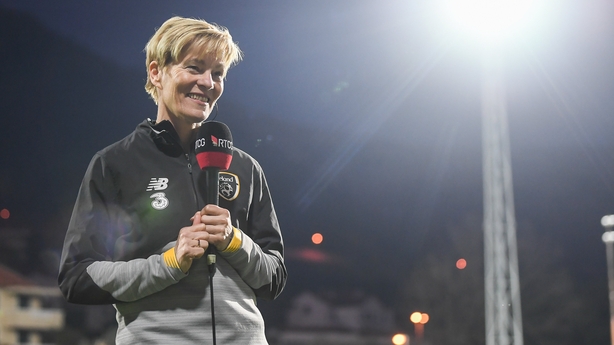 "It's been a building over the last couple of years. Our previous manager Colin Bell brought a lot of professionalism in the set up, he gave us a platform, built foundations, and since Vera has come in, we've taken an extra step.
"We're trying to play attacking football, starting to do the good things, and we're united. We all have that one goal, that one aim, and that is to qualify for our first major tournament." 
That tournament is the European Championships, originally due to take place next summer,but rescheduled for England in 2022. 
"I think if we can qualify for that first major tournament then we will be put up there against the best in Europe, and naturally that will grow the game, and can only grow the promotion, and hopefully grow the backing of the women's game in Ireland as well." 
Life is all about bouncing back and managing disappointment, and then putting the best foot forward. The most recent set back game in the form of Covid-19.
Having signed a six-month contract with Brighton back in January, the pandemic arrived six weeks into her new professional career.
Jarrett had played just one FA Cup game before learning that the season would be cancelled, returning to Wexford to train by herself and play the waiting game, hoping she had done enough to impress her manager Hope Powell.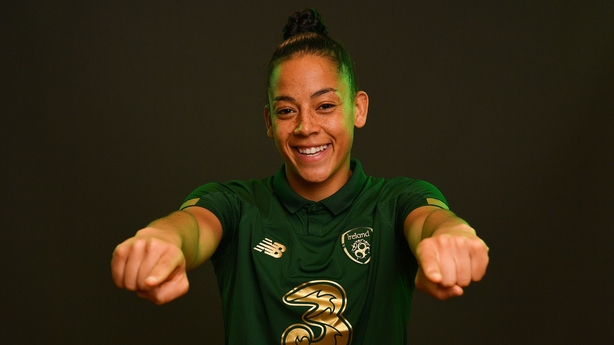 Last week she agreed terms for a new one-year contract to see her through to the end of next season. 
"I went from an amateur background playing with Wexford Youths, training twice a week, playing a game on Saturday or Sunday. I was working full-time in an office Monday to Friday, so in terms of all of that, it's completely different, all of my time is focused on football.
"We're in full time. I actually have some free time to myself which is quite strange but I am definitely enjoying it." 
Persistence pays off, especially when you are Rianna Jarrett. 
Rianna Jarrett was speaking to Darren Frehill as part of the 'My Hero' series on Sunday Sport.