After 30 years of waiting, the ease of their team's 19th league title triumph must seem slightly surreal to Liverpool fans.
Many of those supporters who were even alive when the club last scaled the heights had given up hope after heartbreaks like 2014 - when it slipped away in the final weeks - and last year's campaign.
How can a team earn 97 points, lose only once in 38 games and still come second? Manchester City, that's how.
In 2017/18, Liverpool finished 25 points behind league champions City, who became the first team to break the 100-point barrier.
Chelsea's 2-1 win over City at Stamford Bridge last night gave Liverpool an uncatchable 23-point lead and meant they became the earliest (but chronologically latest) title-clinching team in England; that's full league history, not just in terms of the 'football began after the Premier League rebrand'.
7 – Liverpool have won the @premierleague title with seven games still left to play – this is the earliest title victory in English top-flight history in terms of remaining matches when crowned champions. Romped. pic.twitter.com/q3KUSEJJJy

— OptaJoe (@OptaJoe) June 25, 2020
A 48-point swing in two seasons is remarkable enough but what makes the achievement even more notable is the relative lack of investment.
In the four full seasons since Jurgen Klopp was appointed manager in October 2015, Liverpool's net spend (transfer fees paid minus sales) has been £75m. City's in the same period was £300m.
If you go further back, City's Abu Dhabi owners have covered £1bn worth of losses over the last decade, spending that outstripped income so much that the club is now fighting a two-season UEFA ban.
In the last four years, Liverpool have spent far less in net terms than rivals Manchester United (£436m net), Arsenal (£292m) and Chelsea (£113m), and the latter couldn't buy anyone last year due to a transfer ban. Even cross-town perennial underachievers Everton have had a higher outlay in that time (£190m), as have most other Premier League clubs.
Klopp's charisma and philosophy of high-energy attacking football won admirers from the start but there were genuine doubts as to whether he would be the man to finally lead Liverpool to the promised land.
In the 2015-16 season, he replaced Brendan Rodgers in October, they finished eighth, and suffered a dispiriting 3-1 loss to in the Europa League final despite having taken the lead against Sevilla.
Rodgers had gone painfully close to winning the league but disliked the 'transfer committee' model American owners Fenway Sports Group instituted.
FSG felt the data-driven approach to signing players known as 'moneyball' had played a big part in another of their assets ending a famous sporting drought in 2013 – the Boston Red Sox's 95-year wait for a baseball World Series.
In summer 2015, Rodgers reportedly insisted on signing target-man Christian Benteke from Aston Villa for around £40m while Roberto Firmino was more the choice of now sporting director Michael Edwards and scouts Barry Hunter and Dave Fallows.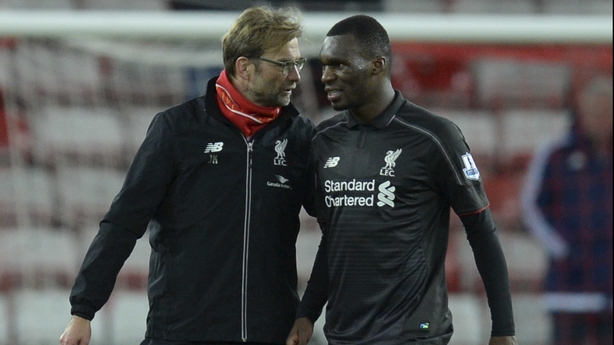 Benteke didn't fit Klopp's philosophy of mobile forwards who can close down the opposition, or score many goals, and was gone after a season.
However, Firmino, who Klopp later said he had rated as "one of the best in the Bundesliga" while coaching Dortmund was to become the fulcrum of the German's attack, one of the best false nines (deep-dropping forwards) in world football.
Klopp was happy to work with the the committee and trust his footballing philosophy and coaching to make new arrivals fit.
Sadio Mané (£35m) and Georginio Wijnaldum (£25m) were the marquee signings during Klopp's first summer in charge in 2016. By now, Daniel Sturridge, who had an excellent scoring record but was also injury-prone and not so hot on the gegen-pressing was being phased out.
In 2016-17, Liverpool squeezed into fourth place and returned to the Champions League after a break of three seasons but doubts remained, both in attack and defence, where they conceded 42 times.
Mo Salah (£37m) and Alex Oxlade-Chamberlain (£35m) were the summer's big arrivals, with the Egyptian transformed from the talented if unspectacular winger Chelsea had offloaded into a free-roaming goalscoring machine who racked up 44 goals in all competitions, claiming the golden boot and PFA Player of the Year award.
The interchanging attacking trio of Firmino nominally in the centre and Mané and Salah cutting in from the wings was now complete.
'The Ox' was instrumental in knocking out runaway league winners City in the Champions League quarter-finals but then suffered a serious injury that kept him out for almost all of last year.
At the back, an injury to the error-prone Alberto Moreno in December gave new recruit Andy Robertson (£8m) an opportunity at left-back that he seized so emphatically it was hard to believe Klopp had ever preferred the Spaniard. Academy graduate Trent Alexander Arnold began to nail down the right-back spot that natural midfielder James Milner had been filling.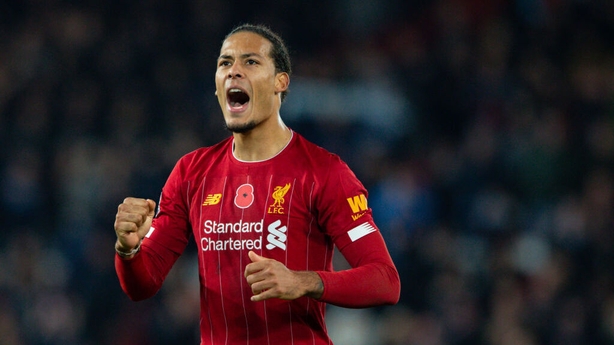 Philippe Coutinho made his long-anticipated switch to Barcelona in January and Liverpool immediately spent a large chunk of the £130 fee on Southampton centre-back Virgil van Dijk.
There were sniggers that Liverpool's answer to losing their standout creative talent was to spend so much a defender who had been playing in Scotland just a couple of years previously. No-one is laughing now.
Salah's immediate chemistry with Firmino and Mane propelled Liverpool to fourth again and the European Cup final but the lack of a reliable goalkeeper cost them dearly against Real Madrid as Loris Karius was badly at fault for two of the three goals in another 3-1 final humbling.
Enter Alisson Becker from Roma, briefly the world's most expensive goalkeeper at £67m and an immediate success, keeping 21 clean sheets in the Premier League as Liverpool's goals conceded dropped from an average one per game in 2017/18 to just 22 last season, the same number that joint Premier League top-scorers Salah and Mané each bagged.
Fabinho (£40m) and (less so at £55m) Naby Keita also bolstered a workmanlike midfield whose main purpose was regaining possession and feeding the red hot trio up front but it still wasn't quite enough to catch City, who inflicted Liverpool's only league defeat of the season and pipped them by a point to the title.
That would have shattered the confidence of many a team, not least one carrying the weight of almost three decades of expectation.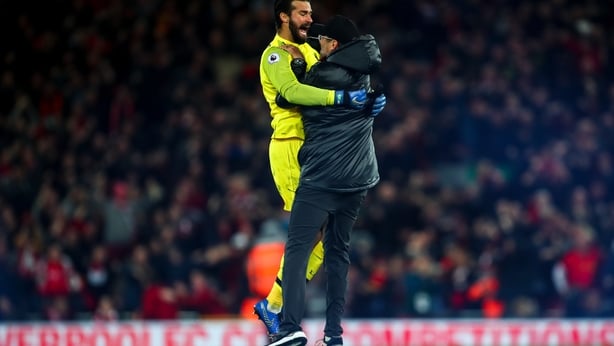 But victory in the Champions League, with returning loanee Divock Origi playing an unlikely star role in the incredible 4-0 semi-final comeback win over Barcelona and scoring again in the final against Tottenham, was not just a welcome consolation prize.
It cemented the players' belief that they were winners, not to mention Klopp's streak of losing in finals. Surely they could reach the promised land in the league next year?
That optimism evaporated a little over last summer as their rivals continued to spend and Liverpool bought, well, nobody of note. Japanese midfieder Takumi Minamino has been the season's most expensive purchase at just £8m, but by the time he arrived in January, Liverpool were already 16 points clear at the top of the table.
The machine carefully assembled over the previous three years, was reaching peak output, just as City's declined slightly. Captain Jordan Henderson, one of the few players left from before Klopp's time, has had the best of his nine seasons at Anfield.
Liverpool have had some luck. They haven't lost any of the key trio up front for any significant period of time. They managed to keep winning even when Adrian filled in for the injured Alisson at the start of the season.
Mischievous Manchester United fans might like to suggest that Liverpool's long-awaited glory has an asterisk beside it due to the havoc wrought by the Covid-19 pandemic but the only footnote should be how comprehensively they have won with a team almost unchanged from the previous season.
In Klopp's four and a half years in charge, the only major signing you could say definitely hasn't worked out is Xherdan Shaqiri, and he was a relative snip at £15m. They have bought sparingly and the big money players have delivered.
Whether it's the genius of their transfer committee, Klopp's coaching, or both, Liverpool seem to have stumbled on the magic formula for success without breaking the bank.