West Ham's Leanne Kiernan is looking forward to good days ahead, despite the Women's Super League in England being postponed.
While the men's Premier League has restarted, the Women's Super League was cancelled altogether and Chelsea declared the winners ahead of a new season, due to start in September.
The Republic of Ireland International took the time recently to return to help out on the family farm in Cavan, while football went into hiatus over the past few months.
"I've been back on the family farm, helping out for the last three months and that has been kind of nice," said Kiernan, speaking to RTÉ Radio 1's Sunday Sport.
"It was nice to spend some time with my family again because I don't get home too often."
At one stage, Kiernan was the lone female player in the Cavan schoolboys league and also excelled in Gaelic football and athletics.
One moment changed her perspective to concentrate fully on football, when a clash of codes meant a serious decision when she was due to play for Cavan in a minor Ulster final on the same day as an Ireland trial.
"I chose to play soccer that day, and that was for good, and the girls went on to win the final," she explained.
"I remember being at my Irish trial and all I wanted to do was hear the final score. When I was told they won, that made my day.
"But no regrets."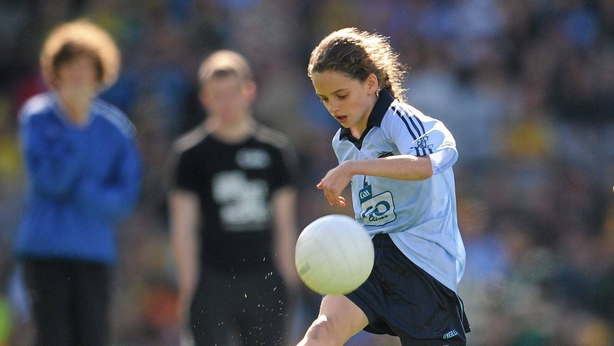 It hasn't been easy for Kiernan as injuries crept in while at West Ham and for a while it knocked her self-confidence.
But the 21-year-old takes strength from her late elder brother Paddy, who sadly died in a an accident back in 2013.
"I suppose it's like life, everybody has their ups and downs and they came at me at that time," she said.
"But I got through it and I'm feeling great now at the minute.
"I suppose it's nice to take a break from everything and go back home for a while, and I have great family support.
"I was put into it (football) at a very young age and it was always just football, football, football and it was just go, go, go, so it was nice to be out of the spotlight."
Kiernan started out playing with the boys' team in her local club Bailieboro Celtic before a move to Kingscourt Harps.
"It was great craic playing with all the boys and I made a lot of friends out of that," she recalled.
"Unfortunately, living in Cavan, the facilities weren't there at the time, but since then, they have come on and I know there is a girls' team in Cavan now.
"The lads used to laugh at me when I started and it would be a case of who would mark me."
Kiernan could only play up until the age of 14 in the Cavan schoolboys league and for a while after that she didn't have a club, until she joined Shelbourne at 15.
"I was picked for an Ireland trial and I wasn't allowed to go on the trial until I had a club, so in the end I chose Shelbourne and I'm very grateful to them, but it meant that we had to travel up four or five times a week, a 180km journey up and down, straight after school," she said.
"When you are younger, you don't assess the game as much, but when you go up to the likes of Shelbourne and you are playing senior football, you need to know the ins and outs of the game and that really helped me in my move to West Ham."
Kiernan's biggest success for Shels was when she scored a hat-trick in the 2016 FAI Women's Cup final.
"It was massive to play for my club in the final at the Aviva when I was just a teenager, and to score a hat-trick was incredible," she admitted.
Being settled in the Shelbourne and Irish set-ups suited Kiernan at that point as she was also in college.
But West Ham had noticed her abilities.
"I was on the women's senior team for about two years and I got a call from the West Ham coach to see if I was interested in coming over and looking at the facilities, but I was thinking, 'I don't want to go to England just yet', as I was studying agriculture in college and I was happy enough there."
But it was her father who persuaded Kiernan to at least have a look at the West Ham set-up.
"We headed over to London that summer and after that I couldn't say no to it and a month later I signed up," she said.
"West Ham only started in the Super League two years ago and we have come a long way, even making the women's Cup final at Wembley against Manchester City."
"My coach Colin Bell at Ireland told me it would take about six months to get used to it, but there are 14 different nationalities in the team, so it's great that I have friends all over the world now."
Listen to the RTÉ Soccer Podcast on Apple Podcasts, Soundcloud, Spotify or wherever you get your podcasts