Sue Ronan and Pearl Slattery are at very different stages of their management careers but they agree completely on one thing: more female coaches are needed across all sports.
Ronan is a former Ireland manager and now Head of Women's Football with the FAI. She says things have changed since she first made her way in coaching over two decades ago but there remains a lot to do to achieve a greater gender balance.
"We've definitely come a long way," she told 2fm's Game On. "I started my career a long time ago in the 90s and there were no role models for me, it was a completely male-dominated environment.
"But 25 years or so on, we definitely have more females around.
"It's still probably one of the few areas out there where it is a male-dominated environment. In business there's much more equality with men and women but for some reason, we're still lacking female coaches across all sports.
"But it's something we're certainly trying to address ourselves, and I know many sports are trying to do likewise.
"It's a big drive for Sport Ireland so hopefully we will see many more coming on-stream in the coming years."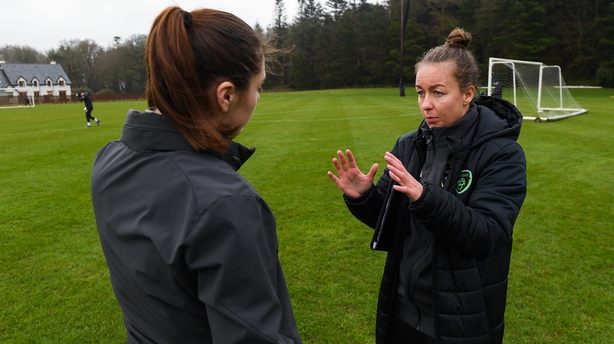 Slattery is captain of Shelbourne Ladies, a women's football development officer and Ireland U-17 assistant coach.
"When I was growing up, I had very few female coaches. Being out in the community I feel like it helps to have a female presence there," she said.
"Nowadays it's changing but over the years it was very male dominated and we have to try to change that culture," she said.
"A way we can do that is by having more role models - if you can't be, you can't see it (20x20 slogan) will definitely help and encourage girls to get involved in coaching."
Ronan feels that women often lack the confidence to put themselves forward in a group coaching environment.
"For some reason, we seem to lack confidence in our own ability," mused Ronan.
"All the female coaches I've met, they know the game. It's just getting that message across; they might not know how to deliver a session or have confidence in themselves to deliver a session.
"My own experience on a B-licence course in the '00s, I was the national Under-19 coach at the time but I was absolutely terrified to answer questions or put myself out there. Even though I knew the answers to the questions or whatever it was, I was terrified doing it.
"That's a barrier we have to overcome, but hopefully seeing the likes of (Ireland internationals) Katie McCabe, Ruesha Littlejohn, Diane Caldwell, Áine O'Gorman going on the courses and looking at ways of staying in the game, will inspire young girls and other women to get involved and also become a coach.
"Male, female, a coach is a coach at the end of the day. If you know the game, you know the game and that's the most important thing."
Slattery has been involved in running female-only coaching courses for the FAI, which she feels helps to attract participants.
"It's just normalising women in coaching with experience and exposure, that we do have the same experience and knowledge of the game as everybody else," she said.
"You have to have belief and put yourself out there.
"Male, female, a coach is a coach at the end of the day. If you know the game, you know the game and that's the most important thing.
"The best advice I got was when a coach told me 'You're never going to know everything'. That took a ton of bricks off me. Going into courses or out on the pitch now I don't feel pressure anymore because you're going to be constantly learning."
Listen to the full discussion below
Taking the plunge and learning to be a coach is one thing but what about the chance to use your skills afterwards?
Ronan thinks that remains a major obstacle for women looking to forge a coaching career.
"One of the big ones is lack of opportunity as against cost," she said. "Female coaches looking to up-skill themselves on coaching courses are paying out a lot of money, no more than guys are, but they're generally not getting opportunities to work in the game.
"So one of the areas for me that we really have to try and change is the culture that's still there in some sports.
"We need to try and start creating pathways and providing opportunities for women, otherwise we won't get female coaches, and the better ones, you're not going to keep them in the games.
"Getting an opportunity is absolutely vital. I probably wouldn't be a coach today only I was given an opportunity with Mick Cooke at the time (with Ireland U18 women).
"There are a lot of men coaching in women's football. Women are not getting those opportunities in the men's game.
"I think if you had a big club that was brave enough to take on a female coach, that would set the tone for other clubs to follow."
"There are two sides to it. We need the opportunities for women to get involved but women also need to not be afraid to dip their toe in the water, put themselves out there and have confidence in their own ability."
Listen on: Apple Podcasts, Soundcloud, Spotify or wherever you get your podcasts