Since the 2006 World Cup, host nations have had the pleasure of kicking the tournament off and driven by fervent support, Germany, South Africa, Brazil and Russia have avoided humiliation on the opening day of action.
Before that, opening games were opportunities for defending champions to be humbled straight away.
Coincidentally, two of the most famous examples were at World Cups that the Republic of Ireland featured in.
Back in 2002, a France side coming off World Cup and Euro 2000 glory fell foul of debutants Senegal in Seoul.
But the one that stands above all others came at Italia 90 when nine-man Cameroon humbled an Argentina side featuring Diego Maradona in the the San Siro cauldron en route to becoming the first African side to reach the World Cup quarter-finals.
It's a 1-0 win that goes down as one of the all-time shocks at the tournament and, RTÉ Sport was able to catch up with the goalscorer whose header earned Cameroon's Indomitable Lions their most famous victory.
Thirty years on from his crowning moment François Omam-Biyik is Cameroon's assistant manager to new boss Toni Conceição who took charge late last year.
But back at his earliest involvement in football as a child, he was in fact a goalkeeper until fate began pushing him up the field.
"One day I was making a save and I fell and injured my arm and my parents said, 'If you want to keep playing football, stop playing in goals,'" he tells us during a Whatsapp video call.
"So I became a central defender and I played in that position until the age of 16 before becoming an attacker."
I wasn't quite 16, more like four months old, when I met Omam-Biyik on a flight during the qualifying campaign for Italia 90.
Short story shorter, Cameroon's squad were flying out for an away match against Nigeria in early June 1989 on the same Camair plane that was serving as the first leg of a stopover flight for my parents and lo and behold who sat beside them in the aisle seat but Francois Omam-Biyik, who was nice enough to entertain the wee baby and become the protagonist of the type of baby stories parents like to regale their offspring with.
Amazingly, Omam-Biyik remembered the shared journey when reminded of it at the end of our interview.
A good memory for sure, but another skill he possessed was a natural heading ability that would become relevant on the grandest stage a few months after our 'meeting'.
"I was born with that heading ability," says Omam-Biyik.
"In my day, we didn't practice heading a lot at a young age, so it was a quality I was born with. When it comes to jumping, I took part in the high jump for my school but the heading part, I'm born with."
While he might not have had much experience leading the line as a youth player, Omam-Biyik had discovered his goalscoring touch by the time the 1990 World Cup qualifiers had begun with Cameroon entering that cycle off the back of winning the Africa Cup of Nations in 1984 and '88.
Four goals against Gabon, Nigeria, Angola and Tunisia through the campaign meant he was the top scorer in Africa's qualifying section and crucial to his team's efforts to qualify.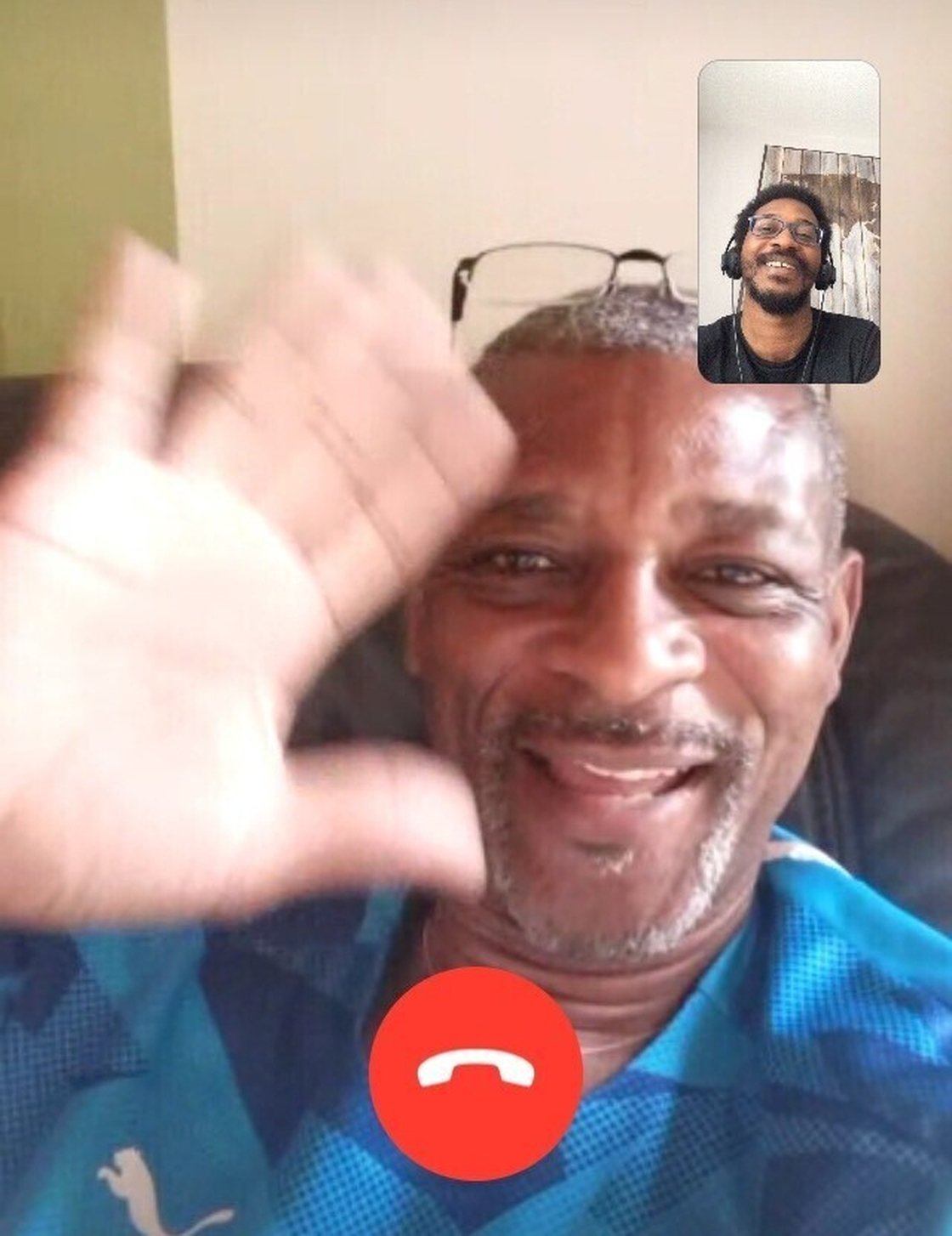 "I had the confidence of the coach Claude Le Roy until 1988 [when he was replaced] and then Valeri Nepomniachi came in and I was already playing in France for Laval and when you were one of the professional players, at the time you were guaranteed to be a starter in the national team and the lucky thing for me was that each time I joined up with the squad, I would score important goals, so during the qualifiers it allowed me to gain confidence and it was that confidence I came to the World Cup with," he says.
Not that it was plain sailing for the Indomitable Lions between the end of the qualifying campaign and that fateful day against Argentina.
For example, Russian coach Nepomniachi did not speak either French or English initially, which was far from ideal.
"Communicating with him was done through an interpreter," Omam-Biyik explains.
"We had an interpreter who spoke Russian. So Nepomniachi would speak to the interpreter and then the interpreter would pass on his instructions to us."
The build-up at training camps in France and Yugoslavia was also tricky at times with results in friendlies less than impressive.
"With the national team in that era, it was never perfect," Omam-Biyik admits of the preparation.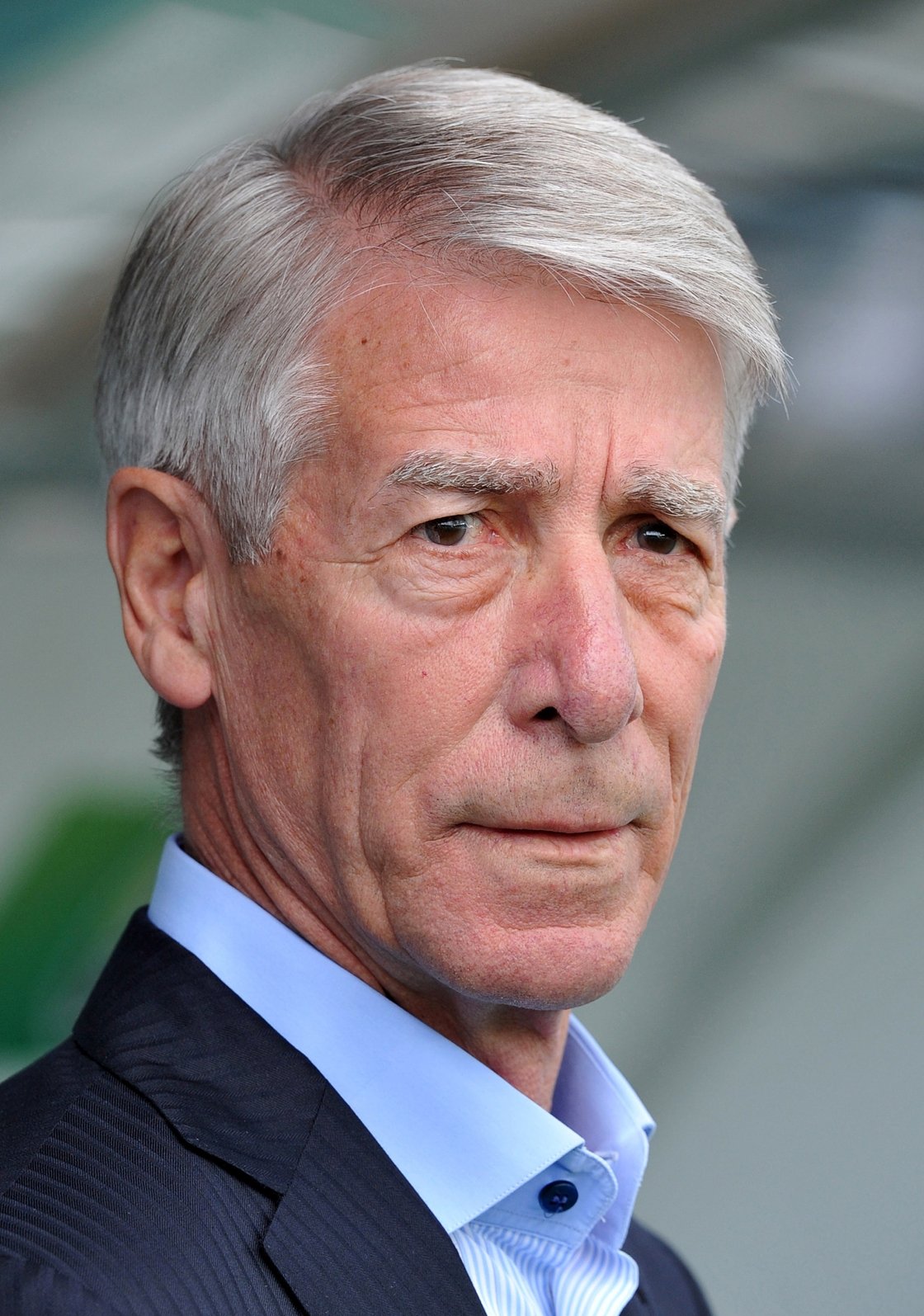 "There were always issues that cropped up which always needed solving. We played some friendly matches which initially were not great. But by the end, [the results] were encouraging."
Encouraging or not, Cameroon who had held their own in their World Cup debut eight years previously at Spain 1982, faced a tall order as Italia 90 dawned.
Even discounting the opening match against Maradona's Argentina, their group also featured Romania's golden generation - spearheaded by playmaker Gheorghe Hagi - and the Soviet Union.
"We weren't saying to ourselves that we could get to the second round or quarter-finals," says Omam-Biyik of expectations within the Cameroon camp.
"Argentina were the strongest team of the first seeds, the Russians were the strongest second seeds and Romania similarly from the third. So for us, if we could just avoid defeat at the World Cup, that would be brilliant. If we could win one game, it would be extraordinary."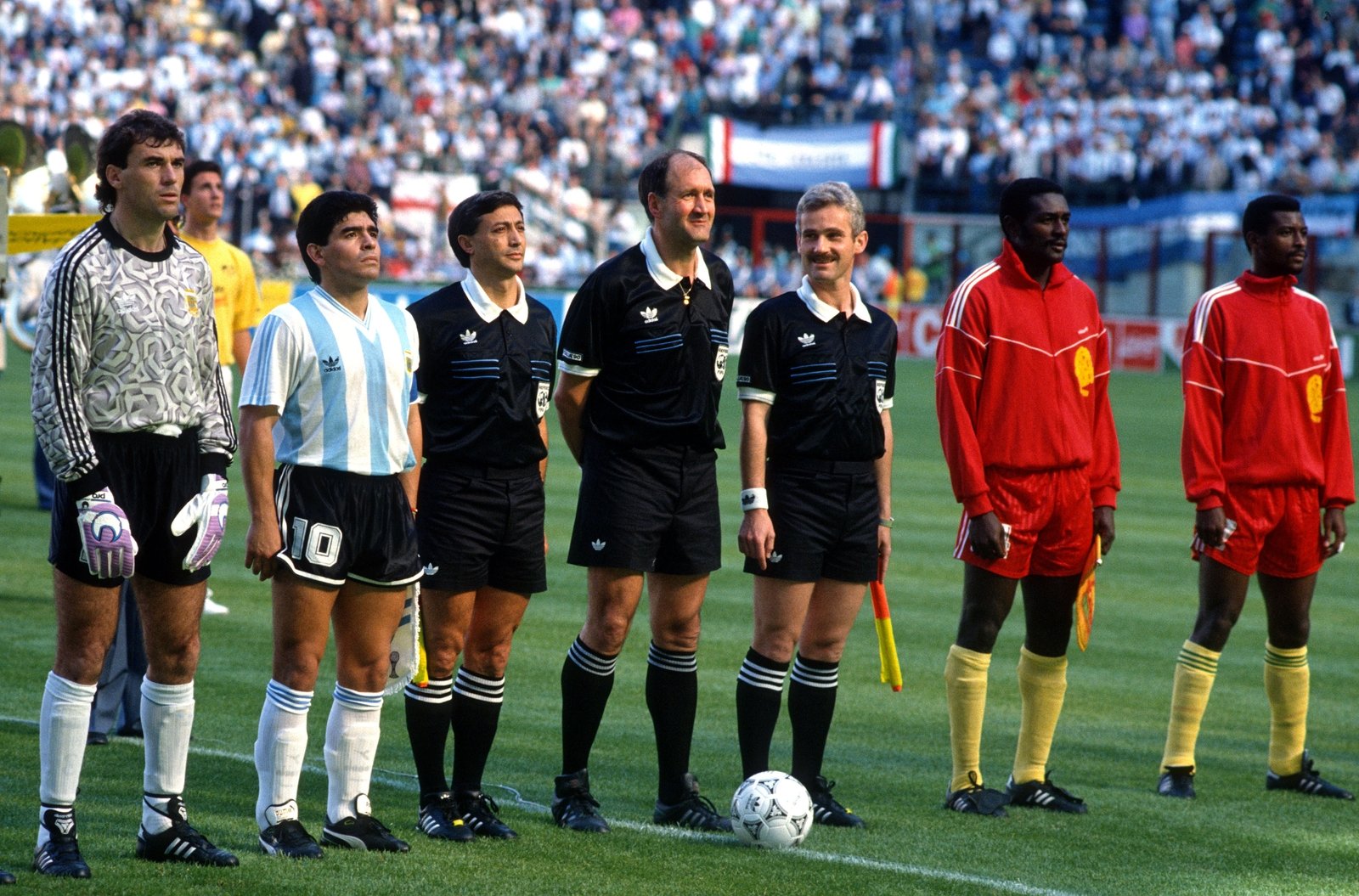 He adds that going into the World Cup opener against Argentina, the players were of a mind that avoiding a heavy defeat and perhaps escaping with a loss by one or two goals would be the most realistic outcome.
"But once the match started, we saw that Argentina weren't in top form and we took advantage of the chances that came our way," says Omam-Biyik.
Part of the success was down to putting a stop to Maradona's magic. Four years earlier, the Argentina captain had dazzled the world (and infuriated England) before conquering Serie A twice with Napoli, cementing his place not only as the best of his era but arguably the greatest footballer to have ever touched a football.
"We couldn't give Maradona time to think. So before he received the ball, we had to make sure someone was on him and when he had the ball, he needed to be surrounded quickly," Omam-Biyik recalls.
"It's true that he was on the end of a few clumsy tackles and a couple of nasty ones but it was probably the best way to stop him. He couldn't be allowed the freedom of the pitch."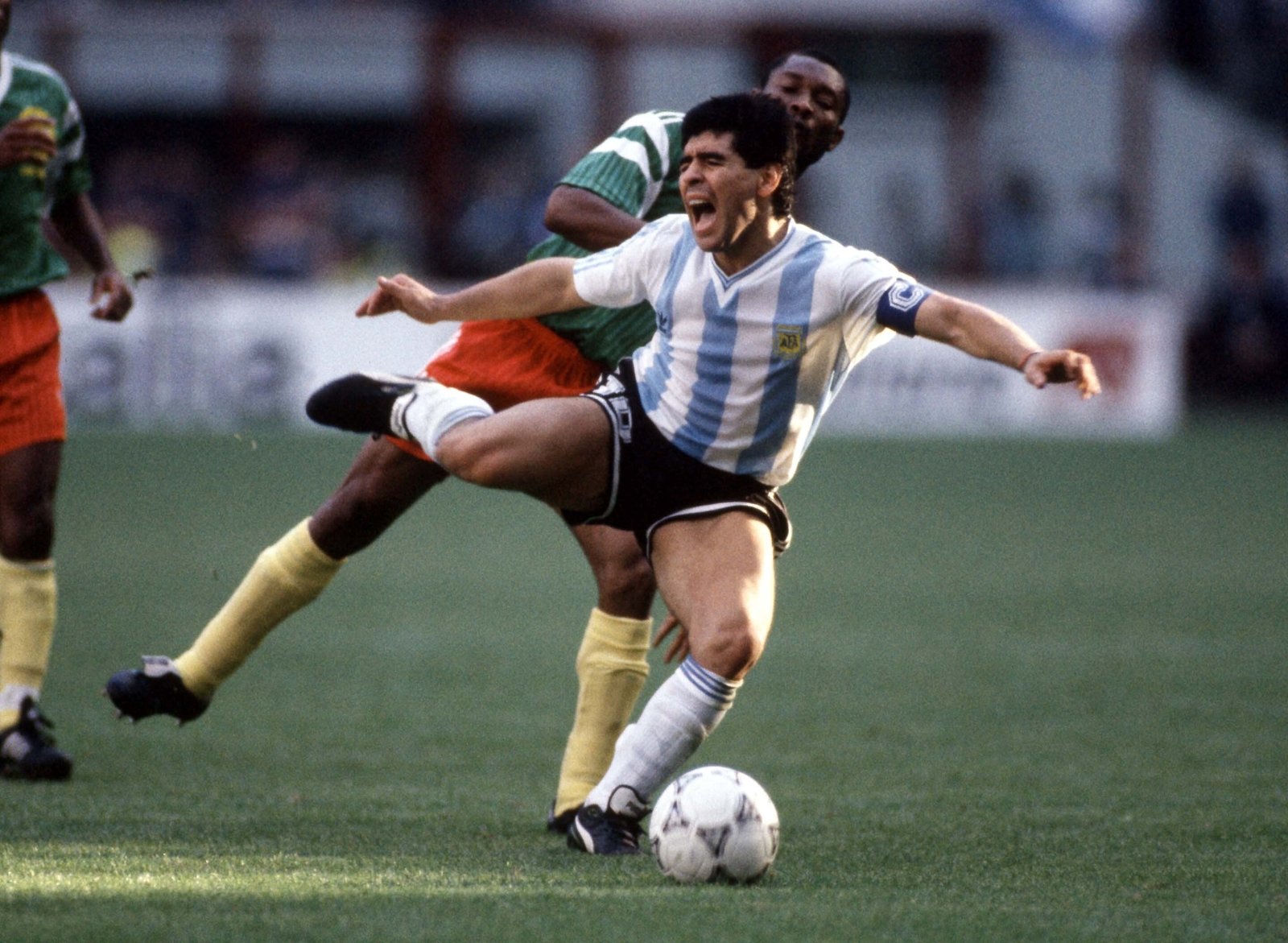 Even with Maradona subdued, it was still difficult for Cameroon given that Omam-Biyik's older brother, defender Andre Kana-Biyik, was given a straight red card for a trip on Argentine forward Claudio Caniggia just after the hour mark with the game still scoreless. It was a harsh decision at least compared to the second Cameroonian red card that would come later in the match courtesy of Benjamin Massing's more, er ,'robust' challenge on Caniggia.
"A yellow card would have been reasonable," he says of referee Michel Vautrot's decision to send off his brother, which was difficult for his team-mates to stomach.
"But maybe it was fate [the way it worked out]. If the game was 11 versus 11, would we have won the match? We'll never know.
"But at other moments, Vautrot was also kind to us because Maradona was on the end of certain hits that could have been red cards but were given as yellows. So it balances out."
Six minutes after his elder sibling departed the pitch, Omam-Biyik found himself in the box as a free-kick was floated into the box and flicked on by fellow forward Cyrille Makanaky.
Those schooldays performing the high jump and a natural ability to use his head were about to make a connection with fate and fortune.
"When I rose to head the ball, I needed the ball to drop and it did. But I never thought that it was going to end being a goal," Omam-Biyik admits.
Indeed, while his header was on target, it looked like Argentina's goalkeeper Nery Pumpido had a comfortable save to make by diving low.
"It's when the goalkeeper struggles to get a hold of the ball and I see that it crosses the line... I'm still in the middle of landing and then sheer joy explodes," Omam-Biyik continues.
"From all over the place, my team-mates ran towards me, the stands start chanting, 'CAMEROON, CAMEROON, CAMEROON', we're delighted. It's incredible. I'd just done something incredible. I had always dreamed of scoring a goal at the World Cup. It was a mix of dream and reality. For a moment, you say to yourself, 'Maybe I'm still in my dream'. But I also realised that this was real life."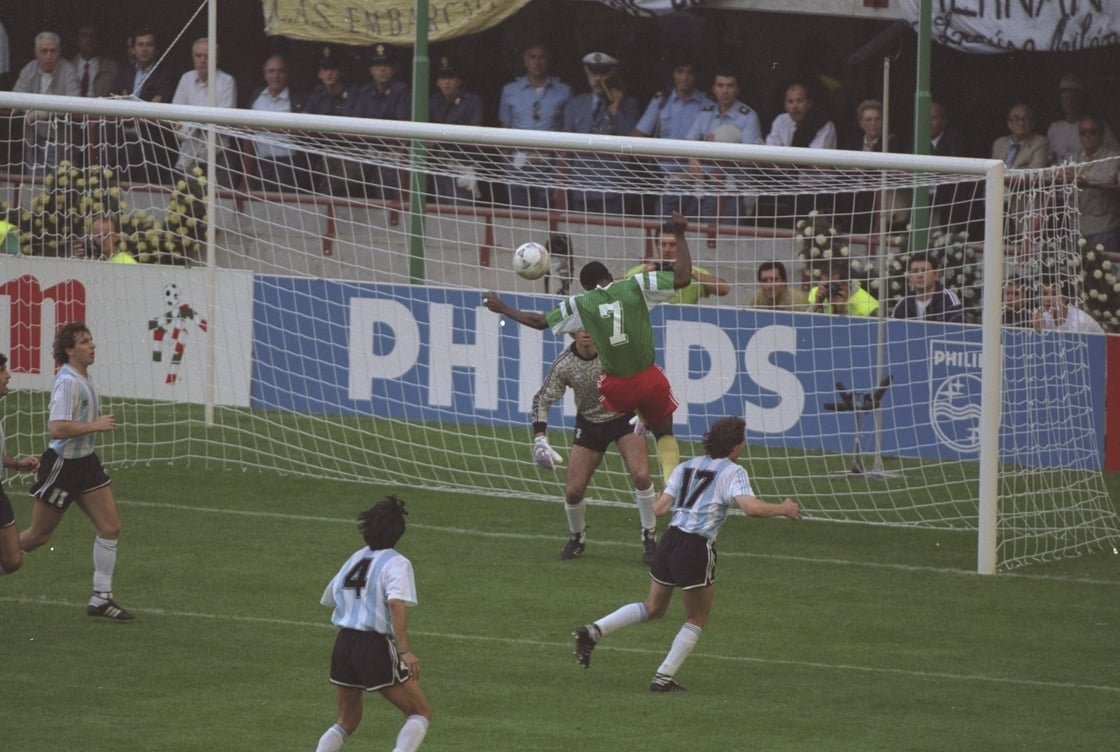 Even with Massing's red card reducing Cameroon down to nine, they managed to hold out for one of the World Cup's most famous victories.
But with matches against Romania and the Soviet Union within days of each other, the Indomitable Lions wouldn't have much time to celebrate. In theory, that is because celebrate they did.
"For us, the World Cup could have finished right then because we were content," says Omam-Biyik.
"It was an almighty party. It went on from the stadium to the hotel, and then at the hotel, it went on all night because the supporters and our families arrived.
"It was the next morning that we reminded ourselves that we were at a World Cup and that it wasn't over and we needed to continue working hard."
Not content with beating the world champions on the opening day, they followed it up with a second victory in as many games against a strong Romania side.
This time, a certain Roger Milla would be the hero, scoring a late brace in a 2-1 win that sealed progression to the knockout stage.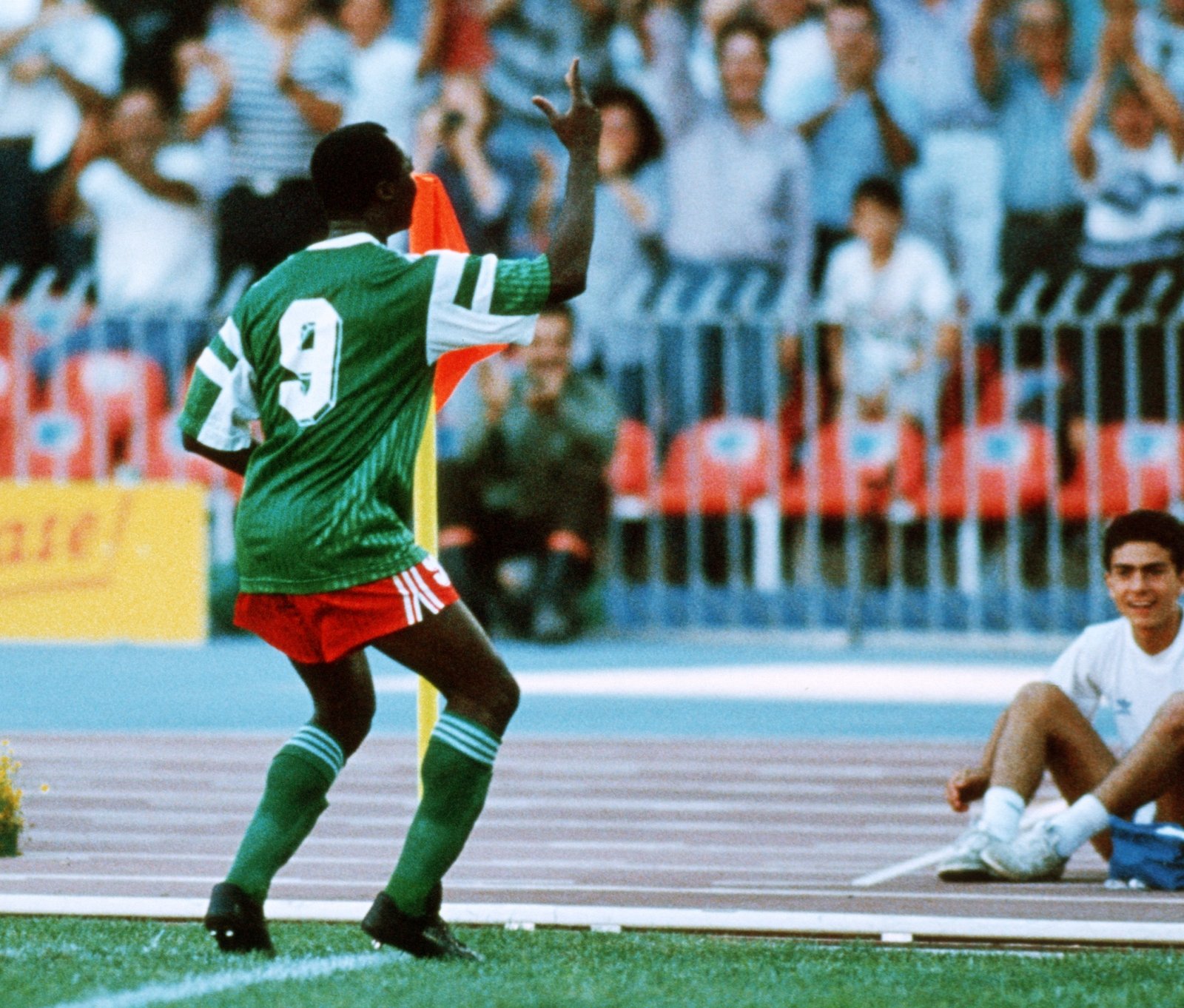 The veteran forward had retired from international duty two years earlier at the age of 36, dwindling down his club career on a small French island in the southern reaches of the Indian Ocean.
But a phonecall from Cameroon's president Paul Biya had persuaded Milla to give it one more go on the big stage (actually it was two more goes because he came back for more in 1994 at the age of 42!).
Although Milla had not been part of the qualifying campaign for 1990, Omam-Biyik had played with him internationally between 1984 and 1988 and was glad to have him on board.
"When he came back, we knew he was still a top player with a lot of experience," he says.
"We always had a great relationship so I welcomed his return."
Milla would etch his name further into the annals of the World Cup when he scored twice again during extra-time in Naples against Colombia in the last-16 as Cameroon did what was previously unthinkable by getting to the quarter-finals.
"We were already happy to get to the second round. We didn't know Colombia well but we knew they had some good players and that they were a good side," he said of that game which took place two days before Ireland's historic penalty shootout win over Romania.
"But we were confident. It's true that Colombia caused us lots of problems and created lots of chances which they missed but we also had opportunities.
"So when Roger Milla came on, he could do lots of damage and when he scored that goal where he took the ball from the feet of [Colombia goalkeeper] Rene Higuita while he was trying to dribble, we felt immense joy.
"It was the strength of Roger Milla to sense that it was possible to press [Higuita]."
Milla's goal celebration dance at the corner flag would bestow cult status upon himself. However, as Omam-Biyik reveals to us, it wasn't part of the repetoire before the World Cup.
"It was something that started during the World Cup," he points out.
"When he was at Montpellier and Saint-Etienne, he didn't do the dance in the corner. I think it was something that came into his mind just like that and he started doing it, creating the dance which then became an international, global [thing]."
Cameroon were now two wins away from an improbable place in the final but up next in the quarter-finals was England, who Ireland had drawn with in our opening match thanks to Kevin Sheedy's famous goal.
Once the possibility of a clash against the English became reality, Cameroon made a point of examining their opponents' previous encounters in Italy.
"We watched the [Ireland] match on the TV and we knew all about Gary Lineker and all these great players. So we knew their strong points," says Omam-Biyik of the build-up to another near shock.
"So there weren't a lot of question marks, it was a case of going out and playing the game. And that's what we did.
"We played well that day but twice we forgot to take some precautions to stop counter-attacks.
"We went 1-0 down, Roger won a penalty and we equalised. Then Roger Milla and Eugene Ekeke combined for our second goal.
"Eight minutes before the end, there was a [English] counter-attack, a foul by Massing and a penalty to make it 2-2.
"It was then that we realise that we had eight minutes to go. Unfortunately, it wasn't enough time for us and they got another penalty, 3-2 and we're eliminated."
Yet Cameroon were not downhearted for long given what they had achieved by getting as far as they had.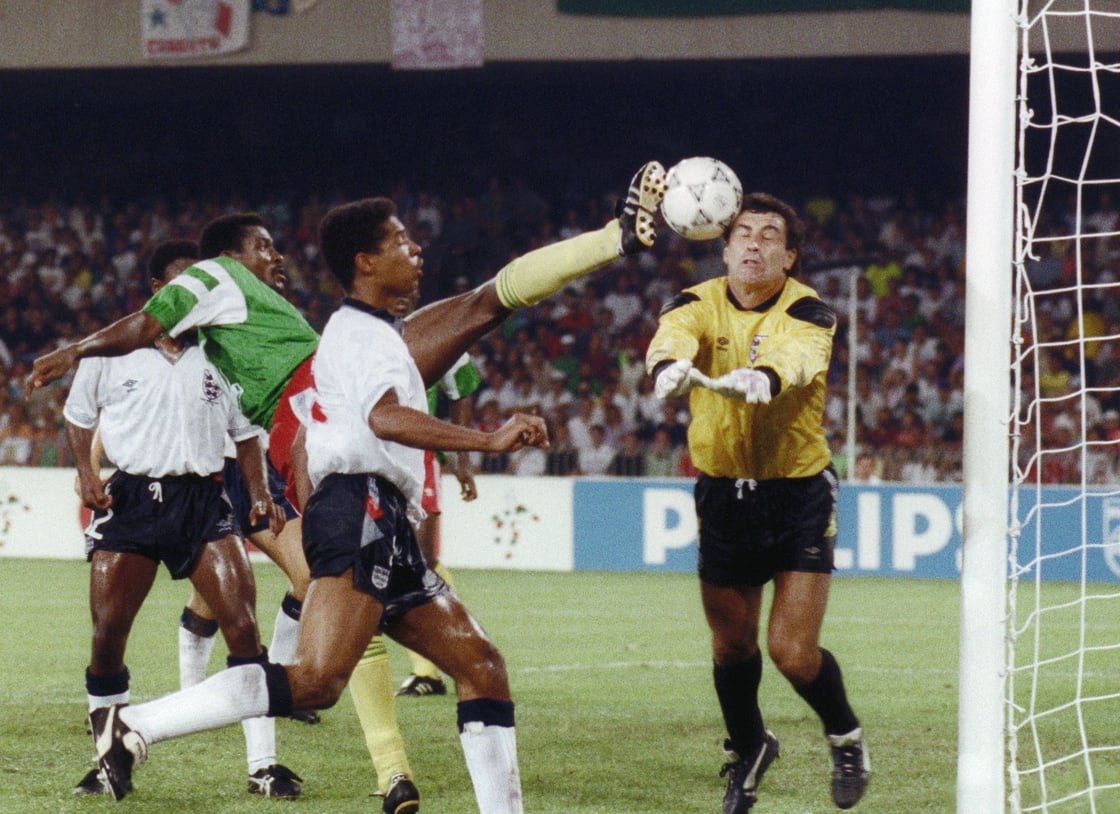 If the party after the Argentina came was anything to go by, the welcome party when they landed in Cameroon would put that in the shade.
"We couldn't land [at the airport] because there were a lot of supporters on the runway so the pilot had to abort the landing and circle round again until security could clear the runway a bit," Oman-Biyik recalls.
"People were still on the edges of the runway but we were able to land in the end. In Yaounde and Douala, we were able to take tours of the cities to pay tribute to the supporters.
"In Yaounde, there was a reception at the presidential palace with the head of state who gave us all medals and then the day after each of us returned to our clubs."
World Cup summers tend to be silly season in the transfer market with clubs taking an interest in players that stand out.
Omam-Biyik had already arranged a transfer from Laval to Rennes ahead of the tournament before Serie A side Lazio attempted a late swoop following the World Cup.
"I told the manager, I'm not in a position to do anything so you'll need to talk to Rennes and ask if they will let me go but Rennes said, 'No, we signed Francois and we intend for him to play for us. We won't release him'. So it stopped there."
He would go on to play in Serie A with Sampdoria six years later after a famous spell in Mexico. One of the first high profile players from outside the Americas to play in the country, he gained cult hero status at Club America thanks to his fine goalscoring record.
But he would also score another World Cup goal on the other side of the Mexican border at USA 94.
Once again, it was Cameroon's opening game and this time the opponent was Sweden in a 2-2 draw.
"I remember Rigobert Song played a long pass forward towards me which took the Swedish defence by surprise," he says of a goal that saw him latch onto the pass and slot in to give his side the lead.
"I was delighted because it was my second World Cup and my second goal at a World Cup."
Omam-Biyik would even feature in a third World Cup in 1998 towards the end of his playing career, which meant he could be a mentor of sorts for a young striker by the name of Samuel Eto'o, who had been called up to the squad as a teenager and would go on to great things in the 2000s.
"We could see his potential, otherwise he wouldn't have been part [of the squad]," he says.
"We could see him during training sessions, a really good player but still so young. He wanted to play all the time.
"There were players with more experience ahead of him but after that World Cup his value grew and he became a starter up front alongside Patrick M'Boma."
As the torch was passed to Eto'o, Omam-Biyik would retire in 2000 before beginning coaching.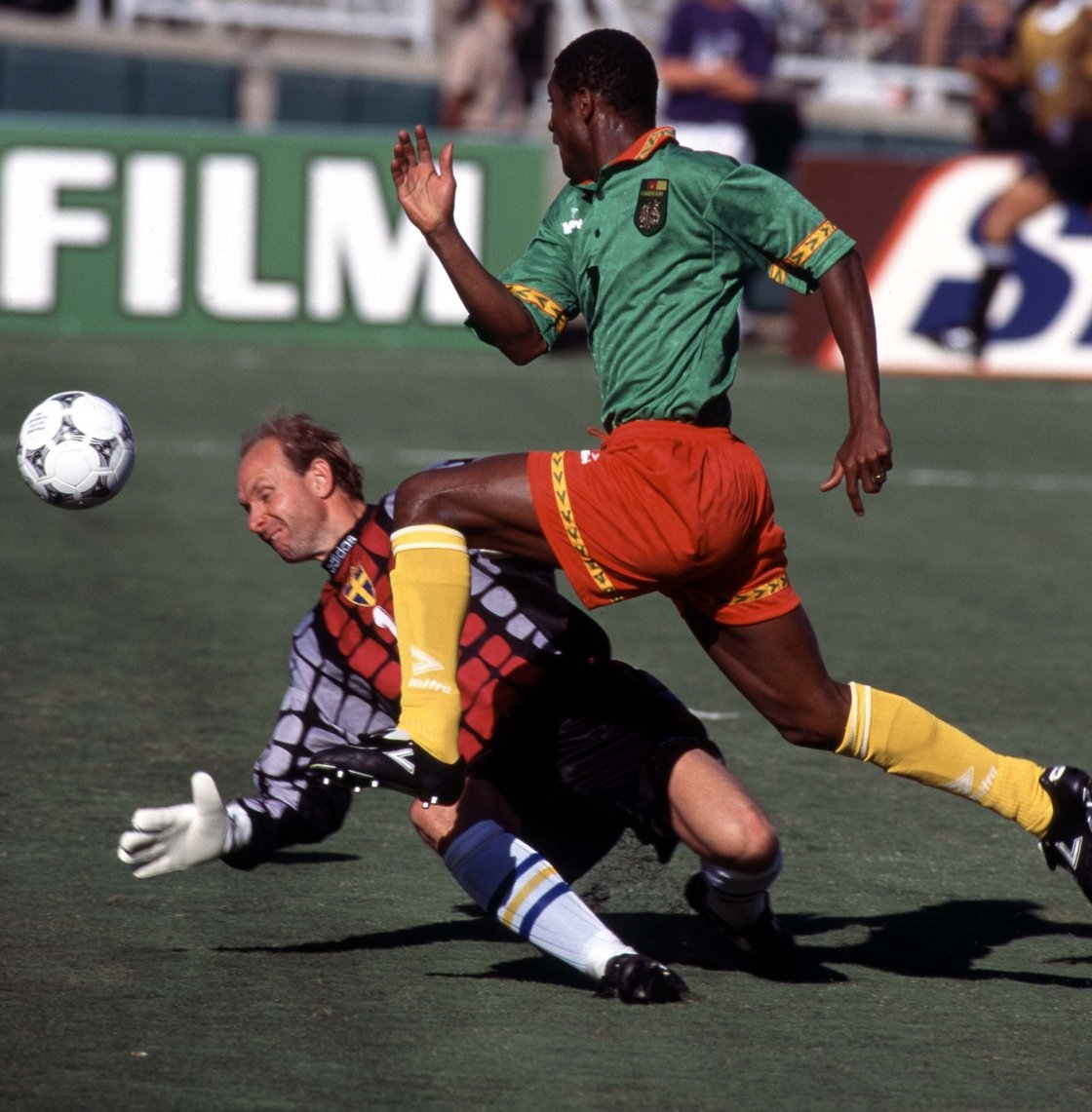 "In 2001, I started training young players in amateur football, taking the courses until I got the first diploma," he says.
"I then went to Mexico where I spent two years before returning in 2010 to become assistant manager with the [Cameroon] national team and then returned to the role again 10 years later.
"Passing on my knowledge to young players is something that interested me."
French language version of the interview available here:
We need your consent to load this SoundCloud contentWe use SoundCloud to manage extra content that can set cookies on your device and collect data about your activity. Please review their details and accept them to load the content.Manage Preferences