Italia '90 may have been a frustrating and troubled tournament for a brilliantly talented Netherlands team, but for Hans Gillhaus, it was a career highlight with many good memories.
He was 27 going into that World Cup and in the form of his life.
Having made a name for himself at FC Den Bosch, Gillhaus earned a move to PSV Eindhoven in 1987, the Eredivisie powerhouses using the £6m they got from AC Milan for Ruud Gullit to reshape their team.
The Gullit money turned PSV into European Cup winners. 
In came Gillhaus, Wim Kieft and Danish midfielder Soren Lerby to backbone a side that beat Benfica on penalties to complete a 1988 treble, having also won the league and the Dutch Cup.
Gillhaus was a key part of that era, but he didn't make the cut for Euro 88. Holland's immense quality left him surplus to requirements, and so he had to wait another two years for his chance to shine on the big stage.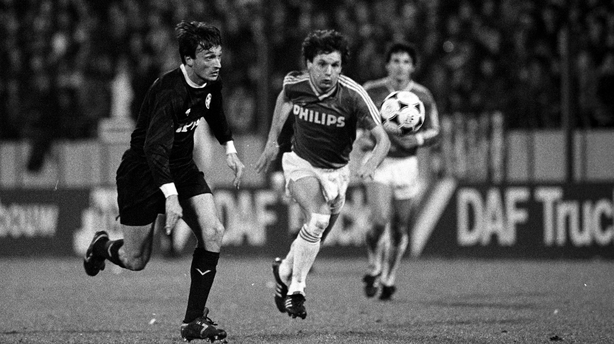 "At that time the squads were around 20, 22 players," he tells RTÉ Sport. "Numbers 1 to 18 were all fixed but I knew that I could have a role as an 18 to 20. I was invited to a training camp before the World Cup where the three AC Milan players [Gullit, Marco van Basten and Frank Rijkard] weren't there.
"It was a big group, and out of that group a few players were chosen to join the squad. I was one of them.
"Holland came off Euro 88 which they won. We had a fantastic generation player wise. The expectations were really high."
By then he was playing in Scotland with Aberdeen. PSV had taken a chance on a young Brazilian named Romario, who relegated Gillhaus to the bench.
In November 1989, the Dons made their move and splashed out £650,000 on the versatile attacker. It was a big outlay for Aberdeen at that time but the Dutchman's impact was immediate.
Eleven minutes into his debut against Dunfermline, Gillhaus scored a superb overhead kick. He then slammed home a header to help his new club to a 3-0 win, and he curled home a beautiful winner against Rangers the following week.
By the end of the campaign, Gillhaus had a Scottish Cup winner's medal in his pocket after Aberdeen beat Celtic 9-8 in an epic penalty shootout.
They were, he says, golden days. That summer, he'd see some familiar faces in Italy. Holland opened with a 1-1 draw against Egypt - a game Gillhaus missed due to illness - and then drew with England nil-all.
Gillhaus started in Cagliari on the left, coming up against Terry Butcher, then at Rangers, and recognising another Gers player, Gary Stevens, who was on the English bench.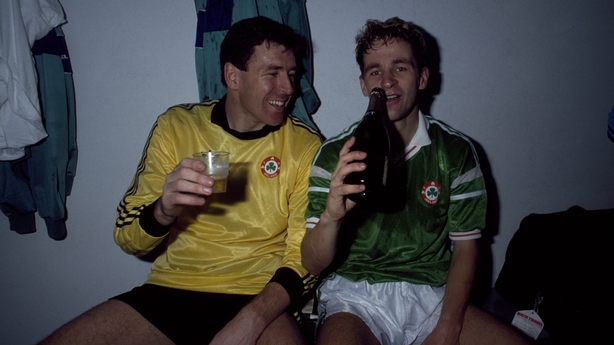 The group's decisive game against Ireland offered even more familiarity.
"What I remember most about the game, which was really fun, was being on the left side and playing up against Chris Morris," adds Gillhaus.
"Chris and I knew each from Scotland because he was at Celtic. We'd just played the Scottish Cup final against each other. I knew Pat Bonner quite well too. It was nice to play against them guys.
"We saw each other after the game, and had a quick chat. I wished them well. We'd both gone through so I wished everybody well for the remainder of the tournament. I think I got Chris' shirt."
The final 20 minutes of that 1-1 draw in Palermo was famously played out at a snail's pace with both sides knowing a point would be enough to see them progress. Once Niall Quinn levelled it up, an on-field truce was called. 
"Three out of the four teams went through and a draw was enough.
"It was mentioned on the pitch - 'okay we're going to take it easy now' - because the England score [against Egypt] was good for both of us. The last ten, 15 minutes was just, 'take it easy, just keep possession'. It was translated on the pitch to each other and it was, 'okay, we're all fine with that'.
"The Irish scored in the 70th, 71st minute, and straight after that everybody stopped I think."
Ireland and Holland finished the group stage with an identical haul - same points, same goals scored, same goals conceded. Lots were drawn to determine who'd finish second and who would progress as one of the competition's best third-placed team. Ireland got a lucky break and took second, setting up a last-16 clash with Romania. For the Dutch, it was West Germany.
"At that time, I don't think we [feared] any country. Holland had won the Euros in Germany two years before that so there was no reason to be afraid of them or of anybody. We didn't see anyone that we thought was better than us.
"Before that World Cup we were among the favourites to win it. We didn't really perform as we could.
"There were a lot of issues before the tournament. We'd had a change of manager that didn't go well with the more experienced players. There wasn't a good atmosphere around it."
The problems in the Dutch camp arose after Rinus Michels stepped away in the wake of the Euro 88 success. Former Feyenoord coach Thijs Libregts took over and managed to fall out with most of the team's big stars.
The players revolted and forced him out, believing Johann Cruyff would take over. Leo Beenhakker was voted in instead, which led to a major fallout that polluted Holland's preparations and derailed their World Cup ambitions.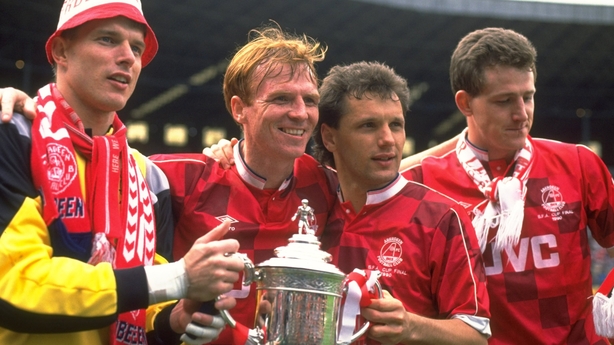 Still, Gillhaus treasures the memories.
"For me it's the highlight of my career even though the results weren't there - playing at a World Cup, playing three out of the four games," he reflects.
"I was left-footed and wasn't only a striker, I could play on the side as well. Our big players were more central. I could play in various positions.
"That's a fantastic memory for me, in a country like Italy, with all the build-up."
On that battle with Ireland 30 years ago, his analysis is simple: "The difference was Holland had the better players; Ireland were the better team."