I was 12 years old when Italia '90 rolled around. 
My first vividly remembered Ireland game was the 1-0 win over England two years earlier and all throughout that era I was completely head over heels in love with the Boys in Green. 
In the build-up to the qualifying and World Cup games I felt like my heart was going to beat out of my chest, such was the excitement.
I had the t-shirts, the posters plastered all over my bedroom wall, the plastic shamrock (covered in sellotape as I refused to accept a couple of holes meant the end), the songs recorded onto cassette off the radio, hoping the DJ wouldn't talk over the start of 'Put 'Em Under Pressure'. 
My dearest mother had to self-isolate during Ireland games, kind of. 
When Ireland were in action, Mammy would spend most of the game in the kitchen, separated from her husband and four boys in the sitting room, all glued to the telly. 
That superstition started off during one match early in Jack's journey. She left the room and Ireland scored, then it became a thing: if we needed a goal, Mammy would have to go. Of course, she got credit for assists for Kevin Sheedy and Niall Quinn's goals. 
Another possible reason for her expulsion was her inability not to panic whenever the ball went close to the Irish goal. That included when Steve or Kevin or Mick would gently prod the ball back to Packie (which they did dozens of time per game, pre-backpass ban, of course). 
We need your consent to load this YouTube contentWe use YouTube to manage extra content that can set cookies on your device and collect data about your activity. Please review their details and accept them to load the content.Manage Preferences
She'd scream, 'oh no', before calming down as Bonner casually picked up the ball and leathered it up the field. 
But it soon became a thing in our house, 'Mammy, down to the kitchen.' 
By the time the 1-1 draw against England finished it was too dark to go out the back garden and kick around so we replicated the Kevin Sheedy's goal in the kitchen, scoring with a tennis ball off the washing machine and knee-sliding across the lino floor. 
My older brothers' friends all jammed into our sitting room for the Romania match and erupted in a mess of joy when O'Leary slotted home. Then it was straight out to the back garden for our own penalty shoot-out.
Magic days for a boy my age. 
Addendum: 
Twenty-one years later and this lucky sod wins an Irish Daily Star competition to play half a game with the Republic of Ireland Italia 90 Legends team v a League of Ireland Managers selection in Hunky Dory Park.
Here's me togging out and running around with Paul McGrath, Ronnie Whelan, Tony Cascarino, John Aldridge, Sheedy, Bonner et al. It was literally a dream come true. 
But I knew I had to park my hero-worship for the duration of the game. I was getting on and realistically it was probably my only chance to represent my country so I had to take it seriously.
Despite a couple of 'optimistic' shots off target (from me) we went in with a narrow 2-1 lead.
Now I could have spent the next 15 minutes getting some photos and autographs like the other competition winners, or we could have an inquiry as to who was at fault for their goal. We had a game, we had a game, we had a game to win.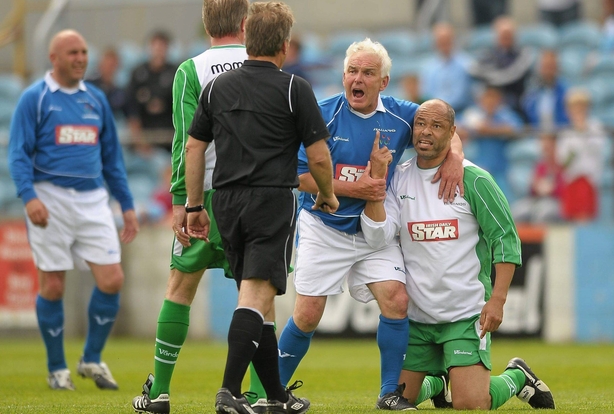 "Who let Martin f***ing Russell waltz through the defence there, lads?" I demanded, staring straight at McGrath, who was sitting down for a breather.
The Black Pearl of Inchicore shifted uncomfortably on the bench and looked around the room for another culprit. His silence spoke volumes.
Jason McAteer (a banger who hadn't even played in Italia 90) rowed in, having a go at me for a run I made when he was crossing the ball in from wide. I explained the necessity of late movement in such circumstances.
He disagreed but then Ronnie and Packie waded it, backing me but I suspect they were as much trying to get 'Trigger' going.
Anyway, despite Pat Fenlon chipping Packie from the half-way line, we ran out 4-2 winners, a scoreline that meant we doubled the goals tally from the World Cup in 1990. I'm just saying, what if...